IMAITOONZ + YUTANPO SHIRANE
Imaitoonz and Yutanpo Shirane were the stars of Dotsoso#19 this August. Loyal readers of Shift know who we are talking about. Both have already been to Sapporo. Imaitoonz visited us exactly one year and Yutanpo two months ago. Since 1995 Imaitoonz, working as an illustrator, has done works for "Top of Japan" (MTV), character design and official illustration and poster for Sega's arcade game "Fighting Vipers 2". He also showed his original animations at the Rotterdam International Film Festival and Resfest 2000 just to pick out some of his achievements. This time he had Yutanpo Shirane as a collaborating guest artist at the opening event for his exhibition, "Response to War". Yutanpo Shirane, from Tokyo has been successful as a freelance illustrator by providing illustrations to serial magazines like "Spa!", "Anan", "Smart", "Nikkei Entertainment" and more. He has also had various exhibitions at galleries and published his own book "Namanuru Panorama Edition".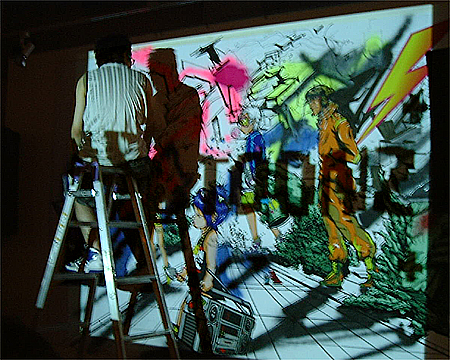 In the middle of Soso Cafe a table with all sorts of Video equipment was set up where CAD., a visual production Company from Sapporo showed a VJ performance. Thanks to CAD's interesting work, the time until Imaitoonz and Yutanpo started their performance didn't seem too long.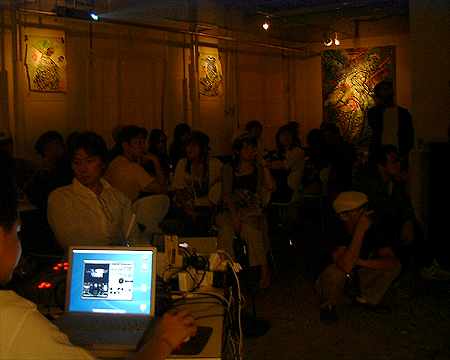 At about10pm the white screen, that had been captivating everyone's attention, was ripped off to unveil a canvas already illustrated with Imaitoonz cartoon-like characters. With quick and confident strokes Imaitoonz gradually filled the empty part of the wall with his unique figures and graphics using thick marker pens and spray paint.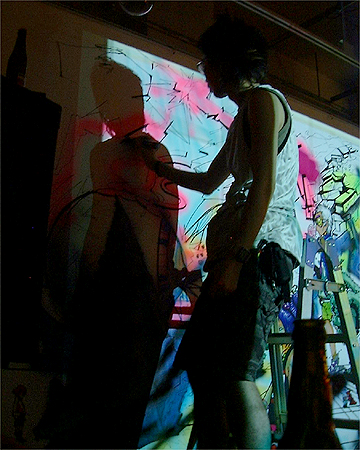 Just like at Dotsoso#17 Yutanpo was sitting in front of his iMac and projected his self-made graphics and video clips on the screen while at the same time Imaitoonz was painting his graffiti. Well it looked like graffiti but it was much more complex to what I've seen so fare as urban art work goes. His style is a kind of mixture between illustration and graffiti.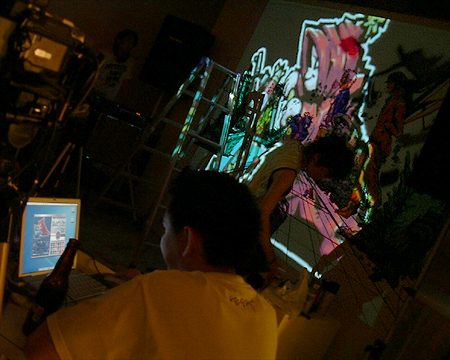 I felt that at this live event the audience was paying more attention to the performance than at others I have attended. You didn't get tired looking at the performance, because he was always starting to draw something new, you were always thinking about what he will do next. Also Imaitoonz didn't let himself detract from the video projections Yutanpo was creating. Instead, it seemed like he was using the graphics and movies as the inspiration for new ideas. Through their teamwork you could tell that the picture was going to become a mixture of creativity and talent. And the audience seemed to like it. I only heard positive comments about the performance.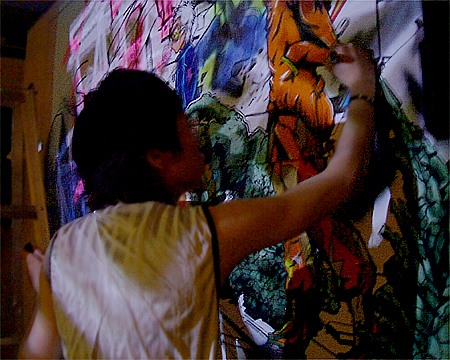 Without a break both continued their work until 1:30 am, at which point they stopped and were overwhelmed with big applause. When you looked at the final picture, it was hard to imagine Imaitoonz drew it in about 3 hours. It looked like a lot of work but he seemed to have finished the picture with ease and without interruption.
At the Soso events you can enjoy the relaxing atmosphere while at the same time watch an accomplished artist working. This is a unique experience which you don't get to often. Even if you are not working in the field of design or art, it is still interesting to watch and receive new inspiration while broadening your horizons.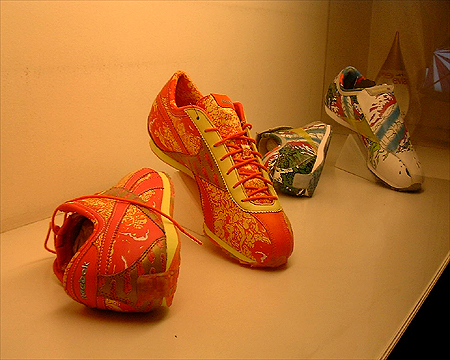 The pictures Imaitoonz had brought us were partly printed and partly painted, giving them a thrilling effect. Apart from those graffiti-like pictures and also self-designed T-shirts, Imaitoonz had also brought shoes he had designed for Reebok. They are quite flashy and they seem to glow in the dark. I felt that they look too much like artwork to wear them on the streets. If you do wear them, you can be sure that everybody's eyes will be drawn to them!
The star guest for September will be Keiko Miyata who will surely produce a very lively evening. She will present us her unique and bizarre soft toys, so don't miss it!
Imaitoonz "Response War" Exhibition
Date: (Mon.) 1 – (Tue.) 30 September 2003
Place: Soso Cafe
Address: 1F Sansei Bld., S1 W13, Chuo-ku, Sapporo, 060-0061, Japan
TEL: +81-11-280-2240
Open: 11:00 – 21:00
Admission Free
http://www.shift.jp.org/soso/
Text and Photos: Michiko Ikeda
[Help wanted]
Inviting volunteer staff / pro bono for contribution and translation. Please
e-mail
to us.