The 7th annual biggest open-air music event in Japan, "Fuji Rock Festival" was held for four days from the 25th of July. From the first to the third edition, the festival was held in different places but it has been held at Naeba Snow Resort since the fourth year. This year, this massive festival was run for four days including the eve of the festival, and featured more than a hundred groups of artists. From rock to techno and ethnic music, it covered all genres and drew audiences totaling 100,000 people over three days.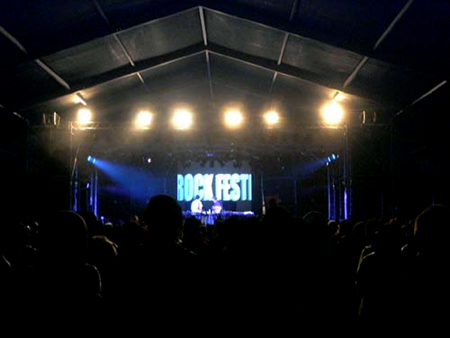 Unfortunately, the first day was rainy and I was remembering the stormy first Fuji Rock festival in a car. Actually, I did not go to that one but many people told me the stories. So I was wondering if this 7th edition would be a disturbing one. However, when I thought about The Underworld, which capped the finale, that anxiety was gone because they are my idols since I was a teenager. I still clearly remember their wonderful performace on the White Stage in 1999, so that I though the rain would not be a big problem. Also, this was the first show I saw after Darren Emerson left. However, as it was against my excitement, a tragedy happened to us. Our car had an engine blow on a highway and we could not get the engine started again. My excitement was smashed at the middle of Kanetsu Highway. Since I had this report, I left my friend with the car and got a train.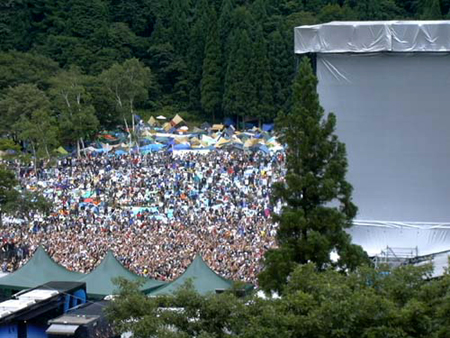 It was 1 o'clock in the morning when I got Naeba Snow Resort and of course, I missed The Underworld's performance. From the bus depot to the gate, everybody looked excited and that made me jerouls and my expectation to the coming performances became high.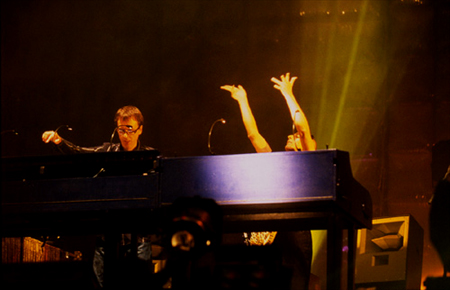 © Yuki Kuroyanagi – Underworld
I left my luggage at a place of my friend, who arrived in the venue before, and went to "Red Marquee" where many performances were held until the morning. The first one I saw and listened to was the breakbeats electronica sound by two turntablists and a drummer from Prefuse73. As I was leaving myself into their music, I could be satisfied with the feeling "Music will continue tomorrow at this place as well". I finally could meet music.
Day two. It was raining and there was no sign of it stopping. I decided to go to the stages I could visit yesterday. The ground was really muddy. I tried to keep my shoes clean but I noticed that it was futile. "Orange Court" was the first place I went and a trance event called "All Night Fuji" was held there until daybreak. I had no idea who was performing at that time but I looked around the court thinking of Saiko-Pod. This is one way of enjoying the open-air event. I went to "Field of Heaven" next and heard the sound of the Japanese drums by Gocoo. When I was passing by "Gypsy Avalon", a familiar table and electromix sound caught my ears. It's "Asa-Chang & Junrey" who had a performance at Soso last year. The track they were playing was "Hana" and I guess it was the remix version of Rei Harakami. Like this, the festival gave us a nice coincidence of music and I really like it. Toward evening, I spent some time at "Green Stage". I have been listening to electro music so much that their British rock sound was a good change for me.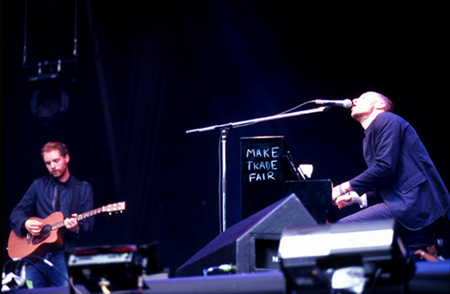 © Hideo Kojima – Coldplay
Before the evening, I went to the stall area. This festival served a variety of delicious food. I tried several meals and all of them were pretty nice. Then, the time for Bjork came.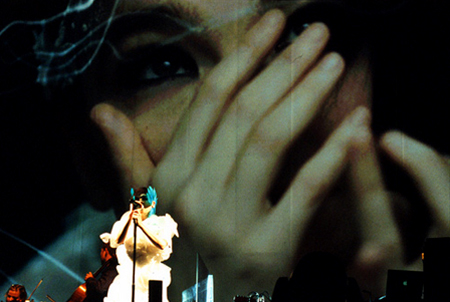 © Takayuki Mishima – Bjork
As soon as she appeared on the stage, the atmosphere of the place immediately changed. The heat of the audience increaded and that excitement took the weariness from us. While she was on the stage, a special time was flowing around us. An electoro sound, orchestra and Bjork's voice covered Naeba Snow Resort. She said "Thank you" in Japanese and her faltering Japanese got me back reality. I now feel even that word was a door to the next performance. There was the strong world of Bjork on the stage. I felt her music linger on in my mind after the performance was over and it stayed until I saw DJ Tasaka's play at dawn. His unique scratch woke me up.
Day three, the last day. To be honest, I felt like finally reaching the goal after going through a long tunnel. It went on raining all day and it made our bodies really cold. Also, the muddy ground was really hard to walk upon and my legs were quite stiff. However, this great festival never betrayed us. The sky on the last day was really clear and it made me excited. Many artists were lined up but it was impossible to see all the performances. So, making a nice plan beforehand is necessary in order to enjoy the long festival. I felt like being in a big city when I was choosing performances but it could not be helped.
While I was talking to my friends, I listened to them halfmindedly because I could not stop wondering who as on the stage at that time.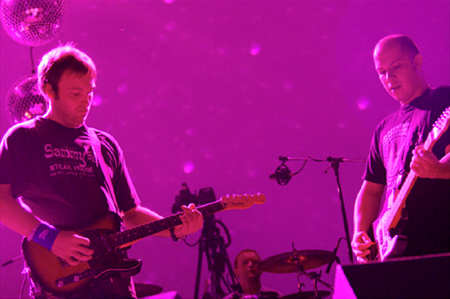 © Hideo Kojima – Mogwai
It was when I was walking to White State to see Mogwai. The sound of Massive Attack on Green Stage caught my ears. Honestly, I was not interested in their performance so much but there was no reason to pass by, because the track "Angel" from the album "Messanine" was really impressive. The voice of Bjork covered the venue yesterday and it was the voice from above. And on the last day, the voice from the earth covered the place. It was hard to get the time to go to White Stage because nice music was coming down from the hill where Green Stage was. Shaking off that, I went to White Stage to see Mogwai. On the way to White State, "Mogwai Fear Satan" was repeating in my head and they played this song afterwards.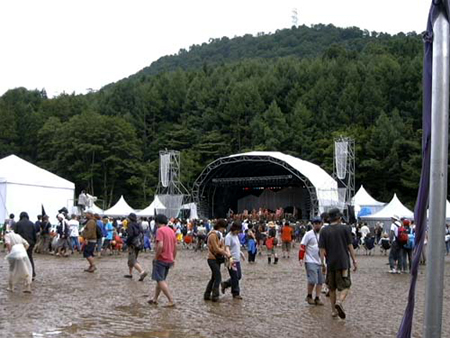 This is all about the Fuji Rock Festival I experienced this year. This is one of a hundred thousand stories. Other 99,000 audience members have their stories and they will continue endlessly in each mind, like the guitar feedback of Mogwai.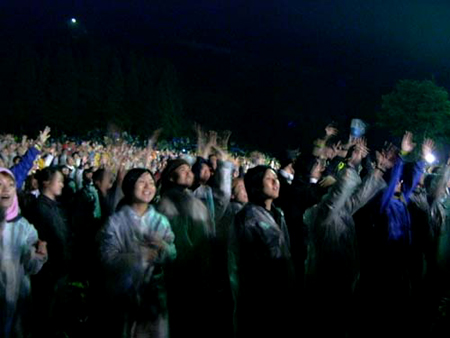 Since this is a huge festival, it impossible that everybody can share everything. However, this is one of nice points of the outdoor festival and as long as there are musicians, somebody will listen to them and pass stories on to others. Even though the festival is over, music will continue.
Fuji Rock Festival '03
Date: (Fri.) 25, (Sat.) 26, (Sun.) 27 July 2003
Place: Naeba Snow Resort in Niigata, Japan
Artists: 159 groups of artists from Japan and other countries
Organised by: Smash
www.fujirockfestival.com
Text and Photos: Yasuharu Motomiya
[Help wanted]
Inviting volunteer staff / pro bono for contribution and translation. Please
e-mail
to us.