While New Yorkers are blessed with a wide selection of good and cutting edge publications, the crop on the West Coast is rather minimal. There are some good magazines coming from San Francisco but it seems that SoCal and Los Angeles are terra incognita when it comes to publish anything off the beaten path of box-office statistics and who wore what on the red carpet. It is kind of sad, if you think about it, since the city has much to offer. Looking back, one remembers the glory days of Grand Royal, a magazine by the Beastie Boys that vanished after a couple of issues. Today, there is Flaunt, a quirky style magazine that offers an interesting mix, but tries too hard to be cool and is often hit or miss.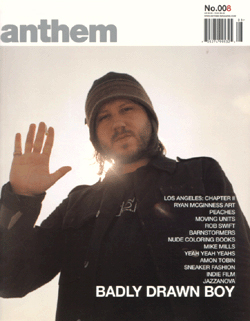 So it was with grand enjoyment, that shift discovered a not-so-new but hard-to-get magazine called Anthem. Discovered at a small newsstand in San Francisco, Anthem called for attention with its sleek, minimal design and sophisticated art direction, all on elegant matte paper stock. It is not a big stretch to call Anthem one of the best magazines coming out of the US in recent history. The fact that its HQ is based in Huntington Beach CA, a small beach town south of LA, makes the magazine even more obscure and interesting.
Published four times a year and headed by Editor in chief/creative director Dustin A. Beatty, the magazine usually focuses on a theme. # 8 was the second one about L.A., the current issue #9 takes on the vibrant Paris scene. The mission of Anthem: "is to bring our readers fresh and raw content in the area of progressive alternative lifestyle. By working with bands, DJs, artists, designers, skaters and a myriad of other grassroots visionaries, we aim to provide content that is unique to our magazine."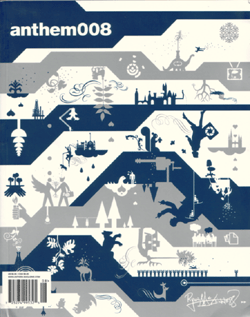 Don't you sometimes put together a great magazine-content list in your head? (Ok, maybe its something only we journalist do), but in any case, mine would look very similar to an Anthem issue. Examples: stories on Ryan McGinness, Badly Drawn Boy, Amon Tobin, Rob Swift, Mike Mills, Geoff McFetridge, Ed Templeton, Cat Power, Osgemos, or brit-sensation the streets. A very eclectic mix that never hides its roots that are ebedded in the hip hop, skate and surf culture that has formed the cultural landscape of Southern California over the last three decades. What really strikes me with Anthem is the "back to basics" approach in its design, reporting photography and illustration – it conciously avoids the sensory-overload that we get from so many publications these days. Finally a magazine that doesn't try to emulate television and music videos but sticks to what works: a good interesting story, a cool photo, nice typography with plenty of white space.
Now to the downside: you can't find the thing. For the good job Beatty and his crew are doing it is sad to note, that hardly anyone knows about it or carries it. I assume it is a money issue. Let's hope, this helps a little to spread the gospel.
Anthem Magazine
Address: Po box 186 Huntington Beach, CA 92648, USA
Tel: +1 71 4841 0282
http://www.anthem-magazine.com
Text: Reto Caduff

[Help wanted]
Inviting volunteer staff / pro bono for contribution and translation. Please
e-mail
to us.