May is warm, with a feeling of ease and a smile on people's faces. Maybe this is how you feel when you look at the pictures that were displayed during May at Sapporo's Soso Cafe. These were the works of Shinsuke Koshio alias "Sunday-Vision" who also presented his "Sunday-Vision Exhibition 2002" in various cities throughout the globe.
From graphic design, illustration, animation, web to wear design, the field of "Sunday-Vision" is highly diverse. He also contributes to art books in Japan and abroad, works for various companies like Shiseido, Parco, LaForet to name a few, and participates in many project exhibitions as well. In addition, Sunday Vision also brings out fashion brand and project, named "SwitchStance".

The opening event for this exhibition was held on the 3rd of May where "Sunday-Vision" was invited to have a live painting performance with his friend and image maker "Kobuke". Both are from Tokyo. Kobuke had a successful exhibition in Paris and published the art book "Start Kentaro Kobuke" from "Little more Co., Ltd." His collaboration with "Comme des Garcons Man Pink" is well known.
The live painting finally started at 10pm with great attention from the audience. For me it was the first time to see a live painting, and I surely acquired a taste for it.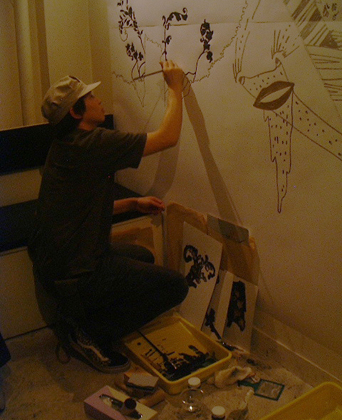 Their way of approaching the live painting were quite different and it was like two worlds were hitting each other. Well, opposites attract. Sunday-Vision started on the left side of the 4 x 3 meters canvas, and a few minutes later, I noticed what he was going to portray – a tree! This tree was portrayed in such a unique way – the branches consist of lots of stamped "S"s and "O"s, stringed together, adding up to SOSOSO – (Soso Cafe!), and also arrows stamped with patience and effort. He concentrated from the beginning to the end and his face was at a distance of nearly 10cm to the canvas. Sunday-Vision used stencils that he had prepared beforehand as well, to adorn this tree with those unmistakable leaves "made by Sunday-Vision". He seemed to plan step by step, adding stroke by stroke with meticulous attention. Adding stenciled rabbits and birds to stamped typography his illustration got a unique touch of cuteness and esthetic which gave the whole work something "cool" but in a friendly way.
In contrast to Sunday-Vision who even used thin felt tip pens and a ruler to express his affinity for fineness, Mr Kobuke on the right side took the thickest marker in his hands and started on about with quick and confident strokes. Fancy-freely he arranged figure by figure, shape by shape next to each other and was soon about to fill the white canvas. From time to time Sunday-Vision looked at his partner's side and commented surprisingly, "You're so quick!!"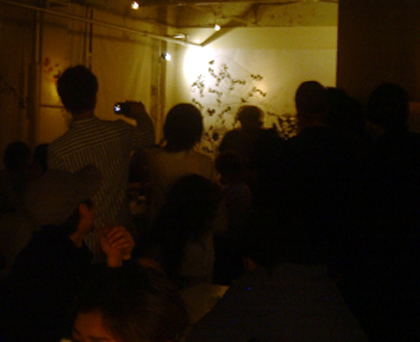 Soso Cafe was a lounge-like atmosphere. Part of the audience was sitting on the ground, very comfortable, most of them with a "Smirnoff" in their hands and something to eat. Responsible for this lightning installation and also for DJ was Dot Soso's residential contributor "Nordform Crew". They used a warm and dimmed light that made people felt like relaxing and doing nothing but watching their unforgettable first class live painting on that spring night in May. Also responsible for music was DJ Uemura, a friend of Sunday-Vision and Mr Kobuke. DJ Uemura is a buyer at "Bonjour Records" and selected the tracks for this event.
For the live painting, both did not use any colours besides a big sliver marker, so it became mainly monochrome. If you look at Mr Kobuke's book "Start Kentaro Kobuke" which is available at Soso Cafe, a whole crowed of unique, comical and funny looking characters jump into your eyes! They are all highly colorful and each one seems to be featured with its own personality and background story. They are all so distinctive made by Kobuke and you would surely recognize them every time. The figures with its powerful colors surely fit together with his dynamic way of painting we saw at Dot Soso. He consistently holds to his humorous "modern expressionistic" style through the wole book, so on every page you feel like to be all smiles – well you just feel like spring. The figures look like as they were accompanying Mr Kobuke since his childhood, like private old friends, maybe this is why his works are widely accepted from young to elders. Does Mr Kobuke really see the world and its people like he is illustrating them? If so, his life has to be indeed pure fun. And how would I look like, if he paints me? Could be interesting.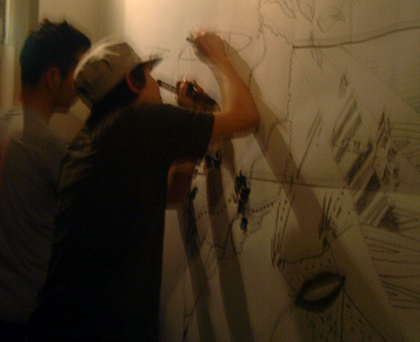 Although at Dot Soso, Mr Kobuke didn't paint people but hearts with those typical big eyes and bizarre landscapes were still recognizable as a "Kobuke". From time to time they discussed how to go on, or decided to paint over a part of their work with white paint. They finished after 2 and a half hours with a happy "finished!" and a big smile and the audience's big applause. I was quite amazed how two illustrators with totally different styles, could create such a harmonious and nice-looking picture. May be just because of the different styles, you don't get tired looking at it. The rest of the night Sunday-Vision and Mr Kobuke spent chatting with the other guests, taking pictures and giving autographs.
At the end, I'd come to the conclusion that to witness how an artwork is painted can be more exiting than looking at a completely finished work. Nevertheless, this time's "completely finished work" was exhibited during May in Soso Cafe, and it was still worth appreciating.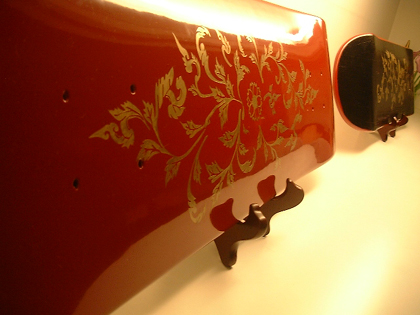 And last but not least, for all those who haven't seen the skateboards designed by Sunday Vision: They are scrolled with those golden Sunday-Vision leaves, esthetic pure.
Despite those boards that exhibit his wide range of ability, my favourite one which said: "Cymbal & Ninjin", was monochrome and looked very esthetic.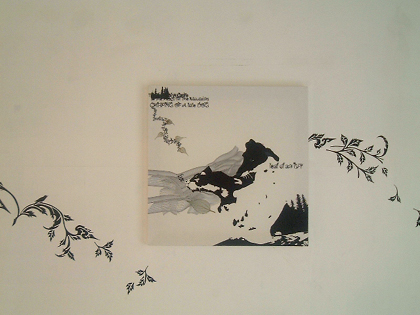 Others were colorful graphics, and pictures looking like fondly done handicrafts. The main display was a flourid graphic enlarged to about 4 x 5 meters.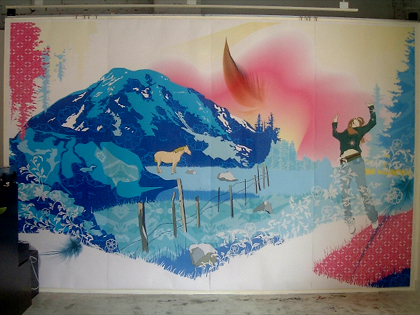 After that night I am looking forward to attending the next event at Soso Cafe, and you should make sure not to miss it too.
DOT SOSO#15 FEAT. SUNDAY-VISION vs KOBUKE
Date: (Sat.) 3 May 2003
Tickets: Advanced 1,500 yen (with 1 drink) Day 2,000 yen (with 1 drink)
Live Drawing: Sunday-Vision + Kobuke
DJs: Nordform Crew
Guest DJ: Uemura (Bonjour Records)
Supported by: Canon Inc., Smirnoff
Place: Soso Cafe
Address: 1F Sansei Bld. S1 W13 Sapporo, Japan
http://www.shift.jp.org/soso/
Sunday-Vision
info@sunday-vision.com
http://sunday-vision.com
Text and Photos: Michiko Ikeda
[Help wanted]
Inviting volunteer staff / pro bono for contribution and translation. Please
e-mail
to us.