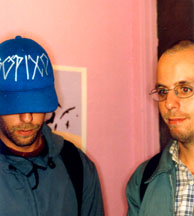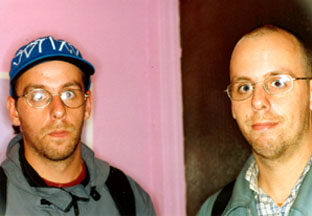 Emotional sincerity charges the gear of Sao Paulo natives OSGEMEOS' art but where they come from is no candyland. The tough reality of Sao Paulo is deep in their veins where even the police shy away from hard core crimes and prefer to harass graffiti artists. Twin brothers grew up sharing everything from cloths, fixation with fire, and love of drawing and painting.
Suggesting the idea of play, fire is a recurring theme throughout their work. "Everything has a story, everything has a reason," OSGEMEOS encouraged to seek the narratives behind each work. "We mix many different elements. Firecrackers, rose, love, hate, dreams, fantasy, and stupidity." Their spirits are always of a child at play.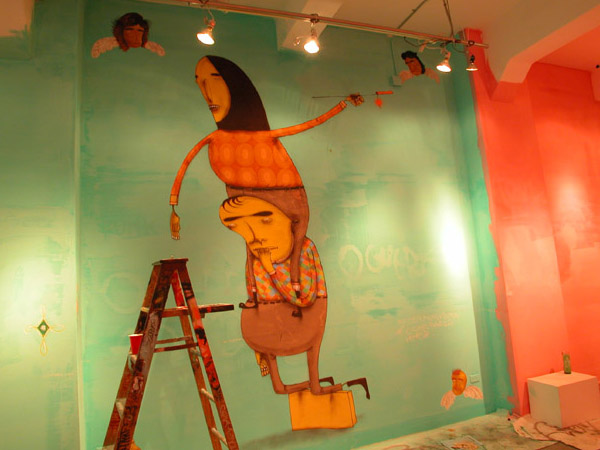 The twins make art as one unit. No communication is necessary while creating; they both know exactly what to do without a word spoken. "We are into same things, so we do the same thing." Their immense study of hip-hop culture and NYC's traditional graffiti scene since the age of 10, making the street their canvas was a natural move for the prolific pair.
They have since made murals the size of large buildings in many cities throughout the world. At the time in Sao Paulo, in the late '80s, making art on urban street was still a rare act. Yet they exchanged techniques passionately with other writers in the city whenever possible. OSGEMEOS refer to that time as "taking in too much different information," and soon move on to develop their own style. Bold use of color, intentionally splashed outlines, stencils dealing with socio-political narratives, their art is a mixed beauty of paintbrushes and rollers as well as spray cans.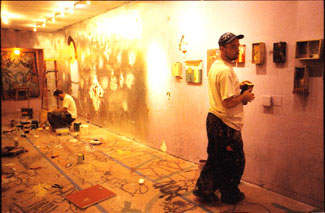 It was 1993, when Barry McGee and Margaret Kilgallen encountered one of OSGEMEOS mural in Sao Paulo. Phone number accompanied the mural as to receive legal work and McGee gave them a call. Soon befriended, they inspired each other and painted together. Laurie Lazer and Darryl Smith of The Luggage Store gallery shared the inspiration back in McGee's native city San Francisco upon his return. With years worth of preparation, OSGEMEOS' first US gallery show "PAVIL" realized with funding from notable foundations. After 3 weeks of twins' intense labor, gallery was filled with bright paint, charming characters, and firecracker scorched walls. Opening night was mobbed by 600 word-to-mouth crowd whose been following their work via sources like Susan Farrell's Artcrimes.org. Many commissioned murals are left on the streets of SF (while in LA, they painted on Melrose with local writers Barr and Skypager) and conversation with artist RIGO 03 (hosted at California College of Arts and Crafts, SF) filled up the room. "Everything went organic with them," comments Lazer on the experience of hosting the twins both privately and publicly. "They are so in-tuned and respectful of each other."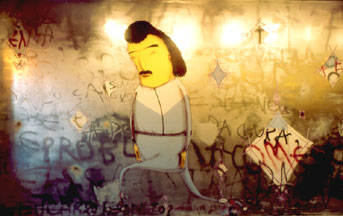 With Lazer and Smith's push, So-Cal also got to experience OSGEMEOS. In Los Angeles, "BREAK" announced the recently relocated New Image Art's inaugural show. "I feel fortunate to start the new gallery space with recognized international talent, while making people realize that this is tying the graffiti movement and art scene here," says Marsea Goldberg of New Image Art. Proving the movement international, OSGEMEOS inspired and exchanged thoughts and creativity with many artists in California.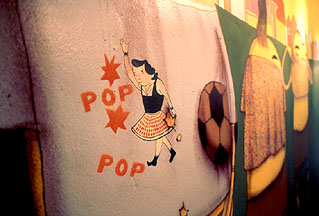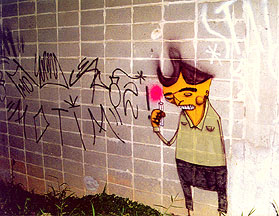 "They arrived on 1/18/03, which was SF's biggest yet anti-war demonstration and left on 3/15/03 during another peace demonstration," notes Lazer of twins' monumental visit. As OSGEMEOS credit traveling as "it's all about people- seeing old friends, meeting new faces," this one without an exception left many positive loose ends to creative conversation. Now being sponsored by a spray paint company back in Sao Paulo to work on various projects, OSGEMEOS pace their lives between international and domestic invitations. "We have to find some time to paint on street. To do something for us."
OSGEMEOS "PAVIL"
Date: 7th Feb. – 15th Mar. 2003
Place: The Luggage Store Gallery
Address: 1007 Market St. San Francisco, CA 94103
www.luggagestoregallery.org
OSGEMEOS "BREAK"
Date: 7th Mar. – 5th Apr. 2003
Place: New Image Art
Address: 1005 N. Fairfax Ave. Los Angeles, CA 90046
www.newimageartgallery.com
Catalogue for OSGEMEOS' shows "PAVIL" (SF) and "BREAK" (LA) is coming in May 2003.
Text and Photos: Aya Muto from New Image Art Gallery
[Help wanted]
Inviting volunteer staff / pro bono for contribution and translation. Please
e-mail
to us.