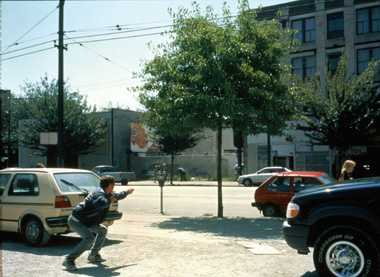 Man with a Rifle, 2000. Leuchtbox/Diapositiv. 226×289 cm. © Jeff Wall
In the late 1970s, Canadian born Jeff Wall started to make carefully composed, backlit Cibachrome transparencies. Since 1991 he has used digital technology to produce panoramic photographs, often making reference to well-known works of art. His luminous photographs combine historic and contemporary forms to picture the social realities of modern life. They owe their scale and composition to the language of painting, often reconstructing specific images from the past, while their narrative drama draws on the conventions of cinema. With his photographs, Wall has made a decisive contribution towards an upgrading of photography as a genre in its own right.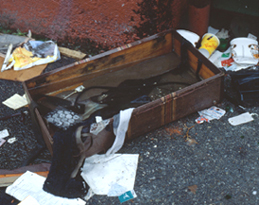 Rainfilled Suitcase, 2001. Cibachrome transparency, aluminum lightbox, fluorescent bulbs. Courtesy Marian Goodman Gallery, NY. © Jeff Wall
The Vienna Museum of Modern Art (MUMOK) for the first time in Austria presents a comprehensive overview of WallÕs work. The exhibition displays 25 large-scale colour transparencies mounted in light boxes together with black-and-white pictures from all creative periods of the artist. Spectacular works are shown side by side with less well-known works.

Milk, 1984. Leuchtbox/Diapositiv. 187×229 cm. © Jeff Wall
Quite deliberately, the MUMOK exhibition attempts to modify WallÕs clichŽ as a "painter of modern life", demonstrating, instead, his intense preoccupation with history and the representational conventions of the medium photography. The selection therefore concentrates on the close links between the artist and the traditions of documentary and straight photography. Wall's more reflective relationship with details, formats, camera angles and forms of presentation aims to look behind visual representation.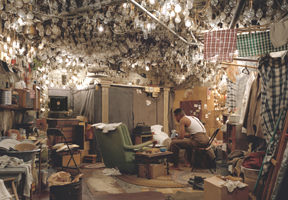 Invisible Man by Ralph Ellison the "Preface" (1999-2001, Cibachrome transparency, aluminum lightbox; Marian Goodman Gallery, NY. © Jeff Wall
After "Invisible Man" by Ralph Ellison the "Preface" represents a well-known scene from Ellison's classic novel. Wall's version shows us the cellar room, "warm and full of light," in which Ellison's narrator lives, complete with its 1,369 lightbulbs. Energy and light, stolen from the electric company, illuminate not only the character's basement dwelling but also the truth of his existence. He tells us: " Light confirms my reality, gives birth to my form… Without light I am not only invisible but formless as well; and to be unaware of one's form is to live a death… The truth is the light and light is the truth." – Jeff Wall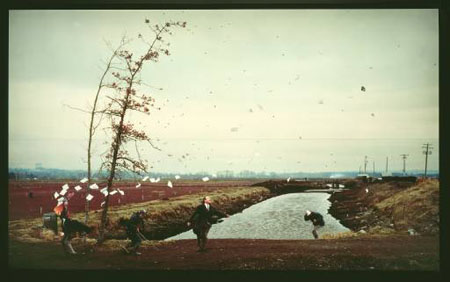 Photographic transparency and illuminated display, Tate Gallery.
© Jeff Wall
A Sudden Gust of Wind was inspired by a woodcut print Ð one of thirty-six views of Fuji – by the nineteenth-century Japanese artist Hokusai. In this contemporary landscape Wall replaces Mount Fuji with a high-rise, and the windswept peasants with builders and surveyors. Nature is shown as an immutable force, capable of transforming our most ambitious projects into comedy. The wind spins the figures into baroque contortions, their documents flying through the air with the autumn leaves. A winding river that recalls classical Arcadian scenes, comes to a dead end, compounding the bleakness of the site. Although the image appears to capture a single moment, it was staged using actors and digitally synthesised from separate photographs taken over a five-month period.
Modern Life Through the Lens of Jeff Wall
Date: March 22nd – May 25th, 2003
Open: 10.00 – 18.00
Place: Museum of Modern Art Ludwig Foundation, Vienna
Tel: +43-15-2500
info@mumok.at
www.mumok.at
Text: Christina Merl
[Help wanted]
Inviting volunteer staff / pro bono for contribution and translation. Please
e-mail
to us.