"Great art, hard to find, easy to love". That's the slogan of Magasin 3, one of the most reliable art gallerys of Stockholm. And indeed, they have a point. Located in a industrial area on the outskirts of the city with closest neighbour the ferry terminal to Finland you might be wondering if you took a wrong turn somewhere in the search for the renowned gallery. But once you are there you will not be disapointed. Until June 2010 american artist Sol LeWitt gives you "Seven Wall Drawings", the most extensive exhibition in Scandinavia of his wall drawings so far.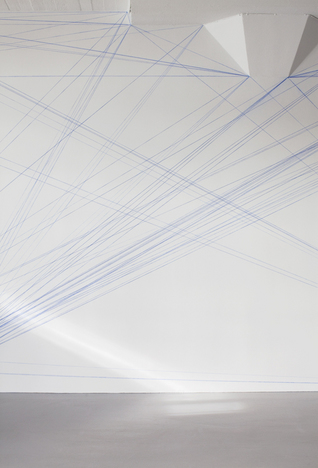 "Wall Drawing #51", Installation at Magasin 3 Stockholm Konsthall, 2009. Courtesy Estate of Sol LeWitt. © Magasin 3
LeWitt was (he passed away 2007), a pioneer among the minimalists and conceptual artists in the late 60´s and early 70´s. He made his first wall drawing in 1968 in graphite and restricted himself to horizontal, vertical and diagonal lines and worked within this concept thru out his career. He investigated every imaginable line in geometric shapes, color and often in contact with architechtorial elements. In Magasin 3 the matter is the drawn line. "Seven Wall Drawings" contains seven almost monumental works in executed in pencil and different forms of ink washes.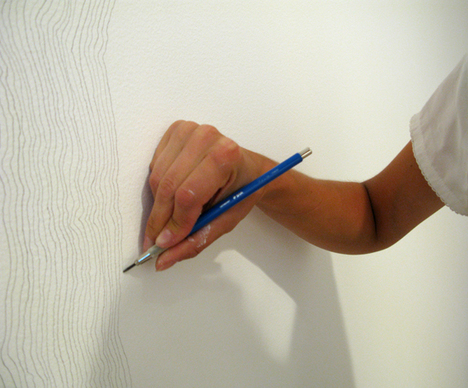 "Wall Drawing #123", 1972. Installation at Magasin 3 Stockholm Konsthall, 2009.
Photo: Linda Dobke. Courtesy: Addison Gallery of American Art, Philips Academy, Andover, Massachusetts. © Magasin 3
The work is done directly onto the gallery walls by the hands of 14 artists/art students during a period of six weeks. Every wall drawing is executed based on a verbal or written firm instruction from LeWitt. He can be seen as a composer and the assistants implementing the instruction as the orchestra wich interpret it to a site specific work of art, just like an orchestra playing the notes on the music sheet a little bit differently every time it is performed. One of these instructions can read "On a black wall, pencil scribbles to maximum density" and creating "Wall Drawing #715" a black massive wall with an amazingly striking entanglement of pencil lines.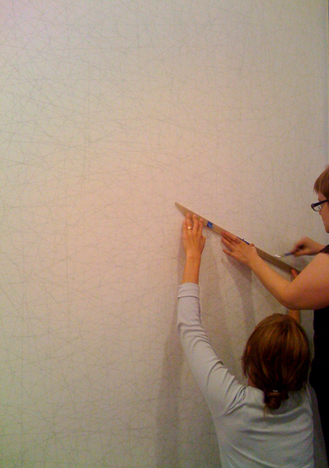 "Wall Drawing #111", Installation at Magasin 3 Stockholm Konsthall, 2009. Courtesy Estate of Sol LeWitt. © Magasin 3
In 1969 an article in 0-9 and Art- Language LeWitt authored an almost manifest-like article consististing sentences on conceptual art and a follow up in Art Now 1971 "Doing Wall Drawings" and these articles is still current to understand his work and LeWitt continued to work within these frames of concept. "Irrational thoughts should be followed absolutely and logically" in LeWitts own words.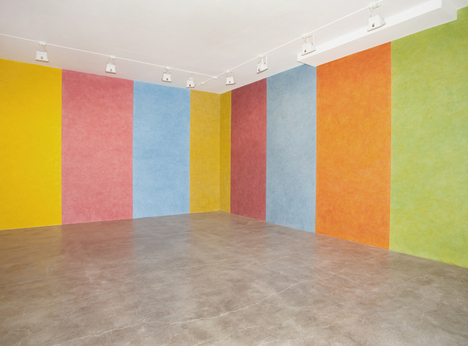 "Wall Drawing #422", Nov 1984. Installation at Magasin 3 Stockholm Konsthall, 2009. Courtesy Estate of Sol LeWitt. © Magasin 3
In curators Elisabeth Millqvists words: "The description and instructions sound bone dry but the result is startling. It is beautiful, chaotic and overwhelming. The finished wall drawing shows the inadequacies of language in describing what we can expect to see". Curator Millqvist turned to author Haruki Murakami and an exhausting quotion to find the inspiration that followed thru the process of making "Seven Wall Drawings"; "No matter how mundane some action might appear, keep at it long enough and it becomes a contemplative, even meditative act". LeWitt changed the concept of what art is, he succeeded in the task of combining art that puts the idea first with an exciting visual form.
Sol LeWitt "Seven Wall Drawings"
Curator: Elisabeth Millqvist
Date: 2nd Oct, 2009 – 6th June, 2010
Place: Magasin 3 Stockholm Konsthall
Address: Frihamnen, SE – 115 56 Stockholm
Tel: +46 8 545 680 40
art@magasin3.com
http://www.magasin3.com
Text: Sara Överengen

[Help wanted]
Inviting volunteer staff / pro bono for contribution and translation. Please
e-mail
to us.