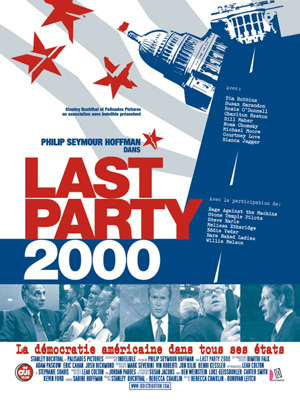 Last night, I saw a movie in the MK2 film theater. This movie was "2000 Last Party", its a "Michael Moore style" documentary about the backstage of the last american presidential election.
During all the movie, we follow Philip Seymour Hoffman, he interwiewed ingenuously protagonists and various activists. It's filmed on a cut-cut and raw style with a digital camera.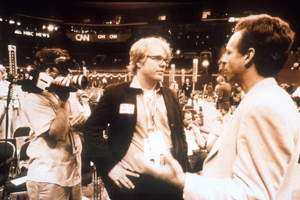 This movie was interesting but it's not the most important. In fact, I was more focused on a short film projected just before this. Indeed, I really appreciate "gracia a dios" a short film of Francois Koltes.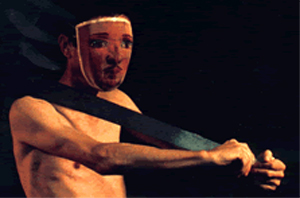 Francois Koltes is the Bernard-Marie Koltes brother (Bernard-Marie Koltes is a very famous french writer and playwrigh ) and he is architect and director (stage manager). He created this 6 minutes movies in 1999. The story is about a museum guardian who reconstitute during a night the nicaragua history from the spanish conquest to the last national revolution.
It's like a play decomposed in three acts in a dark room.there are no special effects but only one actor on a black background and miniatures. I was impressed by this movie impact. It is able to describe all the nicaraguaian situation,to denounce the spanish imperialism and the american imperialism, without a word, without pictures of blood, of war. It used only symbols and few objects.
This movie is diffused on first part of 2000 Last party in MK2 Rambuteau Theater. If you go, you could also enjoy, near the theater, the Philippe Starck exhibition in the Pompidou center. Phillipe Stark is the most famous french designer and he has exposed his work since the 28th february 2003 .
MK2 Beaubourg
Address : 50, rue Rambuteau, 75003 Paris
Tel :+33 (0) 8 92 68 14 07
http://www.mk2.com
Text: Jerome Lacote from Endown
[Help wanted]
Inviting volunteer staff / pro bono for contribution and translation. Please
e-mail
to us.