We are with Innothna Artcomm, a group of three guys and a girl: Daniel Bravo, Carles Vallve Laura Miyashiro and Julio Hardisson. They have received the First ArtFutura Award for Videogame Creation in 2002. That's in addition to the many things they have done for Shift. It's a warm January afternoon in the Gracia Neighborhood, in the city of Barcelona, Spain, as we are investigating and talking about their work. At this moment they're preparing a trip to France to exhibit their last project: Innsonik.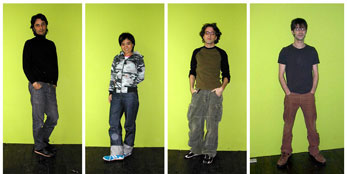 Innothna Artcomm. What is the meaning of this for you?
C: I see innothna as Gepetto in his workshop. Giving life to the unanimated objects, creating Pinocchios through programming and graphic design.
J: For me it's very contradictive. On one side, we in Innothna can do auto organizing, experimenting, inventing, learning and also have a salary. On the other side, you feel that
Innothna is something unreal, like a bubble.

What is the role that Innothna plays in the scene in Barcelona, Spain?
J: I think we don't fit on any scene in concrete. But it seems that we are much involved in the scenes of design, arts, videogaming, education and some others. Our will to experimentation is validated.
D: We are one more group on the scene. I understand the scene as independent groups that support their own projects. The scene that we are not interested in at all is the media showroom that is Barcelona actually.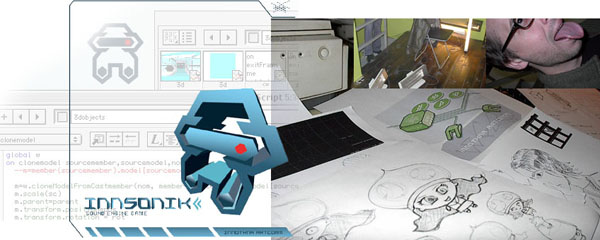 What was the most important fact that happened to Innothna in 2002 and why?
J: The incorporation of Laura. Her graphics universe manga – Nintendo has fusionated with the traditional minimalist style of Innothna.
L: It has been very illuminating to have won the First Playstation-Artfutura Videogame Creation Award for our game Innsonik.
D: Our new green studio.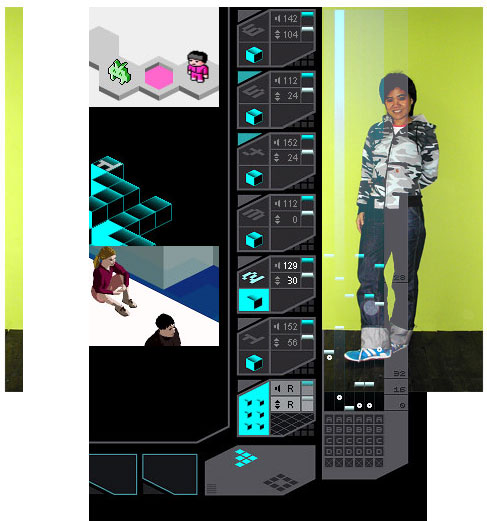 About videogaming, what are the failures that you find right now?
D: With respect to the videogame tradition, I believe that actually most are based in continuism. We have to propose new experiences to the user with components of the classic videogame and some other inputs that would allow an evolution. Even if it makes us stop using the word videogame.
J: The videogame evolves technically, but not so much on the language and proposals levels, that should be very revolutionary. It's obsessed for representing reality and to repeat the already known schemes. It hardly exists author videogaming, it's just a great business and isolated experiences as ICO or REZ.
C: Videogaming is still in his adolescence. It classifies a game like an "adult game" if it contains violence or sex, and not because if offers a mature experience.
Tell us about your last project.
J: Innsonik, a videogame based on the visualization of sound. The beats, the loops and the sonic textures are the ones that generate the visual environment and the mechanics of
the game. It's an interactive experience between music, electronic arts and videogaming. It's a short tale, but you can always come back cause it works like a musical Lego and you
can use it to make sequences of sounds in infinite ways. The one thing that it contains, and that is common to some other videogames, is that it's more important to be in the
game than to reach an end. We are going to present it in Perpignan, France in February. In March there will be a free demo downloadable from our website.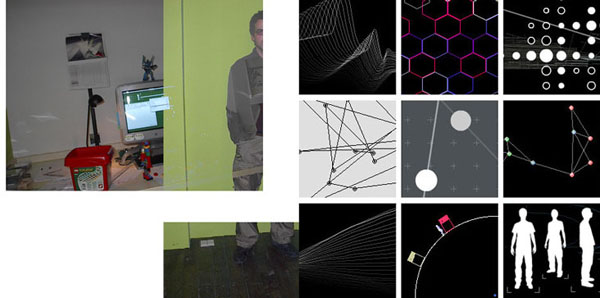 On what artistic and professional projects do you see Innothna in December 2003?
L: We would like to be developing a multiuser playing environment in 3D.
D: I would like to break the mystery of doing something for a console. Even if it was just to move a pixel in X.
C: I would love to work more outside Spain.
J: I would like to dedicate more time for a single project, so we could center on it and reach the deeps of it within an idea. I have the feeling that we are still staying on the
surface in projects that could give much more of themselves. It's our fault anyway, cause at the end we get bored of everything.
If Innothna had the oportunity to transmit a message to the world using the Internet, TV, radio, and all other media, what would it be?
J: I wouldn't transmit anything. It would be an hour of media silence. It would be great! An hour without radio, internet, or tv.
D: Hear/read this phrase.
L: I would transmit a big laugh with good vibes.
C: Do not attack Iraq.
Innothna Artcomm
Address : Sant Marc 13 Barcelona 08012, Spain
Tel: +34 932 37 96 24
www.innot.org
Text and Pictures: D76
[Help wanted]
Inviting volunteer staff / pro bono for contribution and translation. Please
e-mail
to us.