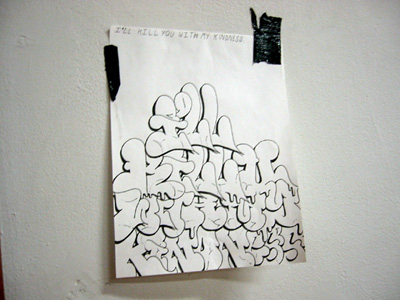 A new year has started with us aspiring to great things. Thinking greater than the last year and trying to make the possibility real, I look right up to the broad sky. My steps become powerful as I stand up to the vast and boundless vision before me. Standing at a renewed starting point makes me look at the past with a broad outlook and focus on the future with an open mind. Here, people with lots of fresh motivations have started painting their great pictures.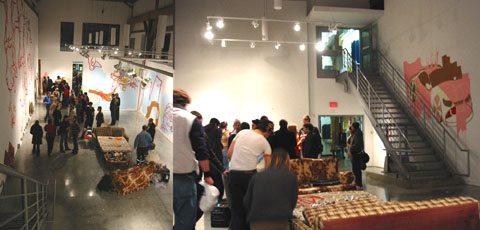 From January 9th to 13th there was an exhibition called "I Kill You With My Kindness" at the Concourse Gallery at the Emily Carr Institute of Art and Design on Granville Island. With a call from Niall McCleland in Design and Curtis Valentine Grahuer in Media, Nick Pittman, Morgan Watt, Lisa Cinar, Julia Feyrer, David Lehman, Robert Popescul, Nina Palmer & Friend and Lukas Giniotis from University of British Columbia, Dustin Ladd from Toronto and Ben Taylor from Australia joined the exhibit.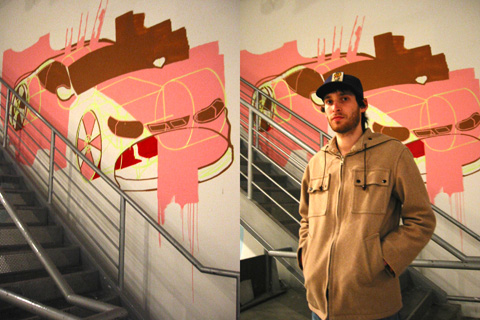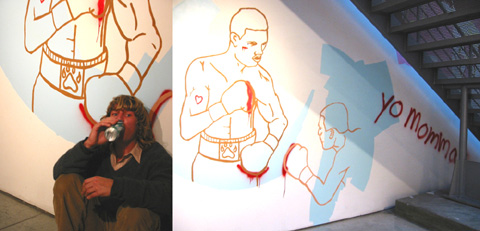 The Concourse Gallery, whose space is 60 feet wide and 24 feet high, is open for students at the institute to exhibit. Here students create their own space and express themselves on a large scale.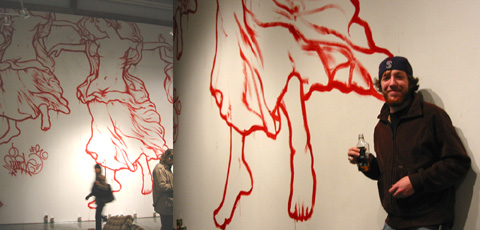 The installation by Nick makes full use of the gallery dimension, and it depicts the image of a goddess reminiscent of Athene in Greek myths. Athene is known for knowledge, arts, and tactics. Nick seems to express his space in life by depicting an intellectual image dynamically and freely. It shows the beauty of free and creative living.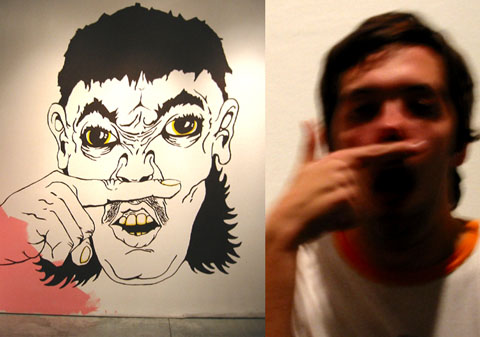 Curtis painted a gigantic face on the front wall of the gallery. The face is huge as it is proportional to the space. It is imposing and dignified as if it represents fearless Curtis himself.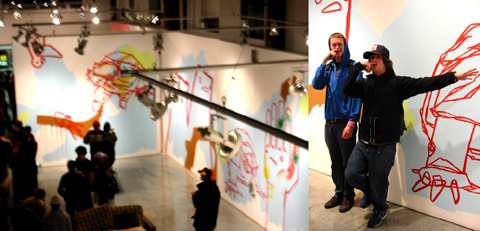 There is a collaboration by Morgan and Niall on two sides of the central wall. It reminds the viewer of the spacious sea and sky. However, the creatures that exist in soft colors on the wall look worried and injured. You need to stand back to look at the whole picture, similar to a situation when you can't see a solution for the problem. This painting, that is suitable to look at from the stairs leading out of the gallery, may boldly represent a private space of the artists.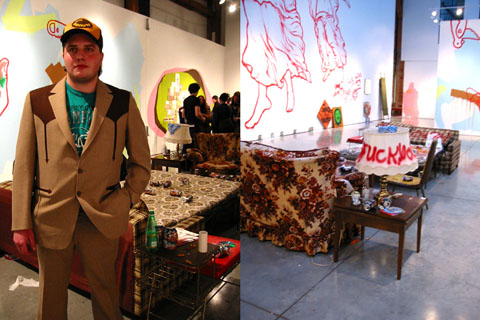 The space created by Robert is just as comfortable and fun as he wants it. He recreates a place where he can spend free time with his friends, snacks and drinks in one hand, in public.
There were actually people reading books on his couch or waiting for their friends in his space. Robert successfully transformed the gallery into his ideal comfortable place.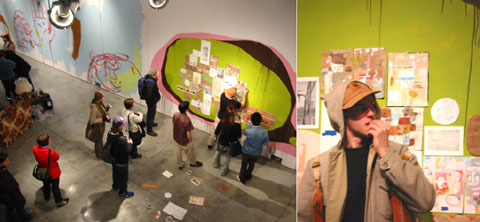 A mixed media installation by David seems to open his personal sketchbook to the public. It includes paintings, drawings, and sculptures, and all are harmonious. David quotes Dadaist ideas, plays with pop culture, and creates his own way of storytelling. It is full of humor.

Julia expressed her space with sparkling glue drawing. There were eyes goggled on the sparkling lines. It was curious to wonder what those gazing eyes were looking at. The odd look aroused my interest.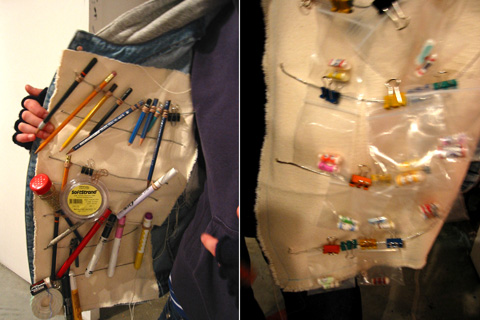 The performance by Lisa dressing as a drug dealer was very cute and humorous, and of course, she wasn't selling any drugs. They were her artworks and necessities of life; pens, inside the jacket. Lisa, who was secretly performing at the corner of the gallery, creates a different space as she presents her living space against the actual situation in the slums.
Living space, city space, and space shared with other people, all are the place where you live. If you are a student, school is also an important space for your activity. An open gallery, like the Concourse Gallery, can be useless if you don't use it as an opportunity for a self-expression. As Niall and his friends expressed themselves respectively, by applying daily space fully, we see ourselves well enough perhaps to be able to reach the ideal tomorrow.
In a new year, let's make hopes come true in the space around us!
"I Kill You With My Kindness"
Emily Carr Institute of Art& Design
Address : 1399 Johnston Street, Vancouver, B.C. Canada V6H 3R9
Tell: 604-844-3091
http://www.eciad.bc.ca
Text and Photos: Aya Takada from SML-(6j6)
[Help wanted]
Inviting volunteer staff / pro bono for contribution and translation. Please
e-mail
to us.