A new year has started with us aspiring to great things. Thinking greater than the last year and trying to make the possibility real, I look right up to the broad sky. My steps become powerful as I stand up to the vast and boundless vision before me. Standing at a renewed starting point makes me look at the past with a broad outlook and focus on the future with an open mind. Here, people with lots of fresh motivations have started painting their great pictures.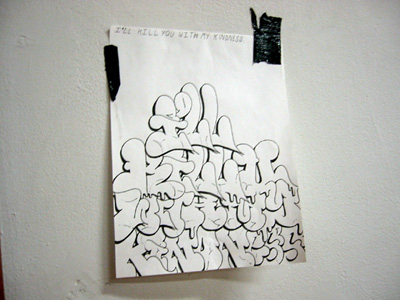 From January 9th to 13th there was an exhibition called "I Kill You With My Kindness" at the Concourse Gallery at the Emily Carr Institute of Art and Design on Granville Island. With a call from Niall McCleland in Design and Curtis Valentine Grahuer in Media, Nick Pittman, Morgan Watt, Lisa Cinar, Julia Feyrer, David Lehman, Robert Popescul, Nina Palmer & Friend and Lukas Giniotis from University of British Columbia, Dustin Ladd from Toronto and Ben Taylor from Australia joined the exhibit.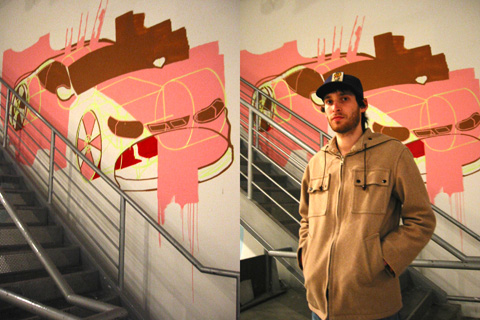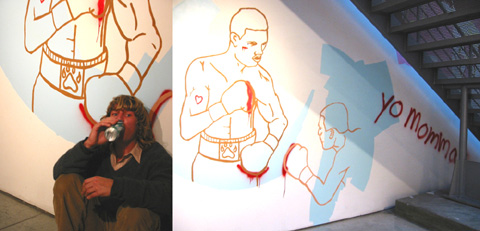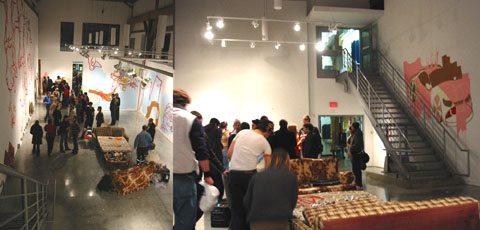 The Concourse Gallery, whose space is 60 feet wide and 24 feet high, is open for students at the institute to exhibit. Here students create their own space and express themselves on a large scale.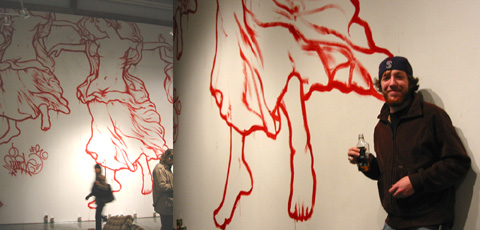 Nick Pittman
The installation by Nick makes full use of the gallery dimension, and it depicts the image of a goddess reminiscent of Athene in Greek myths. Athene is known for knowledge, arts, and tactics. Nick seems to express his space in life by depicting an intellectual image dynamically and freely. It shows the beauty of free and creative living.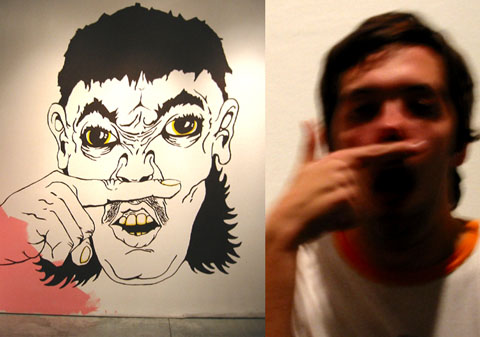 Curtis Valentine Grahuer
Curtis painted a gigantic face on the front wall of the gallery. The face is huge as it is proportional to the space. It is imposing and dignified as if it represents fearless Curtis himself.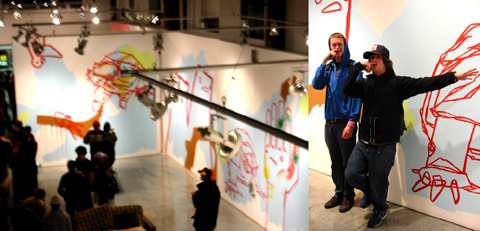 Morgan Watt and Niall McCleland
There is a collaboration by Morgan and Niall on two sides of the central wall. It reminds the viewer of the spacious sea and sky. However, the creatures that exist in soft colors on the wall look worried and injured. You need to stand back to look at the whole picture, similar to a situation when you can't see a solution for the problem. This painting, that is suitable to look at from the stairs leading out of the gallery, may boldly represent a private space of the artists.
Read more ...

1
2
[Help wanted]
Inviting volunteer staff / pro bono for contribution and translation. Please
e-mail
to us.