This month cover design by H2O. H20 is a design unit, based in San Francisco, USA and they created a cover design for this latest issue. They are now just about to start to hold the exhibitions "REMIX", which is a series of reinterpretations of iconic visual images, in Sapporo "Soso Cafe" and Tokyo "Rocket". They are in the middle of the big project at the moment but they seem to be really relaxed with a great confidence.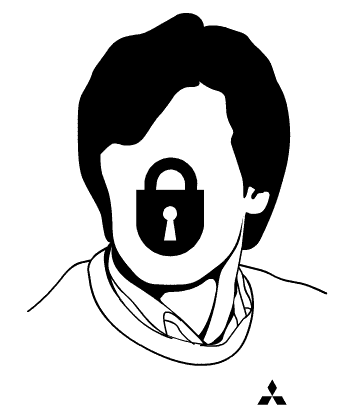 Please introduce yourself.
H2O is a team of 2 members Nick Philip and Simon Colley, both originally from the U.K. Nicks background is Streetwear design and Interactive Media art, Simon is from a music background.
What kind of design team "H2O" is?
Our work exits on the fuzzy boundary between art and commerce. We create our own content for gallery projects and design our own streetwear line, while still doing commercial freelance design and illustration for corporate clients.
Please tell us the latest project "REMIX"?
In an era where everything is sampled, digitized, uploaded, downloaded, scanned, streamed, ripped, burnt and bootlegged – appropriation has become appropriate. Utilizing a term from electronic music and applying it to the visual form the visual "REMIX" project cannibalizes images from painting, corporate identity, conceptual art, advertising and religious iconography reinterpreting the works in new ways with little or no regard to their original meaning. As a result new and intriguing images are created from the palette of the familiar.
The visual REMIX project is a series of visual interpretations printed on Somerset enhanced velvet rag paper using an Epson 9000 giclee printer with archival quality inks.
This is an ongoing project which will be shown in Gallery/Boutiques in the west coast of America and Japan.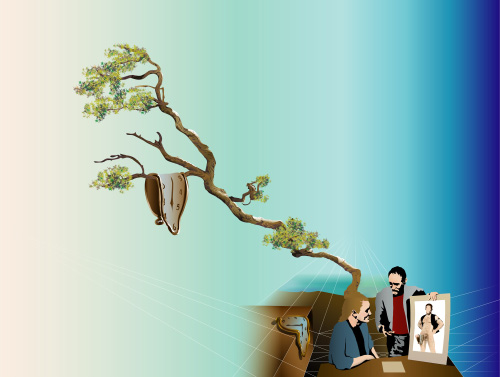 Dali Remix, 2002
H2O exhibition will be held at Soso Cafe from the 3rd of November for about a month. Please tell us the concept(s) of this exhibition. How would you like visitors to enjoy this exhibition?
We would like visitors to have an open mind, as Marcel DuChamp once noted an artist can only ever finish a piece half way, the viewer brings with them the other half.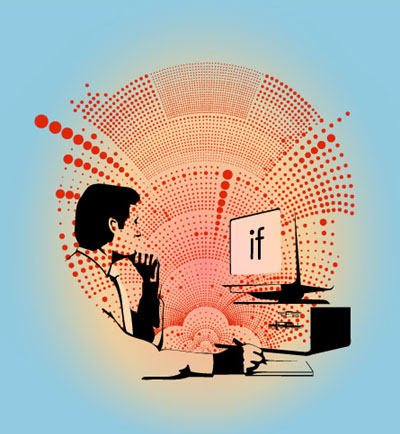 Deskman, 2002 H2O
After the exhibition at Soso Cafe, it will move on to Rocket in Tokyo from the 6th of December. Furthermore, your works were introduced in SAL magazine Vol.6 that was released in this July. The field of H2O seems to be steadily expanding in Japan. What sort of impression have you got to Japan?
It seams that Japan recognizes new artist and new directions in street/pop culture more quickly that in the U.S. I think its a little ironic that few of the U.S. artists who are so popular in Japan have gained much mainstream recognition in the U.S.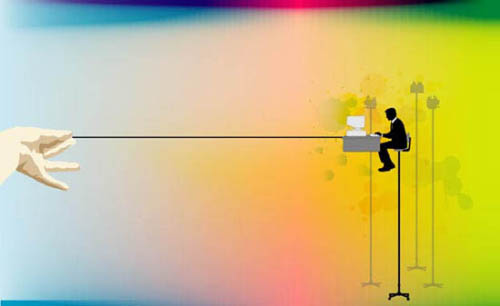 Job, 2002 H2O
You participated in "SSB Competition" that was held in the Shift March issue. Do you think taking part in this sort of competition is important for an artists, who creates something, in terms of making yourself excited or getting know how strong or good your ability is?
I think in one sense competitions are more important for other people than for the artists themselves, often people think the fact that an artist has won a competition means their work must be good. For artist's themselves it is less important as they judge their work on its own merits. However wining helps an artist to get recognized by a large audience.
The range of participants to SSB Competition was wide from art students to young artists. If you could advise these young people something about designing, what would you pick up?
Try to make work that communicates an idea rather than just looking cool.
What does "create" mean for H2O?
Looking at what's around us, filtering it, re-interpreting it and putting it back out there.
How would you like to spread out your activities in the future?
We like to stay in the moment we don't look to the future.
Please leave a message to Shift readers.
Take a break and smell the flowers.
H2O
Address : 615 Cole St, #18, San Francisco, CA 94117, USA
Tel: +415-221-7495 Fax: +415-221-7813
Text: Sachiko Kurashina
[Help wanted]
Inviting volunteer staff / pro bono for contribution and translation. Please
e-mail
to us.