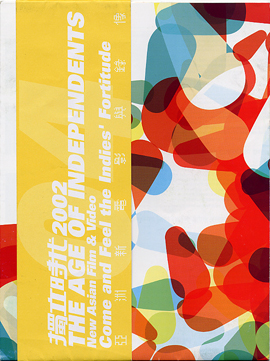 Movie going is probably the favourite pastime among Hong Kong's population. We are lucky to have been offered an incredible exposure to the world cinema – from local features, Hollywood blockbusters, mainland Chinese and Taiwan productions, Japanese and Korean flicks to foreign art house films. Indeed, movie means much more than a pure entertainment to us. Economically speaking, filmmaking is one of the largest industries in the SAR; culturally speaking, Hong Kong cinema represents our collective pride; it documents our history and its reflects the mentalities of various groups in our society; it also provides a legitimate medium for filmmakers to voice their ideas. Given the above conditions, it is not difficult to know why Hong Kong people are so passionate towards films.
At the moment, the hottest cinematic happening in town is the 26th Hong Kong International Film Festival (HKIFF). Since its inception in 1977, HKIFF has always been an event to look forward to. Every year around Easter, film buffs would indulge themselves in movie going marathons. This year is no exception. The 12-day cinematic extravaganza features more them 300 screenings of over 200 international films. These films are grouped under different programmes including "Global Vision", "Master Class", "Reality Bites", "Animation", "A Tribute to Jan Svankmjer", Director in Focus: Ann Huii Age of Independents: New Asian Film and Video (AOI) and more.
"Age of Independents" (AOI) is a relatively new programme, but it has already achieved a special status in HKIFF. Introduced by Hong Kong Arts Centre four years ago, it aims to set up a network of indie filmmakers within Asian regions and to promote Asian productions to a wider audience. With excellent feedbacks from audience and filmmakers, AOI has continued to grow. In 2000, AOI launched a publication scheme: to publish a special report on the development of independent films of an Asian country every year, in hope to leave a comprehensive guide to Asian independent filmmaking for future studies. After Hong Kong and Korea, this year's focus is on Japan.
Japanese indie films is the biggest force of this year's AOI, highlights include a selection of "Pink Eiga" (soft-core pornography): female director, Sachi Hamao's "Lily Festival" (Yurisai), Zeze Takahisa's "Tokyo X Erotica" and Yuri Obitani's short film "A Kid on the Ally of Kyojima 3-2". Also in the spotlight is the "Planet Osaka" series. Planet Osaka is the name of a small cinema in Osaka where film students from the Osaka Arts University hang out. It all started out in 1997 when 24-year-old Kazuyoshi Kumakiri and his fellow students produced a low-budget student thesis film called "Kichiku" (Kichiku Dai Enaki). The ultra-violent but ultra-hip film had caused a big stir in the Japanese movie world. Kazuyoshi's now classic, Kichiku (Kichiku Dai Enaki) is shown among Nobuhiro Yamashita's "Hazy Life" (Donten Seikato), Takashi Ujita's "Ryuko", In the "Unfaithful Evening" (Kanashiku Naruhodo Fujitsuna Yozora Ni) and Takashi Motoki's "When Slackers Dream of the Moon" (Pooten No Tsuki). Depicting the most extreme sides of contemporary Japan, these films are guaranteed to be an eye-opening experience to Hong Kong audience. To help local audience to understand more about the latest Japanese independent film scene, there's also a seminar devoted to the phenomenon of "Planet Osaka".
Other works featuring in AOI are from Hong Kong, mainland China, Taiwan and Korea. The year saw the increased number of works from mainland China, which include "Along the Railway", "The Box", "The Orphan of Anyang", "Shanhai Panic", "Weekend Plot" and "Chen Mo and Meiting". The mainland China collection represents two very different directions – while some works portray a traditional landscape in China, others reveals the modern and sometimes hedonistic lifestyle of the younger generation.
With the advancement of technology and the popularisation of digital video recorder, more digital video productions can be seen in this year's showcase. Will it take over the mainstream production? What impacts will it bring to production, distribution and art direction? These issues will be explored in a seminar entitled "Go Digital: The Future of Film?"
Are you a self-proclaimed film buff? Are you interested in knowing more about other cultures through motion pictures? See you in the Festival!
The 26th Hong Kong International Film Festival
Date : March 27th – April 7th, 2002
Place: Soundwill Plaza
Address: 30F, 38 Russell Street, Causeway Bay, Hong Kong, China
Tel: +852 2970 3300
http://www.hkiff.org.hk
Text: Mlee, Wing Yu Yeung

[Help wanted]
Inviting volunteer staff / pro bono for contribution and translation. Please
e-mail
to us.