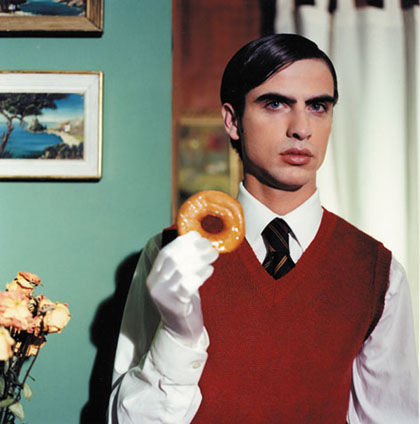 Carles Congost, The Amateur, 2001 © Carles Congost
Well let's see, what is it that kindles the most morbidity, interest and curiosity? The state of the Stock Exchange? The 2004 Olympics? The green house effect?. Let's be sincere, there is one thing that interests all of us, and that is sex. Sexual identity and sex are the main themes of this exhibition, commissioned by Xabier Arakistain, disc jockey, writer, and independent organiser, and Rosa Martinez, art critic, independent organiser and artistic director of diverse biennial exhibitions. They introduce us to the work of 24 artists from all over the world that explore this theme in their work, and not only from a shocking side of the issue in question, but also as a tool for focusing the rights that should not even be questioned.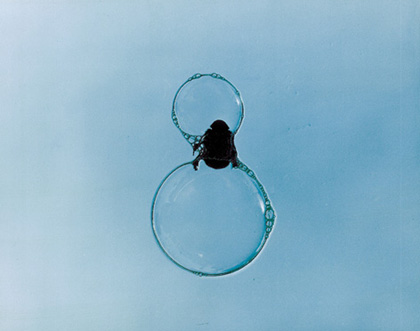 Rivane Neuenschwander, Belong – Not Belong, 2001, © Rivane Neuenschwander, Collection of the Linda Pace Foundation
For the purposes of this exhibition a catalogue book has been published that begins with a conversation between the organisers Xabier Arakistain and Rosa Martinez. It is a very interesting dialogue about sex, love… and genitals. " The concept of sex is rooted biologically, and divides the human species into men and women, through genitalia. They pretend to make us believe that the male – masculine – heterosexual and the woman – feminine – heterosexual are the "natural" prototypes of the human species. By now everyone understands (or should understand) that sexual orientation is a personal choice and that it had nothing to do with sex or gender". That is how they introduce us to this exhibition which explores our most human-wild side. Sexual, social identities. Black or white? Other shades also exist.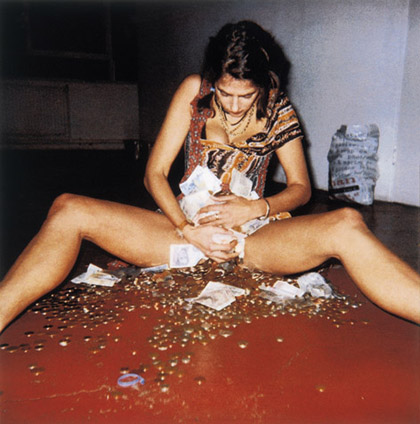 Tracey Emin, I've Got It All, 2000 © Tracey Emin
The exhibition takes place in the d'Art Santa Monica Centre, a controversial enclave at the end of las Ramblas, near the port, where there is a large number of bars and brothels and a varied mixture of men, women, transvestites and prostitutes, so that, in some way the exhibition is interrelated with its surroundings and vice versa.
The works that can be seen exhibited are as diverse as those artists presenting them. Ana Laura Alaez (Spain), presents the installation "Brothel 2001", a decorated bedroom with oriental aesthetics that she herself defines as "a comfortable background for sex and refreshing dreams". An intimate and evocative world. Tracey Emin (Great Britain), demonstrates through her photographs and film "Sometimes the Dress is Worth more Money than the Money", a paradox of money as an object of pleasure. Rivane Neuenschwander (Brazil), introduces us through her photographs in which appear beetles going through soap bubbles, signifying the transience of love. These are just some examples of what can be seen in this exhibition. Intensely evocative.
Trans Sexual Express Barcelona 2001: A classic for the third millennium
Date: June 27th – September 30th, 2001
Place: Centre d'Art Santa Monica
Address: 7 La Rambla, 08002 Barcelona
Tel: +34 935 67 1110
https://artssantamonica.gencat.cat
Text: Terevision Ruiz
Photos: Courtesy of Centre d'Art Santa Monica

[Help wanted]
Inviting volunteer staff / pro bono for contribution and translation. Please
e-mail
to us.