"Myrorna" is the name of the swedish Salvation Army's second-hand-store. It translates to "The Ants" in English. It's become a huge business through the years with over 1200 boxes for receiving used clothes all over Sweden, and 27 stores where they sell second-hand clothes, furniture and stuff like tableware, decorations and old books. It's for a good cause of course; the profits go to the Salvation Army and their activities to help people in need.
Now, so far this well-fare-business isn't very different from a number of other organisations. But three years ago Lars Beijer, manager of market relations at Myrorna, decided that Myrorna needed a new way of communicating with younger people. Therefore he was pleased when swedish ad agency Lowe Lintas contacted him with an all new set-up for the organisations marketing strategy. The concept is a good example on how styling and artwork can be used as a profitable marketing-tool.
– All we saw when looking around us in the city of Stockholm in 1998 was black and grey colors, says art director Martin Gustavsson at Lowe Lintas. We wanted to create a reaction all these boring clothes and came up with the concept "Personligare" (translates to: "More personal").
– The idea was simply to focus on the unique part of our concept, Lars Beijer explains. We needed to reach a younger audience and found that our mix of used and often very different range of products could appeal to a trendier segment of swedish consumers.
So how go about to attract this young crowd with an inclination to spend a large amount of money on the way the look? The answer was simple: employ the coolest young designers, photographers and stylists and create a fashion show with specially put-together outfits from just the used clothing.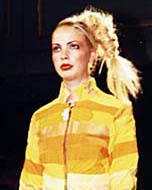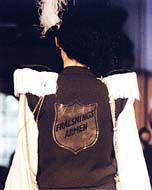 – With the key of our concept in mind: "More Personal", and not forgetting we have a pretty modest budget, we developed a strategy to market our concept to an indirect target group represented out of journalists, stylists, photographers and designers. To succeed with this idea Myrorna has during the last three years contacted a number of famous swedish artists and designers, including well-known artists such as Ernst Billgren, Kia Naddermier, Lovisa Burfitt and Johan Schalin. They also produced a some-what "provocative" flyer with models showing a lot of skin in a sexy way.
– We called one show "Haute Couture" and let these artists design one unique outfit each, Lars Beijer continues. In this way we showed our audience what you can do with clothes you get from our store. Anybody can come in here and create their own unique look with clothes they can not buy anywhere else, because the clothes are second-hand and are not sold in the regular stores or bigger chains of designer clothing. And of course you can mix old with new stuff.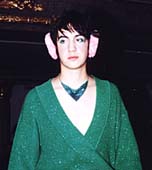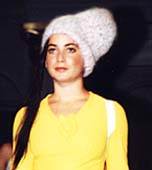 And Myrorna got loads of press from a willing bunch of journalists. The concept was a perfect match of fresh ideas mixed with the "good-will"-feel from the fact that all profits go to the Salvation Army. All fashion shows have been packed. One of them was carried out in the church of Maria Magdalena in southern Stockhlom, a beautiful setting for second-hand Haute Couture. Also in stores Myrorna noticed results of new thinking with somewhere around a 73%-rise in sales of clothes. Unfortunately Myrorna refuses to reveal anything about their next fashion show.
– We have to keep our ideas a secret or else our next marketing idea won't be something unexpected, Martin Gustavsson explains, which is a vital part of our whole marketing strategy.
– Because of our modest budget for marketing we've been forced to think in new ways, Lars Beijer says. For instance we employed a new fashion manager and educated our staff so they became more skillful in sorting these trendier garments out, and to value them correctly.
In the beginning of the Salvation Army's history in 1865 they used another "provocative" and youthful way of marketing the church's activites. Under the slogan "Why should only the devil play the best music?" they quite simply "stole" melodies from the most popular musichall-songs and songs being sung in pubs and put their own religious lyrics to the music.
– I don't know if there's any parallels between our history of borrowing popular melodies and they way we market our clothes today, Lars Beijer continues. But both actions have in common that they're designed to draw attention to the church in a cost-effective and interesting way. And they both worked!
More information at www.myrorna.se
Text: Nanok Bie from NJIN Theory
[Help wanted]
Inviting volunteer staff / pro bono for contribution and translation. Please
e-mail
to us.