This month's cover design was produced by Piero Desopo, a web designer in Bologna, Italy. Even though he's just recently started web design, with his background as a musician, he creates delicate works making full use of sound on his personal web site 'PhoenixArt'.
First of all, please tell us who you are.

I've studied piano at the Academy of Music for 8 years. Then I've played pop music and jazz for another 7 years. In the meanwhile I've studied the drawing basics and after my 17th year I've studied conceptual art at the Academy of Art in Bologna. For some years I've created comics and thanks to them I've learned much.
What are you currently doing?
I'm working as a web designer here in Bologna (Italy). I'm doing commercial web sites and also I'm working on personal experiments on graphic design.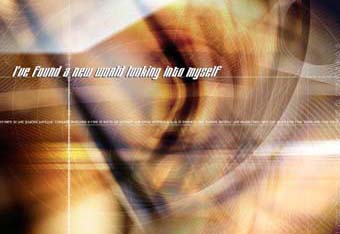 Could you tell us more about PhoenixArt?
PhoenixArt is my bigger experiment. I've created it about two years ago. The first idea was born around a navigation concept: I thought that with Internet was born the possibility to create new ways to share information and that the way to read this information is not only the traditional way. So I love hidden interfaces, where the user have to search and understand a different form of navigation. Now I'm using PhoenixArt to do all the things that I cannot do on commercial works and also as self promotional.
How did you start working on web design?
I've started lately. In Italy the Internet diffusion has arrived very late and I've been interested about the web since 3 years ago. My first approach to web design was just for curiosity. I've loved this media, since I've understood that through the web there was a new way to communicate, share ideas, and moreover an incredible and fast way to create something that could have quickly a feedback from many people.
I've learned web design on my own. I've read many tutorials, tips, articles. I've dissected other web pages, I've read books and now I search for inspiration out of the web: trailers, magazines, traditional prints, music
and so on.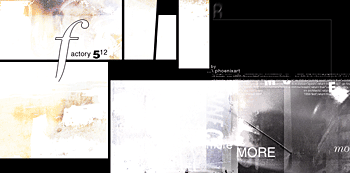 What are your policies/ideas on design and which personal principles do you follow in creating a design?
I start from an idea that generally is a sensation, an impression: I think about an atmosphere and then I imagine some colors and shapes. I view all this in my mind before I touch the computer. When I've got a strong and sharp image on my mind then I start working with the computer.
The first approach is always with Photoshop. Even if I'm a traditional drawer, I'm not able to sketch my ideas on paper to transpose them on the computer. I haven't still found a good line of communication between paper/pencil and computer, perhaps in the next future …
What do you think is the most important aspect about web design?
Clarity, simplicity and equilibrium.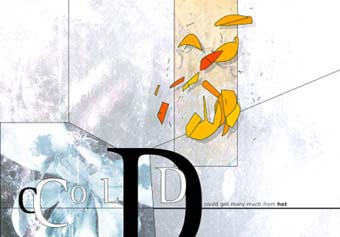 When you made the cover for Shift this month, what did you imagine?
I've thought at the word Shift, I've divided this word, and I've played around this word. Most of the other steps were suggested by the music itself. I've created the textures in Photoshop, then I've added some lines and typographics. When I've found a good equilibrium I've switched it to Flash and Illustrator.
We would like to ask you about the web and multimedia scene in Italy. What's hot now in Italy?
I don't think the bigger problem in Italy is the delay that we have in approaching the web. I think that the bigger problem is the complete absence of a web culture here. From the point of view of the communication agencies the web is only a way to do money, without keeping in mind the design and the look of a web site. From the other point of view the ones that should offer news (the designers) don't know web design very well. Last, but not least, clients don't know how to use the Internet, so even bad things could be good for most of the people. Depressing, isn't it?
There are some designers that are changing all this and they are turning the Italian scene to a new dimension: all of this thanks to Mirco Pasqualini, Nicola Stumpo, Andrea Toniolo and many others that are just now growing.
How is the Internet environment in general?
The speed is a bad point of the Internet in Italy.In the last year there was a boom of the web and many people have known the web services: but for most of them all of this is only a trend like the mobile phone.
What do you think about being based in Italy?
At the moment I'm discovering great designers that aren't famous yet and that they could give me a lot. If the Internet culture still remain as it is for the next years, I hope to get a chance to go out and work abroad for a great company.
What do you think about Japan?
Unfortunately I know little of Japan: all my knowledges are a Roland Barthes book; my love for cartoons in my infancy; and a great book that I've discovered in the last times about old Japanese paintings, the same that inspired Matisse and other artists at the beginning of the 1900s.
What are you interested in now?
Learning more. I'm experimenting with audio and images (www.phoenixart.com/phoenix/metheny) and I'm always interested on this research: finding equilibrium between different things, like the smooth and the rough versions on the PhoenixArt web site. I'm attracted to the opposites.
Who are your favorite visual/graphic designers and sites?
Jonathan Leong : www.the-eclectica.com for his sensibility and fine use of photos/textures and typographic
Jimmy Chen : www.typographic.com for his great use of typographics distortions
Matthew Mejia : www.h73.com for his clean design
Mirco Pasqualini : www.ootworld.net for his great use of audio
Dmitry Utkin : factory512.com because of it's a different way on thinking the portal, and for his huge design archive
Andrey from Design Agency : www.design-agency.com/project/ for his great initiative and for the common love for the textures
Do you have any plans for the near future?
I'd like to work for a great design agency and/or with great designers on creating not only beautiful web sites, but extreme things and experiments as well.
Besides that I'd like to discover all that could be inspiration for me, other design/multimedia fields that could expand my mind. I think that the design is a stimulating human field but to keep it stimulating it's needed our pledge.
Piero Desopo : PhoenixArt
Address : Via Nazionale, 219, 40065 Livergnano – Pianoro (BO) Italy
Tel: +39 (0)51 77.87.05
piero@phoenixart.com
www.phoenixart.com
Text: Mayumi Kaneko
[Help wanted]
Inviting volunteer staff / pro bono for contribution and translation. Please
e-mail
to us.