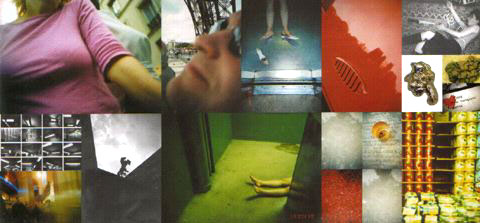 Lomo is a cheap old-fashioned Russian camera, designed in the 70's and produced in St.Petersburg, that has come back iinto vogue in the 90's. As a look extension, this little camera shoots pictures without skill requirements, just for fun. Nowadays, Lomo is very fashionable, and it is a visual underground movement with aficionados and its dogma "DON'T THINK".
"Lomography started out as a new approach to analoge photography. It still is, but now it's grown to include DJs, VJs, awsome events and a whole heap of other initiatives. Lomo is an interface on your life as you move deeper into the digital era". Lomographic Society
The aficionados meet themselves on the Lomographic Society web site www.lomo.com. They can share pictures into a huge and funny database, or publish their own "Lomohomes". If you are already a lomo addict you can use the LomoLabs: just send your film to Switzerland (!!) and one day later you can enjoy and manage your pictures online. Also some worldwide hosts provide cute little stories accompanied by pretty pictures.
I am maybe voyeurist but I am fond of this frenetic usage of photography as the weekly diary of my friend Mat from P-up. …….believe me, check the lomo website…
LOMO INVEST PARIS
Every two years, you can enjoy the month of Photography. During this event, lots of galleries show photography exhibitions. In general, the same photographers and the same artists publish the same pictures, but this month we can enjoy some fresh exhibitions.
With the Lomographic Society, 16 artists have used the Lomo to treat the theme of the event : CAPITAL PARIS
The artists are BP, Caroline Bach, Philippe Calandre, Marc Domage & Nicolas Hoffmann, Suzanne Doppelt & Isabelle Waternaux, Patrick Lebret, Philippe Mailhes, Florent Matt駟, Christophe Maberret, Catherine Merdy, Nicolas Moulin, Philippe Ramette, Yannick Vigouroux, Philippe Tourriol and others… Sometimes interesting, often fresh and funny, the results take various forms: stickers, flyers, projections, postal cards, etc… All this work are like brand new parenthesis in each artists work.

Duration:
03-05 November
The places:
Gilbert Brownstone Family Foundation
17 & 26, rue Saint-Gilles, 75003 Paris
Galerie Chez Valentin
9, rue Saint-Gilles, 75003 Paris
Galerie Anne Barrault
22, rue Saint-Claude, 75003 Paris
Galerie Evelyne Canus
2, rue du Roi de Sicile, 75004 Paris
L'Eclaireur
12, rue Malher, 75004 Paris
LOMOKIDS

The monthly magazine "Paris Momes" takes another fresh initiative during the month of photography. The magazine handed Lomocameras to fifteen young Parisians (aged 4 to 12) in order to give their own vision of the city. The result is astonishing: Paris from a 3-feet high point of view looks really different. You can check out the one-minute film made with the lomographs in all MK2 theaters in Paris and take a look at pictures :The lobby of the cinema, MK2 Quai de Seine, 14 quai de seine, 75019 Paris
Text and Photos: Jerome Lacote from 6um
[Help wanted]
Inviting volunteer staff / pro bono for contribution and translation. Please
e-mail
to us.