This year's Yubari International Film Festival screened a number of animations. 'Toy Story 2' (invitation) was one of the special-feature films, and another special one must have been '"Jin-Roh, Wolf Brigade' (made an entry to the Young Fantastic Grand Prize section). It was released in France last November and drew 30,000 people for a week. Though it won a number of awards at the overseas film festival, 'Jin-Roh finally received it's official Japanese theatrical premier at this festival. I don't think it's popular for the general public, but the large-scale place was full.

It began with a short talk by the director Hiroyuki Okiura. He looked like a shy and nice guy, not an idiosyncratic man like a creator of such peculiar film. When I knew this film was based on a concept by Mamoru Oshii, a very eccentric writer, I had a strong interest in their collaboration. His comment, 'it's not so unreasonable film, though the script was done by Oshii' made the audiences laugh. It's a casual comment, but I think there's some argument as a director. In the meantime the film finally started.
It was great. I would reach the conclusion first, it was really interesting and overwhelming.
'In a fairy tale, a man finishes everything, but it doesn't go like a fairy tale in real life.' 'I'm a wolf in man's clothing, not a man in wolf's clothing.' The story, written by Mamoru Oshii, has a terrorist group and special command appear several times, as well as 'Patlabor' and 'Ghost in the Shell'. I'm wondering why I'm attracted by storyies without any basis in reality.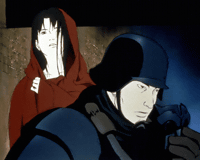 The film is set in an alternate history 1960's postwar Tokyo. A strong armed organization which goes by the name of 'Syutokei (metropolitan police)' has been established to confront violent anti-government movements. The main character is one of the member of the Syutokei. One day he encounters a girl who is a member of a terrorist group. His mission is to kill the girl. But he cannot pull the trigger. And then… It must be against the rules to write more and I cannot say anythig more about the story. I can only give you some hints. Go and see it for yourself.
The battle scene by full-powered members of 'Syutokei' is one of the highlight of 'Jin-Roh'. Though it doesn't appear often in the whole story, it gives a strong impression. As the story is set in the 60's, they don't use much high-tech equipment; only infrared scopes on their heads, strong armor, communications equipment on their back and portable heavy firearms which are customized from fixed heavy machine guns. The simpleness creates vivid violence. Their pistols are the strongest automatics of their time. Either way, those firearms can kill a person from shock by only grazing and this indicates the brutal nature of 'Syutokei'. That is to say, their purpose is just to 'kill' someone. In that respect, they're pure than an 'army'.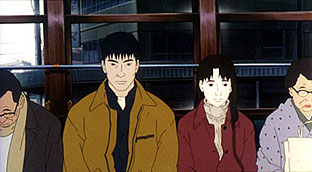 The brooding main character's mind is revealed by his actions. Even after the heroine appeared half way through of the story. We only look on them and listen to their speaking a few words. It's a calm relationship. By the end of the story, you will know their relationship is really strange. At the same time, I felt a deep sympathy for their relationship because despite being close by, they're not truly together. We sometimes seek for things elswhere. But it might not exist… I think I can confirm that reality.
This story has a mysterious substory about political strife between 'Syutokei' and other public organizations, and it links to the main character's feelings near the end. This enhances the story. What I appreciate is the ability of Hiroyuki Okiura as a director. He makes the best use of the true nature of the script by Mamoru Oshii. At the same time, he completes the story of the strong personality of Oshii's world (lengthy words by the characters, too much description of the scene, etc). It's well organized with an introduction, development, turn and conclusion. Also, the highly detailed description of mechanic equipment is on a high level, but those scenes don't appear often. As a whole, it focuses on a humanistic drama. This is one of the essential elements for a high level story and in this respect, 'Jin-Roh' goes beyond 'Ghost in the Shell'.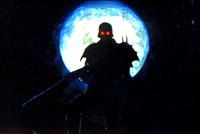 Jin-Roh
Won the Best Animation Award and Special Award of the Jury at Fantasporto Film Festival. Will be released in Japan early in summer, 2000.
1999 Japan / 35 mm / color / 98 min / vista size / DTS
Original story and Screenplay: Mamoru Oshii / Director: Hiroyuki Okiura
Animation production: Production I.G
Distribution: Bandai Visual, Media Box
Production: Bandai Visual, ING
1999 Mamoru Oshii / Bandai Visual, Production I.G
Text: Shinichi Ishikawa From NUMERO DEUX
Translation: Mayumi Kaneko
[Help wanted]
Inviting volunteer staff / pro bono for contribution and translation. Please
e-mail
to us.