Remember the early 90's when Beavis and Butthead's wacky giggle infected all the suburban kids through cable TV? Before MTV started to recognize the big marketing potential of this politically incorrect animation, there was a hidden forerunner who had already presented it to the public – Spike and Mike's Sick & Twisted Festival of Animation!
As the title literally explains, the festival is a full extravaganza of tasteless animation films that would easily exceed the Jerry Springer Show in the censor-beep frequency if aired on TV. Although most TV stations might rethink programing those anti-PTA animations in their prime time slots, the Sick & Twisted Festival aggressively approaches the boundary of unexplored insane world where other media would be hesitant to go.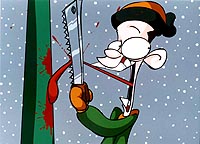 "Tongue Twister" by Collideascop Digital Productions. Directed by Sean Scott
The history of the Sick & Twisted Festival goes back to the 70's, when the founding duo Craig "Spike" Decker and Mike Gribble launched Mellow Manor Productions to promote LA underground bands and cult movies. Staging many unique shows featuring live bands and film screenings, Spike and Mike discovered the audience's growing demand for short animations. Soon, the popularity of animated films took over the shows – Spike and Mike started focusing on major promotion of underground cartoons. Currently, with increasingly cult-like reputation in the animation industry, the festival plays in over 50 major cities in the U.S.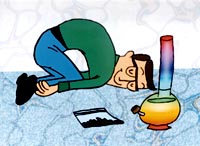 "Home, Honey, I'm Higher: What You Should Know About Drugs"
Produced by Spike & Mike. Story by Matt Davis. Animation by Dan Dudley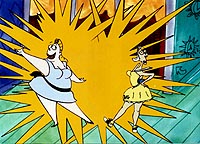 "Swing Sluts" by Brett Johnson. Produced by Spike & Mike
This year, the Sick & Twisted Festival has already begun its invasion of San Francisco since October, and plays in major movie theaters and museums around the Bay Area until mid December. At the show, all the rational and good manners are encouraged to be ignored. The theater halls turn into chaotic binges with screaming audience and weird costumes. 3-foot balloons bounce over the audience heads for a pre-show beach ball volley session.
On the stage, Scotty the Shredding Wonder Dog, the festival mascot, madly runs all over and shreds balloons and boxes one after another. While over 20 films of super extreme toons are screened, the uncontrolled insanity continuously dominates the atmosphere. Be aware of this wild and crazy world of Spike and Mike – you might easily get addicted even if you were not into cartoons.
Spike & Mike's Sick & Twisted Festival of Animation '99
Date: October 8th – December 16th, 1999
Place: Landmark's UC Theatre, Palace of Fine Arts, Landmark's Lumiere Theatre
https://spikeandmikesfestivalofanimation.vhx.tv
Text: Kanya Niijima

[Help wanted]
Inviting volunteer staff / pro bono for contribution and translation. Please
e-mail
to us.