As the current stream in furniture and interior design, the activity of powerful designers in Europe stands out and it's getting into the news for a few years in Japan. Hitoshi Saeki who runs a housewares product gallery called Trico International located in Harajuku has been introducing lots of powerful designers such as Droog Design, Inflate, etc. into Japan.
He himself is also involved in designing furniture and interior and organizes 'Happening', an event showcasing furniture, product and interior design which will be held on this October for the second straight year. We interviewed Hitoshi Saeki who has always been coming in touch with design scene, about 'Happening' and the current scene.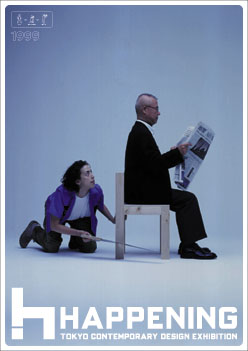 Please tell us what you're currently doing.
I preside over Trico International, located in Harajuku. Trico is a shop serving both as a showroom and an office, and introduces Droog, Inflate, El Ultimo Gritol, Snowcrash etc. to Japan as an agent for contemporary designers in the domestic and foreign markets.
As for 'HAPPENING', I'm involved in it as a member of a unit called AIRCONDITIONED which organizes 'HAPPENING'. The core members of AIRCONDITIONED are myself and three others. It changes the form for each project though. We do a wide variety of "design" works including interior designs and window displays of shops, graphic designs and advertisements. In a way we consider HAPPENING as one of the artworks of AIRCONDITIONED.
Could you tell us about HAPPENING? I've heard that each participant secures and design their space (cafe or shop) to exhibit their works.
Basically it's a designers' show of products, furniture and interiors, which will be held in Aoyama, Harajuku, Shibuya, and the Daikanyama area.
Our approach is to make HAPPENING a collective exhibition of each show. The only thing that AIRCONDITIONED should do is to provide a minimum context for participants. We don't have to put in a word and leave everything to themselves. In other words, they cannot depend on us much.
Of course, we create an opportunity for them to be noticed by media and get a chance, so I hope this project is going well. In Japan such an opportunity for young designers doesn't exist nor do they have the power to do such things. I thought we (AIRCONDITIONED) should set the stage for them.
Since designers don't have to pay any charges to participate in HAPPENING and in some degree they can do everything as they like, it's a great chance for them.
Right. In ordinary public exhibitions, there's a certain theme and within such a setting works are judged with a certain standard and are exhibited with other works. I consider HAPPENING as a presentation of designers, not a common exhibition.
In addition, we make their works more familiar to us by placing them in everyday scenes. They're basically products and furniture, which should be used by everyone; different from art. I want to showcase them in that sense.
This is it's second year. How did HAPPENING start?
We are designers as well. When we look at our work environment from a designer's point of view, we thought we should make an opportunity to showcase designer's works in Japan because that chance is not available. We also wanted to encourage designers in a way. In Japan many designers belong to a company and they are working as in-house designers. There are a few independent designers who work on their own after finishing school. Recently a growing number of people have started to design as they like.
Once they belong to a company, they have to design in a different way from what they want. Commercial designs are definitely different from independent designs.
Read more ...

1
2
[Help wanted]
Inviting volunteer staff / pro bono for contribution and translation. Please
e-mail
to us.