In the five years that Liz has been with the magazine she has seen some incredible changes in the world of commercial art and design.

The magazine has been around for nearly 50 years and is consistent with it's original aim: to publish interesting and innovative developments in communication and art which has been commissioned, (meaning any work where a client has commissioned a creative person or agency to carry out work on their behalf.)
The magazine's interest is in mainstream communication forms like packaging, TV commercials, pop promo's and record covers. As a documentation of these popular forms, the magazine serves as a window to the ever changing style and emphasise of advertising and design. As Liz puts it: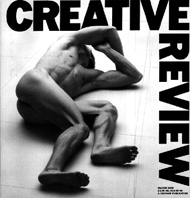 "It's a slice of pop culture. It's dealing with everything POP; packaging, promo's advertising, photography. It's quite funny looking back at the eighties and seeing how far we've come."
But it's not only the contents of the publication that change.
"The way the magazine is designed reflects the trends of the time so at the moment it's probably quite clean."
Other than stylistic changes, the magazine documents a shift in the creative industries as a whole. We see design becoming more central, competing with the more advertising led approach of the eighties. Liz thinks that this is something to do with the fact that on the whole, people have become much more aware of design and this has an impact on all levels. Design is more important to consumers and therefore everyone including the agencies have to adapt when they acknowledge this.
Agencies used to outsource a lot of the work to small production units who were specialised in moving image, typography or whatever. On the increase today is a tendency for clients to take their business to agencies that can offer all the design in-house. That means that a new breed of agency has emerged which doesn't shy away from projects that don't fit into the traditional advertising model. Agencies like Mother and Circus would take an offer to make a short film or write a book as part of a promotion very seriously, whilst other's wouldn't see it as part of their remit. As an example Liz explains that Mother produced poster and TV advertising for Channel 5, as well as the identity for all their communications both on and off screen when they launched. It is unusual to work this way but the benefits are clear.
The approach is a tendency that the larger agencies are following closely.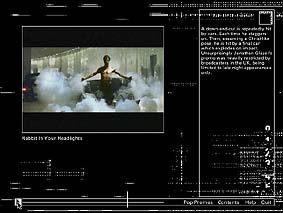 Creative review was early in its' acceptance of interactive media as a creative form of communication. The cover disc which first made an appearance on the front cover of subscribers issue in 95, which Liz admits was a time when a large proportion of the subscribers still didn't have access to CD Rom drives. She also remembers how the design community were ahead in this respect, being much more likely than the agencies to have the drives.
The disc has had a very positive impact on the publication.
"The CD has served to bring the magazine to life. Seeing it and playing it is a much more full experience. The subscribers use the magazine and the CD Rom together to keep in touch with what is going on."
Liz confesses that in terms of the web they have not done enough on the web to reach a potentially massive audience interested in the issues covered.
"There are only 300 subscribers outside the UK. If we had a decent web presence we'd entice more people."
But of course as we all know, this brings it's own set of problems. However there'll be something before too long.
"We're trying to lay a path so that the transition to the web is easier."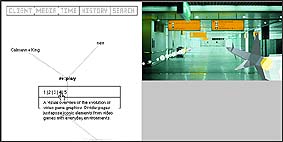 The job brings Liz into contact with the leading forces in the creative industries. The enthusiasm that she feels for her role is shared by the rest of the team:
"I think that everyone who works for the magazine has the same general interest. It's exciting to see all the new work that comes out and seeing all the developments. That's what makes the job worthwhile."
As well being in close contact with innovations and changes in the industry as a whole. Liz is pleased to have had the chance to initiate and develop an interest in new media.
"It's the newness and potential, the undiscovered potential." That excites her about the area. One of the potentials which is just starting to surface is a growing understanding about how information functions through interfacing techniques which are essentially "designed".
"From a design perspective, most new media up till now has been print based. Potential to come will be about how to present information. I think things will become more community based and more localised. Information management really excites me as it brings together the skill of design and programming. This will move design to somewhere that it hasn't been before which is very exiting."
I asked Liz for an example of an interesting interface.
"Cartia.com. They've got this software called themeScape. It breaks sentences down into constituent parts and then looks for themes in these parts. The themes are then put into a database and translated into a map. Themes like sex are presented as mountains. So information is presented in a different way than you'd expect; information which would take up pages and pages are presented in a single map."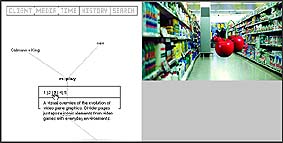 As well as writing for Creative Review, Liz has been involved in a number of book projects. One such project was Re:Play which was published last year. It consolidates Liz's interest in Game graphics which have recently enjoyed a global revival. When we were kids playing Galaxians and Space invaders, we weren't aware that the bleeps and blocky graphics were getting under our skin, only to surface twenty years later in an explosion of enthusiasm that has seen exhibitions and other homages to the genre.
Liz believes that often the graphics of a game are missed out in the race to get games on shelves. This is a pity as when you've seen the quality of a game like Wipeout, you realise how good they can be when there's more emphasis placed on design.
"The game design world is very cliquey. Doom has defined the way first person shoot-em-up's look now. Everyone was so into Doom that many games followed the style."
Now it's the advertisers that are finally waking up to games as a way to reach a massive chunk of their market lost to this area of entertainment.
"Diesel sponsored G police and they're doing a new snowboarding game where some of the boarders wear Diesel."
Liz thinks that this interest in games as an advertising medium is a response to modern character design. Lara Croft for instance is a much more complex character than Super Mario and it is this complexity that attracts the advertisers. Lara is perceived as "sexy," a trait the simplicity of the old school game couldn't evoke. Liz spoke to the character designer who made Lara a while ago. He explained to her that as a means to prevent the game publisher from introducing cheesy scenarios where Lara meets a boyfriend, he made her character so that this was an impossibility. It is this independence that has made her the icon which attracted Lucasade, a soft drink to use her in a recent TV ad.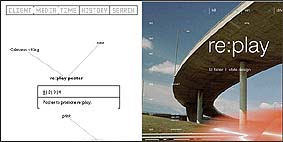 I ask Liz about her future plans:
"Nothing that I can talk about."
Look out for RE:Play and Browser if you share Liz's interest. There are also other publications in the pipeline.
Text: Nicolas Roope From Fifty.CC (an antirom company)
[Help wanted]
Inviting volunteer staff / pro bono for contribution and translation. Please
e-mail
to us.