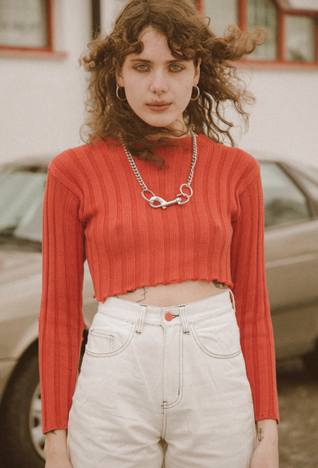 © BeWider
Wasn't 2008 when the H&M group buys Cheap Monday?
Yes. They didn't make any changes in our design department, they want us to continue doing the kind of job we were doing. They mainly got into the production part and that was even better for us.
Thereafter you transferred to the Weekday brand, which belongs to the same company. How come?
After over 5 years working in this role for Cheap Monday, I wanted to try something new. Although Weekday is part of the same company they work totally differently. They just have their own stores, and because of that it is a different strategy approach. At Weekday you work closer to the season.
What was the best and the worst from your experience at Cheap Monday and Weekday?
In a big company your task is very precise. That can be a good or a bad thing. It is a bad thing for me ha , ha. You get further away from the customers. At my office we were about 300 people. Working for a company like that you are part of this sort of machinery. Your working task gets more streamlined. What I can do with BeWider works totally the other way around.
The best thing of course, is all the new friends I made during that time. For me it was great working at this company during the early days when Cheap Monday started to grow, we were just seven people at the office doing everything from design to marketing and we traveled a lot. We were really close to the customer, there where very short time from idea to ready product. It was very free and raw company with no filters, But I believe that's often the cause when you compare small companies against large companies.
But because Cheap Monday was doing extremely good, there was no problem like many small companies have, like production and money problem.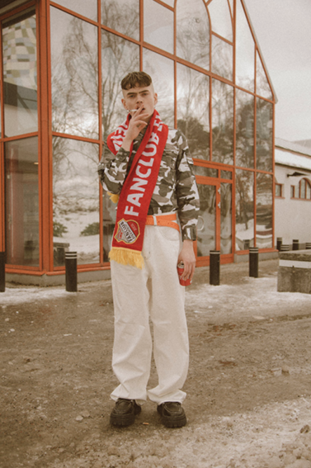 © BeWider
But let's focus on present time. You just launched BeWider, a mono-product brand. What does mono-product mean?
It means that we just have one style that is unisex and that's the only style we will do forever but it will be available in different fabrics, colors and washes. Because nowadays you are overwhelmed with the amount of messages you receive everyday – in general, in this digital era – it is very important to focus on one solid unique message.
Why you take the decision of leaving Weekday to start your own brand?
It is a matter of doing your own thing. Grow personally, I want to work more with the whole process of creating a fashion brand. That involves communication, design, and production.

© BeWider
Today there is a massive offer of denim brands out there, countless. 20 years ago it would be unthinkable to start up a denim brand to compete against Levis or Wrangler, for instance. Hence it seems very daring to start up a new denim brand within such scenario. Do you agree?
Yes, I am aware of it. However, I think I have a different approach with a mono-product brand. Lots of denim brands takes inspiration from heritage, rock, or preppy. It is not usual for a denim brand to position itself in street fashion. Of course, there are lots of street fashion brands doing denim, but they are not communicating that they are a denim brand only. Doing just one style is a statement and that is a clear message to the market. I think it is interesting in a way that a brand it is doing just one style. It is quite unique for a denim brand, and it will get a clearer message out there, it is easier to breakthrough the massive world of communication we live in, as were talking before.
The brand embraces the early 90's underground dance culture. How that is visible in your designs, silhouettes, and so on?
Yes, I am very inspired by the 90's both street fashion and the underground dance culture, especially the rave scene. The silhouette absolutely has the feeling of the 90's wide silhouette. Design wise colour and fabric also breath the 90's, like orange and yellow trousers. The concept of my communication is: Be yourself. Be different. Be kind. Be devoted. Be respectful. Be strong. BeWider. That could also be related to the freedom of the 90's rave scene.
Where is possible to buy BeWider at the moment?
You can buy it at Örjan Andersson's store Från Ö till A in Stockholm and online. Örjan started Cheap Monday. You can also buy BeWider in our site bewider.com as well. If someone is interested in distributing my brand, just hit me.
Text: Victor Moreno


1
2
[Help wanted]
Inviting volunteer staff / pro bono for contribution and translation. Please
e-mail
to us.