A Fusuma painting "Meiji Monogatari" (Tale of Meiji) created by Yuka Kasai who is born in 1993, which became a trend topic through SNS as "Kinoko-Takenoko War is drawn like the Heiji Scroll, Heiji Monogatari Emaki (Tale of the Heiji Rebellion)". But this "Meiji Monogatari" is never based on the Meiji era, but on a Japanese popular chocolate snack "Takenokonosato" and "Kinokonoyama" from Meiji Seika.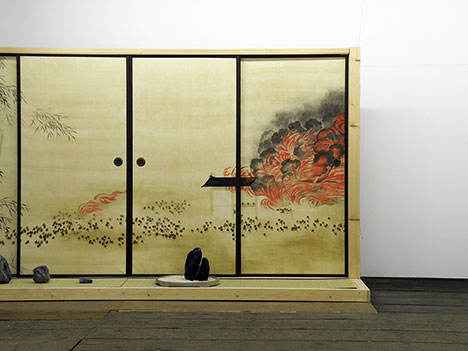 "Meiji Monogatari" (Tale of Meiji), Yuka Kasai, 2016, 1,820 x 3,620 x 60 mm, Fusuma painting / "Tokumiyuru" (Seeing far away), Tomohiro Shibuki, 2016, Wool, Basin by Maruzen
Nozomi Watanabe, conceived from the material of lacquer with its unique texture, attempted to modelling in expressing "inside" accompanied by "color" in term of space and time. She applied the dry lacquer technique originated Nara era, into the modern art in order to make a Buddha image. She mixed lacquer and ground powder on top of a mould made of gypsum, paste linen, and cloth – like curved surfaces.

"Boundary- Red", Nozomi Watanabe, 2006, 1,200 x 680 x 200 mm, Dry lacquer (Urushi)
The red glossy "Boundary- Red" hanging in the air in this exhibition, exceeds the actual modelling due to the visual effect that reflects like a mirror, in order to show the ambiguous boundaries of a space. On the other hand, red matte "女こゝろ" (Onnakokoro – Woman's heart) is an artwork that looks different in shapes at different times since the time changes and sunlight changes.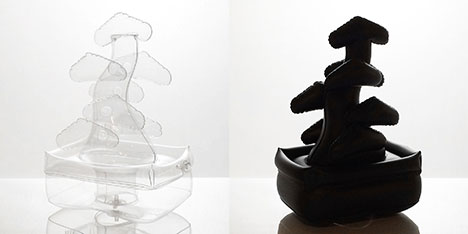 "Air Bonsai", Wabisabi, 2016. 310 x 230 x 170 mm, Vinyl, Clear / Black
In addition, we can hear sound "moment" by a composer / sound designer Masato Hatanaka who works for a concept of "sound couture". It is a sound of art that can regenerate two different tracks at the same time in different spots in the same space and taste various combinations of sounds.
The old traditional Japanese culture is being lost with the times. We are developing new ideas based on study of the past and learning from the past. Daily life in everyday echoes through my new art expression. And we planned this exhibition as an opportunity to rediscover the excellent Japanese culture.
"Super Japan" Exhibition
Artists: Wabisabi (Bonsai, Calligraphy), Yuka Kasai (Japanese painting), Tomohiro Shibuki (Objects), Nozomi Watanabe (Sculpture, Lacquer), Masato Hatanaka (Sound)
Date: February 4th – March 31st, 2017
Opening hours: 11:00 – 19:00 (Closed on Monday and the 3rd Tuesday)

Place: Clark Gallery + SHIFT

Address: 2F MUSEUM, South 3 East 2, Chuo-ku, Sapporo

Tel: +81 (0)11 596 7752

http://www.clarkgallery.co.jp
Text: Ayumi Yakura
Translation: Peggy Yumei Lee


1
2
[Help wanted]
Inviting volunteer staff / pro bono for contribution and translation. Please
e-mail
to us.