RED BULL MUSIC ACADEMY WEEKENDER TOKYO
Red Bull Music Academy (RBMA) Weekender Tokyo was held in several places in Tokyo for 4 days from 1st to 4th of November. RBMA started in 1998 as a global music school which supports young and talented artists and has festivals, workshops and lectures in major cities around the world. It has been built up as an organization that serves as a platform for avant-garde and creative creators, and has been spreading its network all over the world. As this was the 15th memorial year, urban-type music festivals were held in London, Madrid, Stockholm, and Tokyo during a few days over a weekend.
The opening of the event in Tokyo was started with music by a musician who represents Germany, Henrik Schwarz with an especially formed band of 27 people, the "Secret Orchestra". The venue was Tsukiji Honganji. The main graphic of the event was projected onto the outer wall of the hall and it welcomed the guests with a mysterious atmosphere. Their expectation was roused by that great presentation. Although it is a typical Japanese cultural location, Tsukiji Honganji has a unique appearance which is rarely seen in other Buddhist style architecture. It is known as the ancient Indian style. This place was just what one would expect of RBMA.
The Secret Orchestra played the masterpieces of Henrik Schwarz. Through this reconstruction of dance music to a version by an orchestra, the challenging opening let you understand the concept of RBMA weekender Tokyo. The 4 days festival has only just started. Let's have a Red Bull.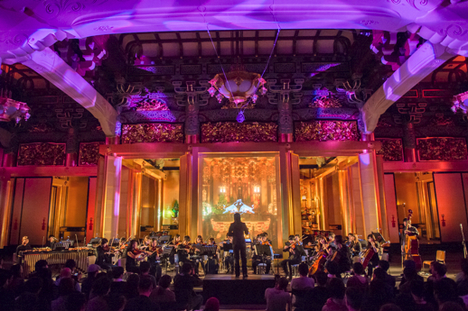 © Tadamasa Iguchi / Red Bull Content Pool
A famous radio DJ in Japan, composed, soft and intelligent Peter BaraKan had a talk show at Beacon in The City @ www. Now I would have 2 Red Bulls.
Using powerful rap effectively along with electronic track, this live event by OMSB of SIMI and Hi`Spec was very ambitious without enlightening or sympathetic lyrics.
Illreme introduced his recent favorite songs one by one in his session. "I played the guitar in this piece with a different name…," etc. The audience could understand the detail by his explanation and also feel his high sense of feeling. A discovery of the music of Laura Mvyla – Green Garden in this session was very special.
DJ Kensei selected the music and Isao Suzuki responded to it. 80 year-old bassist Isao Suzuki had a matured and dignified atmosphere, and faced the session with electronic music. His attitude really moved the audience. Daedelus created the groove from his overflowing inspiration. From this session the audience could feel how deep his drawer of endless inspiration was and his sensitivity as an artist. The artists' experimental and strongly motivated stages were very impressive that night.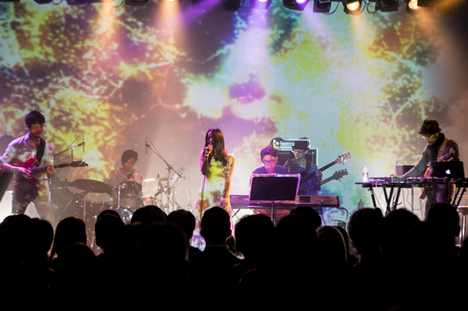 © Pere Masramon / Red Bull Content Pool
Titled as the latest electronic music showcase, EMAF Tokyo was in LIQUIDROOM for 2 days. Other than the program which mainly showed the live gigs, there were academic programs which were only for RBMA. One of the lectures was given by Carsten Nicolai and Yoshinori Sunahara who are both respected in their genre. They introduced the backstage story of the production.

© Pere Masramon / Red Bull Content Pool
The end of day 1 was the best part as it was filled with spectacular performances by both Japanese and international musicians. There was also a live performance by the band Diamond Version (Carsten Nicolai) and the OPTRON player Atsuhiro Ito. The central figure in the 2000s Japanese electronica scene and also a photographer, AOKI Takamasa showed another stable live gig as we expected. There was also a live gig by μ-Ziq, who has been deeply supported by music scene and has been continuously releasing music. The program in the 1st day was really stuffed with a very diverse programme.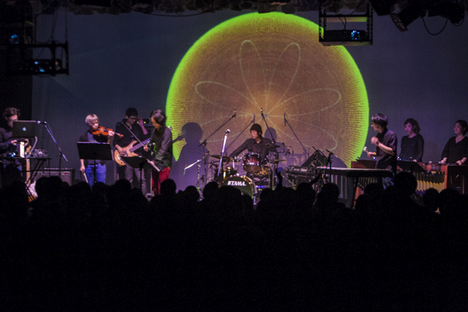 © Pere Masramon / Red Bull Content Pool
On Day 2, Yan Tomita and Yoshinori Sunahara, who are the leading figures of Japanese electronic music and continuously launch their music with a consistent unchanged style, appeared. Through the importance of continuity and their certain established style, their live performance gives inspiration to the artists in the future. The most outstanding band among these performances was Synthe Rap Tabra, composed by 3 members of the improvisation Hip Hop Unit "Wa Roy x Shuta Hasunuma × U-xhaan". All of the music pieces were improvised and unpredictable, and the performance was different each time and in each different venue. The experience of such thrilling and entertaining performances might be the special privilege of the audience members present.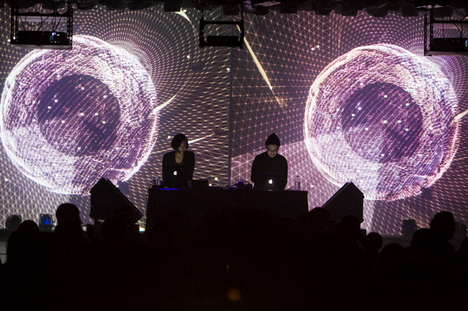 © Pere Masramon / Red Bull Content Pool
"Culture Fair, Club Night, and Damo Suzuki Networks… Furthermore, there were various musically inspiring events. RBMA, on the whole, presented experimental and enthusiastic stages by the artists and served the function of showcasing electronic and alternative music in a large event outside of the standard music genre. The selection of the artists and musicians was not only based on "now", but was also rather educational as the name of Academy indicates. They were picked up as the keys for exploring the audiences' musical knowledge whilst overlooking contemporary music. In an instant many events around the word can be spread to people via the web. The experience of this event made the creators and audience members record the coordination of music and build a map with milestones for it.
Red Bull Music Academy Weekender Tokyo
Date: November 1st – 4th, 2013
Place: WWW、SuperDeluxe, BA-TSU ART GALLERY, Gallery COMMON, LIQUIDROOM, Time Out Cafe & Diner, SOUND MUSEUM VISION, Tsukiji Honganji
http://redbullmusicacademy.jp
Text: logram
Translation: Fuyumi Saito

[Help wanted]
Inviting volunteer staff / pro bono for contribution and translation. Please
e-mail
to us.