Do own initiative, a change of directions, move, switch.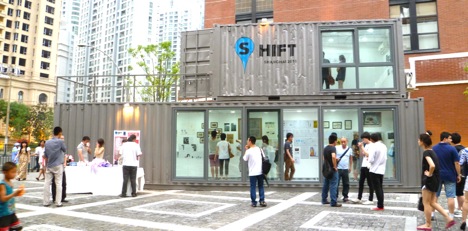 A free art space "SHIFT" which is neither a museum nor a gallery either and was built of containers located at a part of South Bund area called "The Cool Docks" in Shanghai opened on 10th July in 2010.
There is a first time art space made of containers like this in China. It is produced by a young Chinese art group "SHIFT" and Zheng Weimin of ddm gallery. The project finally reached the birth after a discussion with Zheng Weimin and formation of "SHIFT" for few years.
The first exhibition of this space is "Use the hand do the job" by 20 artists in SHIFT including visual artists, contemporary artists, painters, sculptors, photographers. The exhibition consists not only compositions but also sketches including image drawings, sketches of making process. Visitors can see the flow of thoughts of artists through their original world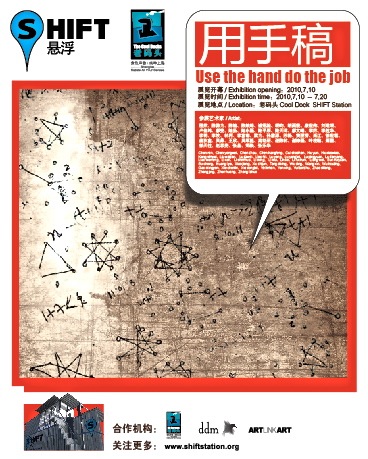 Do own initiative
Young artists are looking for independences.
"SHIFT" is a starting point where young artists can take actions by themselves, not like being controlled museums or galleries. The Chinese name of the art group "SHIFT" is "xuanfu" which means "float". They are connected to business and general ideas of new consumptions and "SHIFT" original method. The collaborator Zheng Weimin provided the containers and introduced persons concerned. He said "young artists at a new place, something new will be born. Visitors relate to the artists closer than museums and galleries then inspired and think which is important."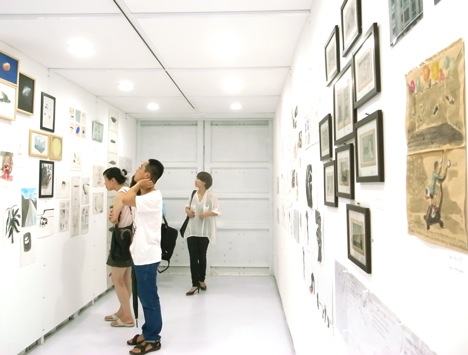 Move
Do not stay one place.
The space "SHIFT" is movable and adapt to the new places quickly.
Current location "The Cool Docks" (Lao Ma Tou) is part of new commercial area alongside with restaurants remodeled from an old western building, galleries, atelier spaces, offices. Not only artists hope to be there, but also Leisure Park's hope to bring young artists and "SHIFT" to be there. Not only demand, but also "SHIFT" can move to anywhere to be demanded connected to same thoughts.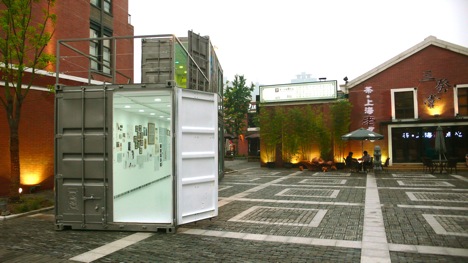 A change of directions
This space can change to anything.
It is used as Installations, cinemas, restaurants, shops, hotels, offices, and event spaces. The atmosphere with infinite possibility can be freely transformed by users like to sell artist's own designs as a shop, to show artistic films as a cinema, to do whatever they think with art elements. Or people can change the ideas by locations like "Does it match to open a restaurant here? Let's open a restaurant!"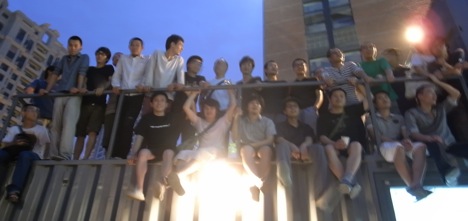 Switch
To collaborate and grow with many people.
Artists are always being in the venue switching day by day in the schedule of the exhibition. Members of SHIFT have same position each other. It switches repeatedly to keep better organizational structure. And they are welcoming new people, thoughts, techniques, experiences from outside.
The logo of "SHIFT" originates with the symbol to point places on Google map. The meaning wishes to increase SHIFT symbol in the world map. They aim to expand the space from current 2 floors in 1 building to 3 floors, 4 floors, 2 buildings, 3 buildings, and spread to whole Chinese nation and the world wide with approval of people.
Current Chinese power is brimming over with mood to make it anything possible. We feel vast hopes with a little worry. The dreams of SHIFT by these young Chinese artists might come true.
Use the hand do the job
Date: 10th – 21nd July, 2010
Place: SHIFT
Address: The Cool Docks, No. 479 Zhong Shan Nan Er Lu, Shanghai
Tel: +86 137 6463 6421
http://blog.sina.com.cn/shiftspace
Text: Hiromi Nomoto
Translation: Akihiko Hamada

[Help wanted]
Inviting volunteer staff / pro bono for contribution and translation. Please
e-mail
to us.