PRE ORGANIC COTTON PROGRAM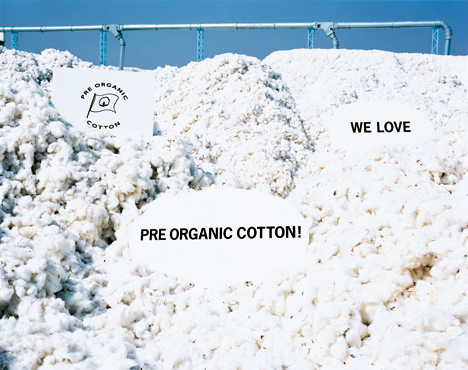 © Photo by Hideyuki Sudo
T-shirts made under PRE ORGANIC COTTON PROGRAM produced by Kurkku was introduced for the first time in last February 2009.
On the front of the t-shirts dates that we all remember close to the heart are printed, such as the day John Lenon was shot, the day of the World Trade Center terrorist attacks, the day of the U.S. Apollo moon landing, the day of the Great Hanshin-Awaji Earthquake, and the day of the accident at Chernobyl.
T-shirts were designed by Nicholas A Olga. These dates show us that time has been changing from the symbolic events in the past, and it tells us that by solving a series of problems together, the world can be eventually united as one.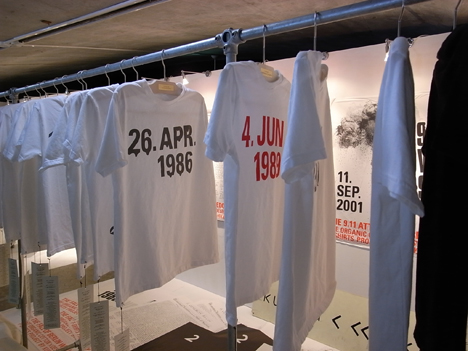 We sometimes here people talking about the PRE ORGANIC COTTON PROGRAM. Here I would like you to know what the PRE ORGANIC COTTON PROGRAM is and invite you to this program as well.
The PRE ORGANIC COTTON PROGRAM is an assistant program for cotton farmers in India to move on to the production of organic cotton.
Organic cotton is raw cotton produced without any use of pesticides and fertilizers; it also must be certified by globally recognized institutions like CONTROL UNION or ECOCERT. We then ask why we are establishing the PRE ORGANIC COTTON PROGRAM in Japan and not in India. This question eventually leads us to realize the purpose of the program.
PRE ORGANIC COTTON PROGRAM in three minutes.
Global cotton crop acreage is about 5% of the world agricultural area. However, 10% of the worlds agricultural chemicals and 25% of the worlds pesticides are used only for cotton production. Now, land, water pollution, and health damage to farmers and their families who treat agricultural chemicals are alarmed by the seriousness of the problem. They are fraught with the crisis of life, including, bronchial disease from breathing agricultural chemicals, cutaneous disease, and visceral disease from drinking polluted water; the quality of life is going down day by day. Cotton farmers cannot stop it because they need to achieve a certain amount of crop yields. They even fall in debt buying agricultural chemicals so they can secure the crop yields. This negative spiral will never stop.
Cotton is essential to our daily life; however, we must realize that in order to keep our quality of life as it is there are people overseas who are faced with hardships everyday who need help. When they want to get recognized as organic cotton farmers it takes about three years to get approval. The economic hardship during this period is very serious some of the farmers commit suicide during this period. The PRE ORGANIC COTTON PROGRAM is a program where we recognize cotton farmers' suffering and our responsibility to the current global economy; we want to help develop a new and better connection with producers and consumers.
Cotton production in India, from farm to yarn.
During the three-year course of getting approval, we buy cotton with a premium from farmers and commercialize it and sell it so we can support the farmers' economic burden. In addition, education for utilizing herbs to produce organic agricultural chemicals and coaching programs to learn organic farming are given to cotton farmers with support of getting an organic certification.
This spring, the first edition of the PRE ORGANIC COTTON PROGRAM T-shrits will be launched. These t-shirts came from cotton that were planted in June 2008 in India. If you find any PRE ORGANIC COTTON PROGRAM t-shirts at the store, I would like you to recall that you can recover the connection with the forgotten world by purchasing the t-shirts. The PRE ORGANIC COTTON PROGRAM is managed by Kurkku with the art direction by Mr. Mizuno from good design company.
Text and photo: mina
Translation: Masanori Sugiura
[Help wanted]
Inviting volunteer staff / pro bono for contribution and translation. Please
e-mail
to us.