1floor 2012 TTYTT, -to tell you the truth,-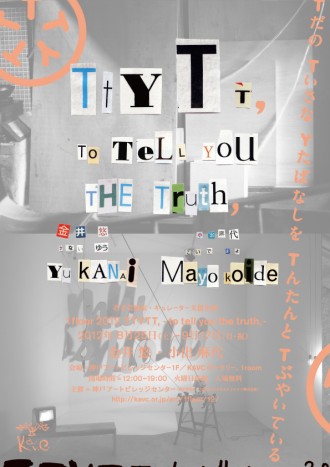 The project "1floor" aiming to encourage young talented artists and creators have had from 2008 at Kobe Art Village Center. In this 5th exhibition, "TTYTT, -to tell you the truth,-", Yu Kanai and Mayo Koidewill show their works and installations. The meaning of the title "TTYTT" is "to tell you the truth". After this word, viewer will create their own stories from their feeling in this exhibition.
Kanai will exhibit his works using various kinds of media such as sculpted objects, scrap wood, documentary video, drawing. Koide will show her installations that was restructured by ready‐made goods. They will create their original world.
1floor 2012 TTYTT, -to tell you the truth,-
Date: August 25th – September 17th, 2012
Opening Hours: 12:00 – 19:00
Closed on Tuesday
Artist Talk: August 25th 17:00-
Opening Reception: August 25th18:00-
Place: Kobe Art Village Center1F (KAVC Gallery, 1room)
Address: 5-3-14 Shinkaichi, Hyogo-ku, Kobe
Tel: 078 512 5500
http://kavc.or.jp
Posted by
Satsuki Miyanishi