Furthermore, you just published your book Hypnagoga which refers to these concepts. After more than a decade of successful work as a designer, art exhibitions around the world and the great success with Omnipollo. Does the book compile your body of work or is it about Omnipollo only?
I was asked by the publisher to make a compilation of my work and it took me ages to come up with a way to do it. In the end it is a bunch of projects from the last 20 years, so it is a wide range of stuff — autonomous art, shows, commercial work, products, beer etc.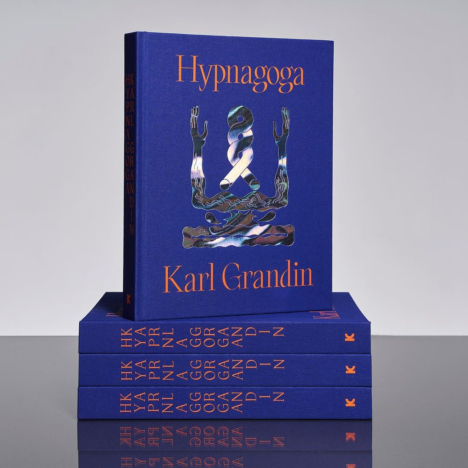 Hypnagoga, Published by Kaunitz-Olsson, 2022 © Karl Grandin
Did you design the artwork of the book yourself?
I had a very tight collaboration with Anna Sagström, a graphic designer that I worked with for most of 2022. I tried to stay away from being too involved in the layout and the graphic design of the book itself and Anna did a fantastic job. She also contributed a lot to the editing of the book, such as selecting images and which projects to include.
The book is published by Kaunitz-Olsson, could you please tell us a couple of lines about this publisher and why did you choose it?
Kaunitz-Olsson is an eminent publishing company and they have released books by many authors and artists that I admire, such as Joakim Pirinen, Nina Hemmingsson and Martin Kellerman. They approached me about making a book for them several years ago and this year I finally got my shit together.
Although today many beer brands have embraced the idea of packaging their products in a more artistic way, Danish brewery Mikkeller also received attention for pioneering unusual designs for beer cans created by the artist Keith Shore. Do you see Scandinavia as being in the forefront of packaging design? If so, why is that?
I suppose Omnipollo and Mikkeller are among the two brands that come to mind when talking about beer related design today because the art stands out but I think there is interesting stuff happening everywhere, even though sometimes you might have to look for it. There are a lot of good but often more conventional designs happening all over the world and I hope there will be a wider variety of expressions in the future.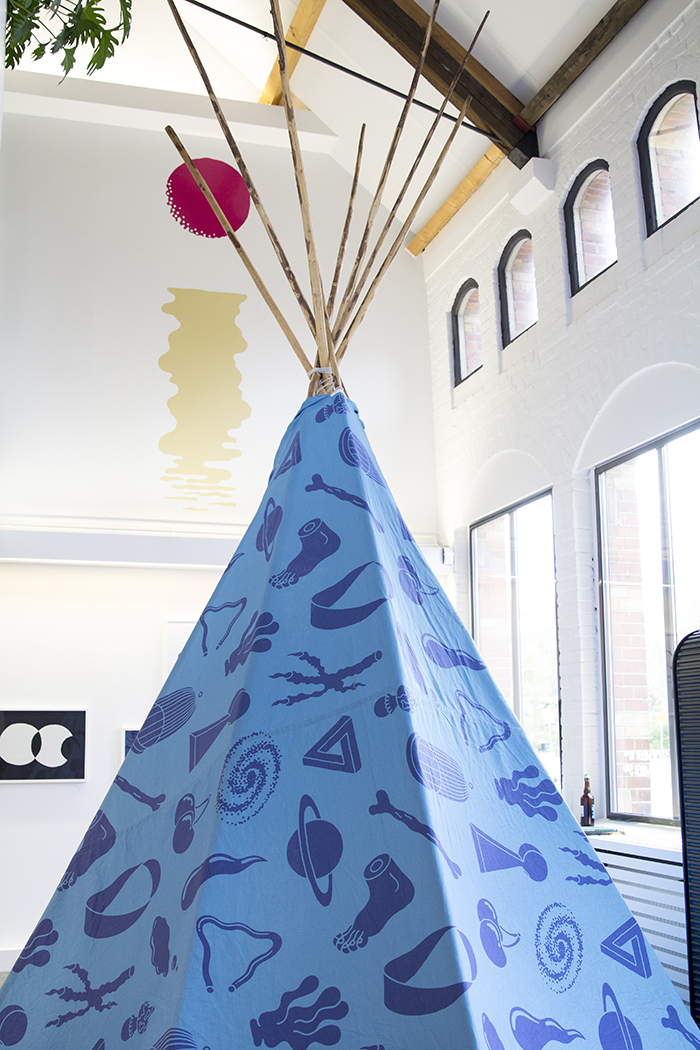 The Omnipollo, Installation views from The Omnipollo at Kuvva Gallery in Amsterdam, 2014 © Karl Grandin
Another characteristic of Omnipollo is the silk-print on the bottle with no paper label so to speak. Could you please elaborate on this technique and if you produce it in Sweden too?
Today most of our releases are in cans and we print in all types of ways on all types of containers but I really like the silk screen printed bottles. It is something I have done since the very first beer we produced and we still do when we have a chance. For most of the silk screen printed bottles I work with a Belgium-based printing company.

Omnipollos Tokyo, 9-5 Nihonbashi Kabutocho, Chuo-ku, Tokyo, Japan © Karl Grandin
Apart from the 3 Omnipollo bars previously mentioned in Stockholm, you opened one in Hamburg and one in Tokyo. Is there any plan confirmed to open another Omnipollo bar somewhere else?
We are always on the lookout and there are several places on Earth where we would love to be more active but as each place has its own vibe and its own soul, it is important for us that these elements are all in good harmony with the brand's core.
You have always been attracted to Japanese culture and have a special focus on that market: apart from exhibiting your art several times in Tokyo. How has the experience of opening a bar there been so far? What do you enjoy the most when visiting Japan?
The Japanese borders were shut due to Covid only days after the design and building of Omnipollos Tokyo was done so we could actually not visit the bar for the first two years. I finally had a chance to go there in October last year and it is an amazing place. Hope to be back very soon!
Text: Victor Moreno


1
2
[Help wanted]
Inviting volunteer staff / pro bono for contribution and translation. Please
e-mail
to us.