At SHIFT, we have featured some influential Chinese photographers such as Ren Hang or Ai Weiwei. Do you have any favorite Asian photographers to share with us?
Yes, actually Ren Hang is one of my favourite photographers. Other than that, I had always been fascinated with photographers from Japan such as Shoji Ueda with his surrealist style. Miyako Ishiuchi's Yokosuka stories are always fascinating to me. Her consistency to keep documenting her own city over the years during that period is very inspiring. Nobuyoshi Araki, he can be very good at playing around in the grey area of eroticism and fine art and at other times, he can be very sentimental when he is shooting his cat or his late wife. Daido Moriyama has always interested me.. he can just go around in any city and create images. I also adore Rinko Kawauchi's body of work. Her photographs are like from the point of view of a little child for me and a bit like painting. Apart from that, artists and painters like Makoto Aida, Yayoi Kusama and Yoshitomo Nara are quite a genius for me. All of these artists have different approaches in creating. However I understood now that their method came about through reconnecting to their identity.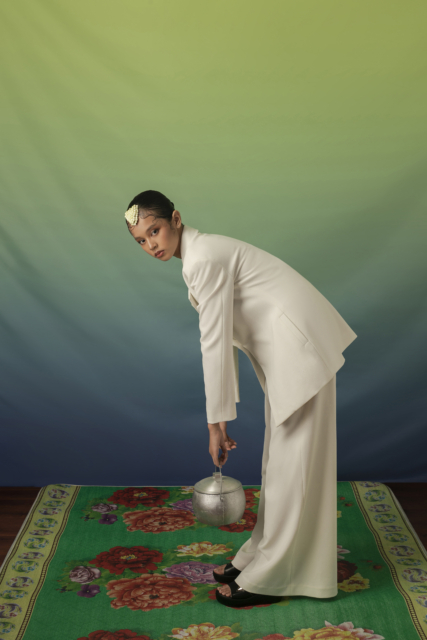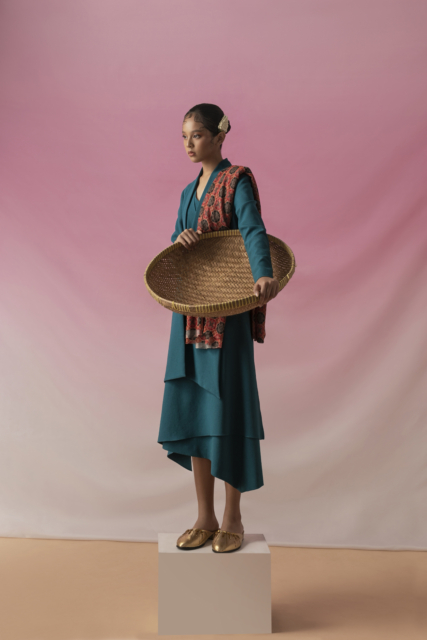 "Studio Series" (2021)
Left) When the pandemic started, we had to cease the Glodok series temporarily. This was the first image that came from the Studio Series. Riop wanted to further develop the concept of injecting his culture and identity into his fashion work. On this image, the model is portrayed wearing a head piece – a "Sundanese" jasmine arrangement – usually worn during special occasions to symbolises purity. Riop's mother is a Sundanese lady and so he took part of the traditional Sundanese Bride head piece. The color of the background is taken from color Riop observed seen on the street of Jakarta, juxtaposed with the colorful floor mat. Riop also want the model to still look modern and put her in a sleek white suit.
Right) Another image from the same series with the same model. On this image, the model is portrayed carrying a traditional bamboo winnowing pan (called "tampah"). She is also seen with the jasmine head piece and wore a stole. In traditional Indonesian clothing, the women often wear a stole with their traditional clothing in this way.
The world is increasingly going digital and artists – as well as in communication at large – need more everyday content and archiving data. What is your take about it?
Couple of things. First, I maybe want to get into NFT although I don't really know how yet. I realized a few years ago that the pace of content is moving ever so quickly. It used to be once a month according to published magazines, but the digital world pushes this to an unbelievably fast pace. At first it was overwhelming, no matter how well Camelia and I worked together, we needed to work with other people with different backgrounds too, and so I am always open to collaborate with others because I find inclusivity is much better than exclusivity.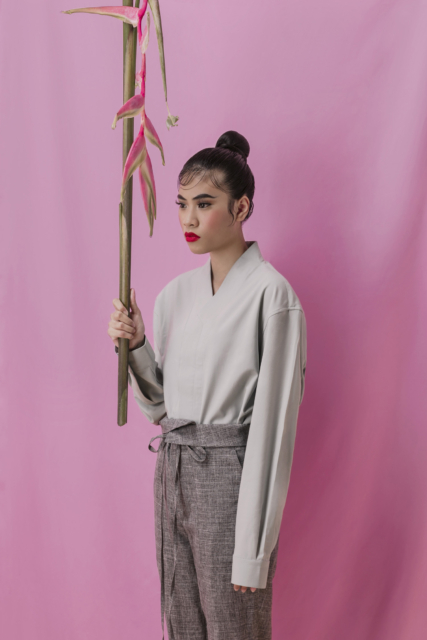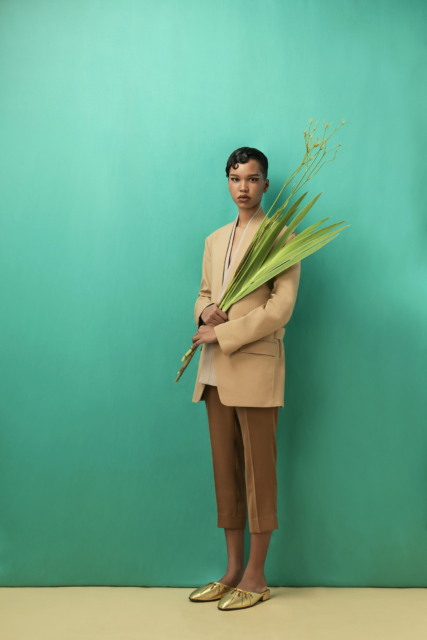 "Studio Series" (2021)
Left) On this image, Riop wanted the model to have a traditional looking makeup, this time the makeup look is taken from a traditional Javanese makeup. In the olden days, this is how they did their makeup, paired with bright lips and blush. She's carrying a beautiful pink and green "Lobster Claws" plants.
Right) When talking about "Indonesian Beauty" – many people do not realize that there are many different look because Indonesia consists of many different ethnicities. On this portrait, the model is again seen carrying a tropical flower while wearing a very sleek and modern suit.
Please let us know what you are working with currently.
Currently I'm working on my studio series. This is the next step after my exploration of Glodok on how to incorporate my fashion photography with my culture. After my Glodok series, I also attracted many Indonesian fashion brands who produce Batik. Among them is BIN house and Sukkha Citta. At the moment I'm working with BIN house to elevate their online presence and am working on an exhibition with Sukkha Citta. I'm also working on a photo essay to highlight some parts of Jakarta with its problems. In addition, I'm in preparation to do an art residency and in talks with dialogue to do an exhibition about Glodok next year.
What are the vibes about the post-COVID time and strict regulations in Jakarta at the moment. Does it feel that things are finally moving forward and more sooner than later it will be possible to exhibit abroad?
To be honest, there is no strict regulation in Jakarta. The government always makes people feel more confused rather than giving solutions. I am starting to see some people making off-line exhibitions by way of appointment and limiting entrance. Other than that, malls, restaurants, cinemas, gyms, almost everything are operating like normal. At some point, I think everyone has COVID fatigue. I think it would get better as more people get vaccinated. As much as I love being a part of Unknown Asia Digital, I think it's not a substitute for a physical exhibition!
UNKNOWN ASIA 2021
Date: October 16th – 17th, 2021, 10:00-20:00 (On 17th till 17:00)
VIP Preview: October 15th, 2021, 11:00-20:00
Online: October 9th – 10th, 2021, 10:00-20:00
Call for Exhibitors Period: May 28th – July 2nd, 2021 (tentative)
Place: Knowledge Capital Congress Convention Center, Grand Front Osaka
Address: B2F, Grand Front Osaka North Building, 3-1 Ohfuka-cho, Kita-ku, Osaka
Organizer: UNKNOWN ASIA Executive Committee
http://unknownasia.net
Text: Victor Moreno

[Help wanted]
Inviting volunteer staff / pro bono for contribution and translation. Please
e-mail
to us.