mirukusouko + The Coconuts is an artists unit consisted of seven artists; Naotaka Miyazaki, Naoki Matsumoto, Azumi Kajiwara, Eisuke Shinozaki, Kota Sakagawa, Takuma Nishihama and Hiroaki Takiguchi. mirukusouko was formed in 2009, then an artist duo The Coconuts joined in 2015. Each member has specialized skill and is carrying out a project to rebuild the "infrastructure" of existing structures. They received a grand prize at the 2017 open call exhibition, "Gifu Land of Clear Waters Art Award IN THE CUBE 2017" (AAIC).
The award-winning artwork "cranky wordy things" is a piece that changes the existing perception of things and bodies. It consists of recorded images of sleep experiments using multiple monitors, and tools and devices that move on its own like "poltergeist" to create an environment to relate the idea "humans are like things, the things are like humans." Prior to the AAIC 2020, which will be held from April 18th to June 14th in 2020, an interview with mirukusouko + The Coconuts was held.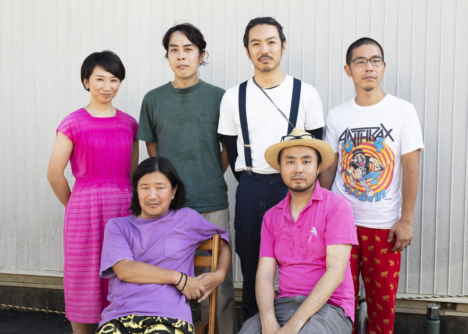 mirukusouko + The Coconuts Photo: Shu Nakagawa
How did you interpret the theme "Whereabouts of the Body" for the artwork "cranky wordy things"?
Miyazaki: I think that the theme was created to be nice to artists in some sense, but "body" is ultimately related to any work after all. So, when we considered what was important, we interpreted that "whereabouts" would be the one.
As is the case with AAIC 2017, mirukusouko + The Coconuts is being passive when creating artworks for places and conditions.
Miyazaki: That's not the only thing we do, but it is common to incorporate some sort of conditions into artworks.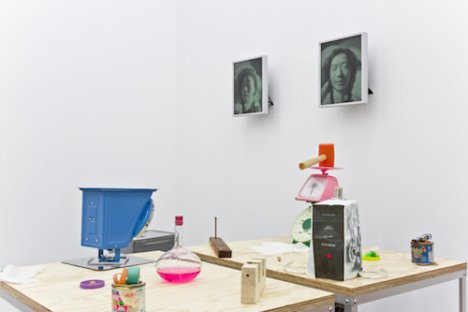 "cranky wordy things", 2017, The Museum of Fine Arts, Gifu © mirukusouko + The Coconuts
How did you incorporate the cube as an element of the artwork which was the condition to display an artwork in a cube, width 4.8m x depth 4.8m x height 3.6m, issued from AAIC?
Matsumoto: Having a cube necessarily means that there are inside and outside. The challenge is how to incorporate that nature into an artwork. In other words, we thought about how we can go beyond the function of cube to use it as a single gallery space.
Sakagawa: It is not that we decorate our artwork just because there is a cube there.
Miyazaki: That's right. If you think of a cube as a gallery space, people tend to come up with an idea to display art inside like a container.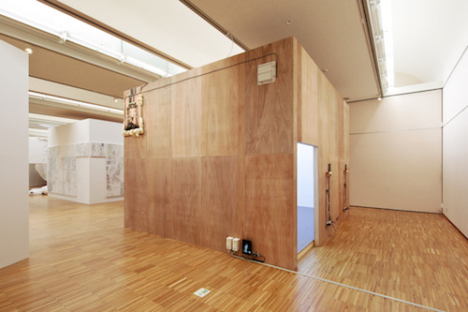 "cranky wordy things", 2017, The Museum of Fine Arts, Gifu © mirukusouko + The Coconuts
Matsumoto: One thing was how to utilize the characteristic of both inside and outside of a cube, not to be used as a container. Since the audience experiences the nested experience of entering the cube after entering the museum, we tried to maximize this mechanism until the last point in production.
The cube itself is also one of the objects.
Matsumoto: Yes. When a judge, Mr. Masairo Miwa, mentioned "It looks like this cube is the one who's thinking", our goal became more clear, although we were not able to verbalize our thoughts at the time of production.
I would like to ask about the style of production as a unit. Is the flow of production mirukusouko + The Coconuts different from the one for a personal production?
Miyazaki: It's totally different.
Matsumoto: Working with mirukusouko + The Coconuts enable us to brainstorm together. But since there are many of us, we naturally have the feel of "someone is going to do it" and/or "things will be alright," in a sense of some kind of irresponsibility I guess.
Read more ...
[Help wanted]
Inviting volunteer staff / pro bono for contribution and translation. Please
e-mail
to us.