What kind of differences do you feel between you who are facing one piece of work as an artist and you who make one place with many people as a producer or a designer? Please tell us what kind of things do you care about and if you have changed your mindset or not.
Interesting question! I don't get asked this too often but it is actually something that I use to struggle with.
The mental and emotional states required when working as an artist and as a design director are very different. They serve different impulses and objectives. I used to think that all these roles are interconnected and it is important to know the details of how each role works (eg, you would work better as an artist if you knew how the art producer planned, how the technician engineered your objects), there was also a time when I thought that maybe all these knowledge hampers one's ability to focus with a sort of innocence or purity. There's also a lot of people who advice me differently. Some suggest that it is erroneous to become a "Jack of all trades", some argue that humans are by nature generalists and should not limit our potential.
Now I've mellowed a bit and am more comfortable to just be myself in all my various forms and roles and abilities, and try to spend less time defining myself in specific labels and words.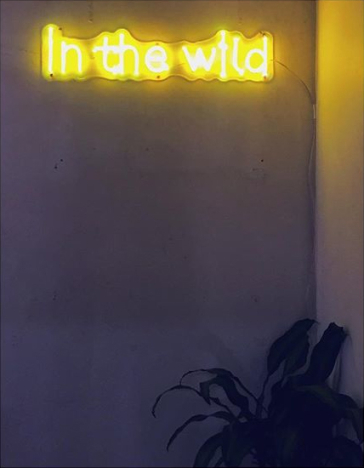 © Clara Yee
You co-founded Nomad Creative Studio in Singapore. What kind of place is this? Please tell us about the history of its foundation and the current activities.
Yes! I co-founded a creative studio called in the wild. We have just moved to our new studio space in Jalan Besar, off the Little India road in Singapore. It's on the third floor of an old shophouse and it catches the sunlight beautifully so we have a majestic ficus tree growing indoors.
We work on projects from design ethonographic research to branding and conceptual brand experiences. Work aside, we also dedicate time working on what we call gratitude projects on societal topics we are interested in such as art workshops with under-served children, and active lifestyle for elderlies.

Shao Yen S/S 15, Animation Artist / Clara Yee, This is a Shao Yen project.
Last year, you were elected Forbes Asia version "30 under 30 (30 people under the age of 30 who are active in Asia)". Is there any change around you after receiving the election? And did you find any change in your mind?
I am still very much the same person. The award does not define me, although it did make people more accepting of my non-traditional ways of doing things. I did enjoy attending the Forbes Conference and meeting like-minded folks under 30 whom were all working hard at creating their own vision and path. What I observed was a common theme amongst the young entrepreneurs and industry achievers to share their resources and knowledge. There was a lot of talk about collaborative working between competitors, and an understanding that the problems that the world faces today are not to be tackled by a sole endeavour or a single company. Gone are the days of a single big company shielding out the sun. Instead we need to band together and help each other grow so that we can help in the issues that the world faces, from pollution to medical access to redefining our economic policies.
Please tell us your future vision.
I hope to continue on this adventure, building a cross-cultural creative bridge from Asia to the world, so that we can all fulfil our better potential as human.
Text: Haru Murayama

[Help wanted]
Inviting volunteer staff / pro bono for contribution and translation. Please
e-mail
to us.