This year, Skulptur Projekte Münster especially focused on performance works. Therefore, projects following with physical expression were outstanding: "Erniedrigung is nicht das Ende der Welt [Humiliation Is Not the End of the World.]" by Gintersdorfer / Klaßen, a performing with kabuki motif, and "Leaking Territories" by Alexandra Pirici. Among such artworks, "Not Quite Under_Ground" by Michael Smith, which was a performance to tattoo on elderly people with discounted price, was great. Just because there were elderly people who were actually getting tattoos in a tattoo shop set, it seemed close to a social experiment rather than performance. Originally, they reason why Skulptur Projekte Münster started 40 years ago was the conversations between the city who set up outdoor sculptures and the residents who were against it. Some say that it started to change the perception of a conservative rural city. It is meaningful to do this art project with tattoo that represents young culture in Münster where there are many elderly people compared to cultural cities such as Berlin. The gallery was filled with peaceful atmosphere with a woman who actually was getting a tattoo and those who saw the situation. It will be hard to discover such a calm tattoo shop in the future.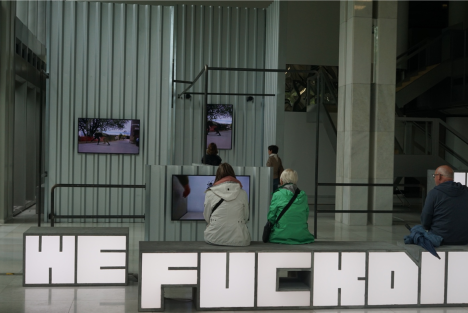 "HellYeahWeFuckDie", Hito Steyerl
While there were many elderly audiences, it was also interesting that artists who collect support from young people like Hito Steyerl were selected. Hito Steyerl is a popular artist who is also active as a theorist mainly in Europe. She also showed her unique style with the project for this festival, "HellYeahWeFuckDie." This project includes an image that can be taken as a warning to the future with artificial intelligence as a motif and an installation constituted by it. It was happening at a ground floor hall of the building that LBS, a residential association, built in 1975, and her work was synchronized neatly with the futuristic air of architecture. It was very much like the whole building exists for her art.
Also, the unique part of this work is that the collections including the Heinz Mack owned by LBS are also being displayed side-by-side. As a result, the project was finished in the space where artwork of different artists exist together, unusual for Skulptur Projekte Münster that offers artists a large space. In that sense, this work was also memorable.
Considering the next development of art, the Skulptur Projekte Münster is one of important opportunities. How will Skulptur Projekte Münster be like in 10 years? Thinking of even just one part of technology development makes me excited. In fact, while going around the city, I started to worry that Münster will be filled up completely with outdoor sculptures after this event happens ten or even twenty times. How should we spend next ten years? When such an ordinary small idea comes to my mind over art, I always rediscover the value of Skulptur Projekte Münster.
Münster Skulptur Projekte 2017
Date: June 10th – October 1st, 2017
Place: Münster, Germany
https://www.skulptur-projekte.de
Text: Ray Washio
Translation: Yumiko Miyagawa
Photos: Ray Washio

[Help wanted]
Inviting volunteer staff / pro bono for contribution and translation. Please
e-mail
to us.