Looking at the detail and comparing 16 exhibited works out of 23 in the series, they have totally different drawings on each. The tribe's diversity, which is expressed with the performance of the works one by one, there is a motivation to create humorous and a pop-like feeling.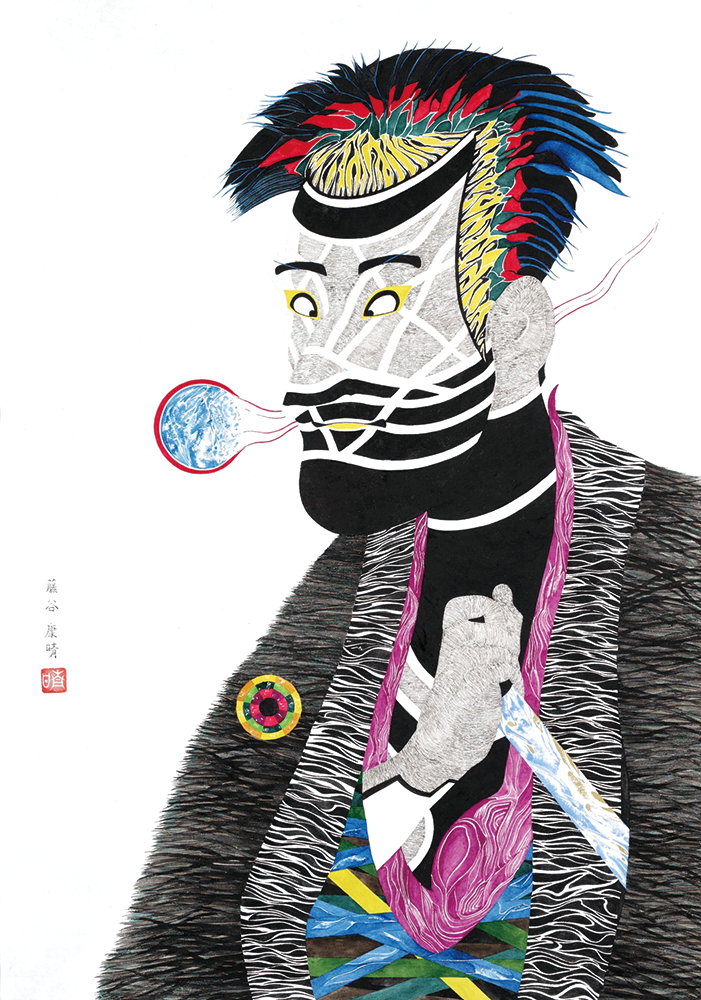 "Daishichi" © Yasuharu Fujiya, 2015, 780 x 560 mm, Watercolor pigment on Japanese paper
For example, in case of "Daishichi", the main visual of this exhibition, white thick lines runs freely on a face which is divided by the upper part drewn with fine lines and the lower part colored with black. Black borders thickly ripple on his clothes. In the same way as the original picture "Ishikawa Komazo no Shiga Daishichi", allows people enjoy the variation of lines, although it is based on monotone colors.
As for the hair, primary colors of red, blue, yellow and green persist but the color of the Kimono and its thin wavy white lines harmonize it all.
"Hachiheiji" exhibited at the meet lounge is based on "Tanimura Torazou no Washiduka Yaheiji". where successive holes which "repeat like a music riff" are painted on the body that has hexagonal pattern. A hoary short coat on his shoulder doesn't have original shape as a cloth any more and it becomes a layered red and blue flat lattice. The reimet is colored with complementary colors and has lines of brushwork, contrary to the body. Drawing differently creates balance and tension on the surface.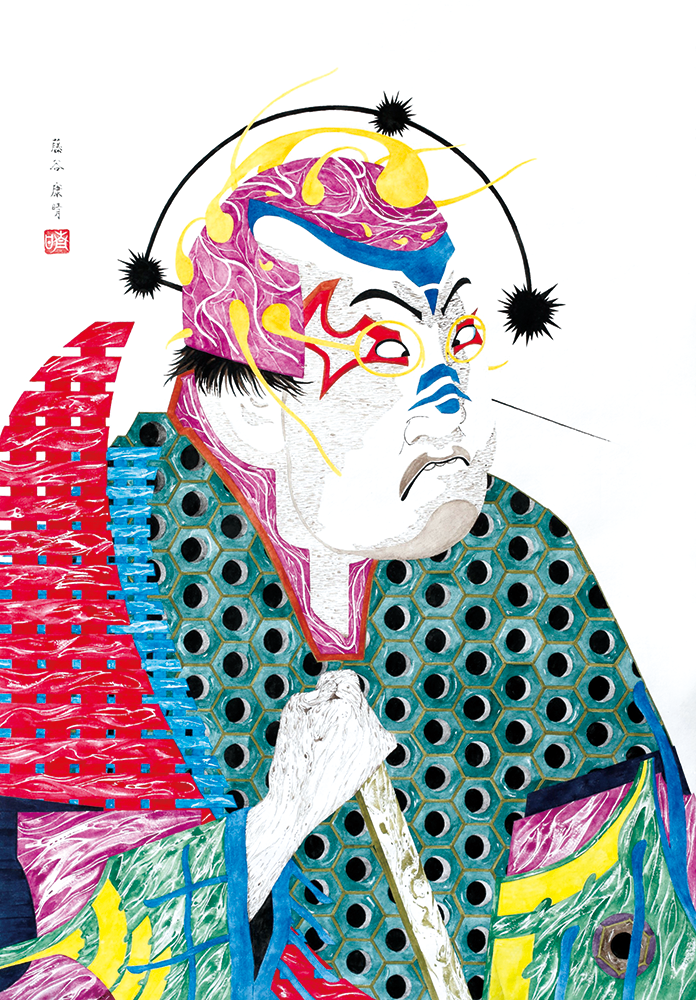 "Hachiheiji" © Yasuharu Fujiya 2017, 780 x 560 mm Watercolor pigment on Japanese paper
According to Fujiya, he didn't try to draw portraits. His works are the result of "an ezistere which expresses the individualiry of its components without collapsing" like music which is born from layers of sound and buildings which are born from the spatial arrangement of materials. Drawings guided the results. The harmony of the combination of drawings provides character to the objects and gives the feeling of skin to the false surface. Faces and hands are added and those become human. As a result, they have unrealistic flesh and appearance and portraits which have an excessive presence are born. The Variation of expression drawn by Fujiya made the atmosphere of this exhibition rich.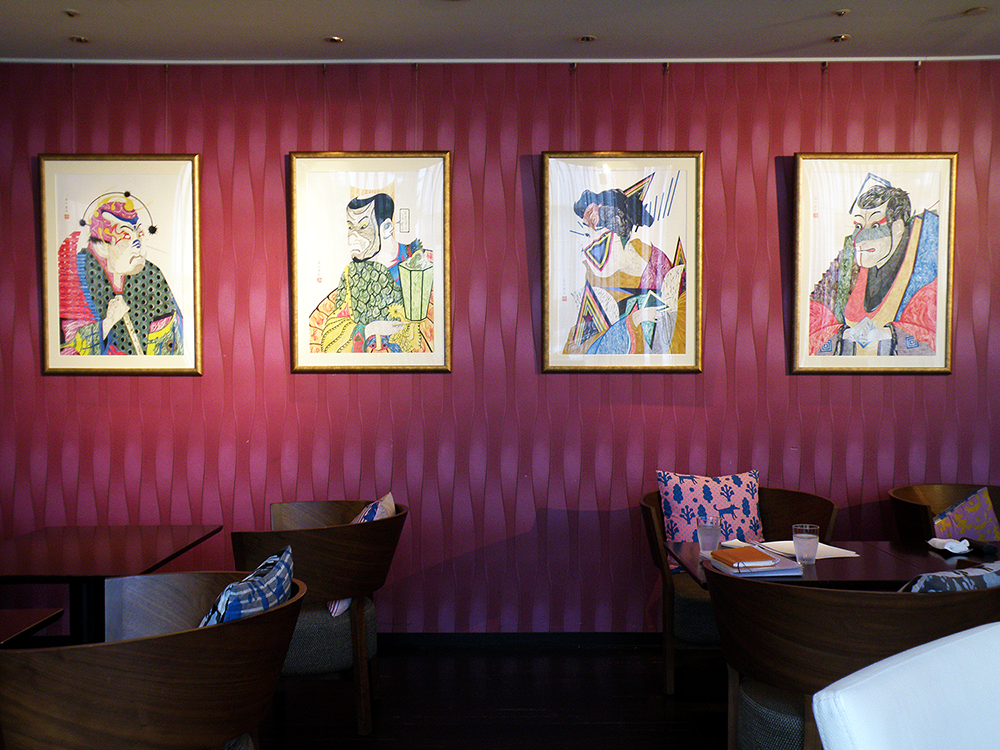 "Hachiheiji", 2017 / "Sanai", 2017 / "Shigenoi", 2015 / "Sadanoshin", 2015, © Yasuharu Fujiya, 780 x 560 mm, Watercolor pigment on Japanese paper, Cross Hotel Sapporo
An interesting point of Fujiya's drawings is that his works pull out the viewers' visionary sensibility like people how can sometimes see stains on the ceiling and clouds as something different. The diversity of recognisable elements made by "hallucinatory fiction" is connected to the "thoughts of a myriad of gods", the idea underlying his creation. Through this exhibition, he advocated "The recognition that both fiction and substance are real and necessary for contemporary man".
*The new series "Drawing Tribe. Modern Kabuki Fellows" contains 23 works and 16 pieces + old 3 pieces are introduced in this exhibition. Since the exhibition shows unreleased works, there may be possibility to replace them.
MACHINAKA ART-X edition vol.25
Yasuharu Fujita Exhibition "Drawing Tribe. Modern Kabuki Fellows"
Date: 5th July – 30th September, 2017
Place: Cross Hotel Sapporo
Address: North 2 West 2, Chuo-ku, Sapporo
Organized by Cross Hotel Sapporo (+81- 11-272-0051)
Curation: Clerk gallery +SHIFT
Cooperation:Machinaka Art
http://www.crosshotel.com/sapporo/
Text: Ayumi Yakura
Translation: Fuyumi Saito


1
2
[Help wanted]
Inviting volunteer staff / pro bono for contribution and translation. Please
e-mail
to us.