With Florey Institute in Melbourne, you are also working on a collaboration between health sciences and art. How was such a project born?
I am very interested in its results. "Wrapped" was a project where a number of artists were invited to explore the Queen Victoria Markets as a site and respond with works that relate to the market experience. I have been very interested in neuroscience for several years, and have consulted with different health sciences specialists in the creation of works over this time. The opportunity to work with Dr. Emma Burrows, a neuroscientist from the Florey Institute who has a strong interest in child brain development, was kindly arranged by the curator of the Melbourne Biennial Public Art Lab. We explored the many ways that the market experience can be 'brain food', from sensory experiences created by the variety of colours, textures, sounds and even smells, to the actual nutrition from eating healthy foods. We created a performative sculpture representing different brain regions, and moved around the markets to engage people in conversation about the project. It also involved public talks and a publication with essays by Dr. Burrows and Dr. Patricia Jungfer, a consulting psychiatrist with a strong interest in the mental health benefits of arts engagement.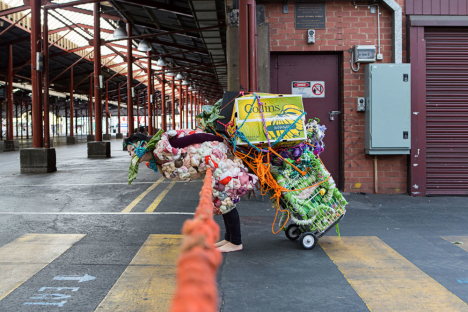 Hiromi Tango, Wrapped, Commissioned by City of Melbourne for Queen Victoria Market as part of Melbourne Festival, 2016
What artist is your partner Craig Walsh like? Please also tell me about the activities being done jointly with him.
In many ways, Craig is like an objective observer who asks a question, documents and reflects something back to communities on a larger scale. He often uses video and projection as a means of telling a story, which is quite complementary to my approach. The best way to explain how we work together is the project "Home". Craig shot video interviews with community members about the idea of home, what it meant to them. We have created versions of Home in diverse settings, from remote Aboriginal communities in Australia to Gwangju, South Korea. Working alongside this process, I invited community members to donate textiles that signified a sense of home, which we then stitched together into a projection screen for the video portraits. In this way, our very different approaches came together to create quite a nuanced and layered project, working toward a shared goal.
Can you tell me one episode of an impressive encounter through your exhibitions at an art museum and international exhibitions in different countries and cultures so far?
I have to say the experience of working with Singapore Art Museum, seeing the commitment to realising my vision, how the children's perspective were so carefully considered, and witnessing the response of the children to the NUS Dance Ensemble performance is one of the best so far.
Please let me know your next plan or activities that you would like to try.
At present I am starting an informal collaboration with Queensland Brain Institute in Brisbane, which is allowing me to learn from neuroscience researchers and gain feedback on works I would like to develop. I am hoping to be able to dedicate time through residencies like this to develop ideas and new works, seeking inspiration and having the freedom to experiment and explore through art.
I am also interested in exploring my cultural background – what it means to be Japanese living in another cultural context. In the last 20 years, I have been focused on becoming Australian and trying to assimilate. More recently, I have experienced a renewed interest in Japanese culture and customs, what makes the origin of me and how those cultural identity plays in my personality and artistic expression.
Are there any recommended places in Australia for travelers who are interested in art?
Australia has wonderful museums and galleries, it is hard to even know where to begin. I reside in the Gold Coast Region. Brisbane has been home to the Asia Pacific Triennale since the 1990s, and has a vibrant Queensland Gallery of Modern Art (QAGOMA), while Darwin and Canberra have some extraordinary collections of Aboriginal Art. There is also the Cairns Indigenous Art Fair happening in July. Personally, I think visiting Western Australia or Central Australia or North Australia and experience the astonishing and dynamic nature and landscape would be highly recommended. I am still learning myself about Australian culture and landscape, but feel that seeing the landscape first-hand is essential to developing an understanding of Indigenous art.
Text: Ayumi Yakura

[Help wanted]
Inviting volunteer staff / pro bono for contribution and translation. Please
e-mail
to us.