"(in)", 2014, 700 x 700 x 700 mm, Wool 100%, Photo: Ayaka Horiuchi
Please tell us about the prize of winning work "Here is zine Tokyo 12".
It was a zine put together the photo works of "shell" and "(in)". These two are series works. The white objects on it express some kind of human thoughts. All of us are living with positive and negative emotion. Although the emotion seems very easy at first, it will be getting bigger and bigger sometime. Then it will become uncontrollable insistence and take over you and move itself. I thought this idea can be expressed more effectively in the pictures took in real world, not only the actual artwork itself.

"shell", 2015, 750 x 700 x 800 mm, Wool 100%, Photo: Ayaka Horiuchi
The work "shell" includes many visuals in it, which enables us to imagine the stories inside. You will exhibit both the original and the pictures of this work at "Art Fair Sapporo 2016" on November 26th and 27th.
Considering how to exhibit, I came to think that the best way of presentation for "shell" is representing the work by various pictures of this work.
Generally many artworks are seen through pictures. I thought showing various pictures of this work can be good method to express what this work and the concept are.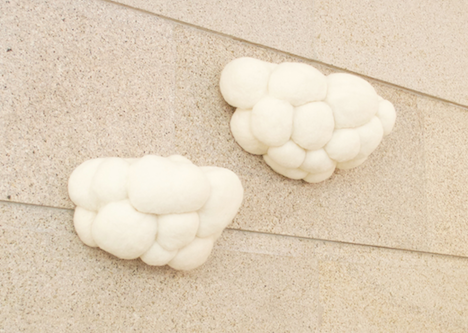 "kumo-shelf", 2012, 1,000 x 600 x 1,300 mm, Wool 100%
"kumo-shelf" is a shelf which uses motif of deformation cloud. You can put something favorite on it. I created some artworks we can enjoy, not only as "art", but also as something for practical use. This is one of those artworks. Watching artworks is not the only way to enjoy art. I think it must be fun to get those artworks closer to your world. You'll find something new and interesting then.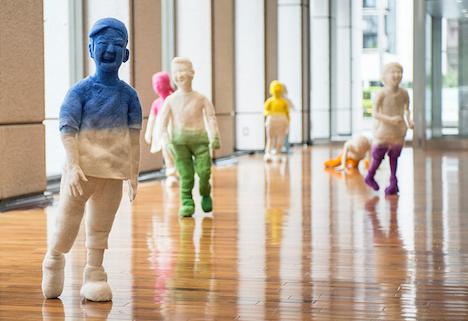 "freely", 2014, 1,000 x 500 x 500 mm, Wool 100%, Shinjuku Creators Festa 2014
You submitted "freely" and "be" (both exhibited on 2014) to group exhibition "2020 – Upcomers" at Cross Hotel Sapporo. What made you created some works with children?
There were some opportunities to get involved with children when I created "freely" and "be". They were innocent, freewheeling, full of curiosity, and inspired me a lot. This artwork features Children from 5 to 7 years old. I think that when people around their age, there is no obstacles to see and deal with their world. It is like a magical hour, just a few years in the long lifetime though. It seems that this vague feeling will be fit in the wool. This is the reason I started to create this work.
Read more ...
[Help wanted]
Inviting volunteer staff / pro bono for contribution and translation. Please
e-mail
to us.