You´re done a lot of exhibitions over the years. Which ones stand out as your favorite ones?
Favorite one right of the bath was Milk Gallery in New York, probably. Five years ago. My 50th birthday show. That was great. I made it a good show. It was high class. But some others …let me think, it's hard to say, good photo exhibit…
All Tomorrow's Parties maybe?
Yeah that was one but it was not an exhibit, that was a fun time. I did my slideshow. Those are funny gigs. The slideshow and the exhibit they go hand with hand. They are all good for the most part. Not all of them, a few were nightmares, like this one chick in Woodstock. If anyone goes to Woodstock and see a place with my shit, split on that fucking piece of shit, they fucking robbed me. I got perpetrated. But for the most part is good.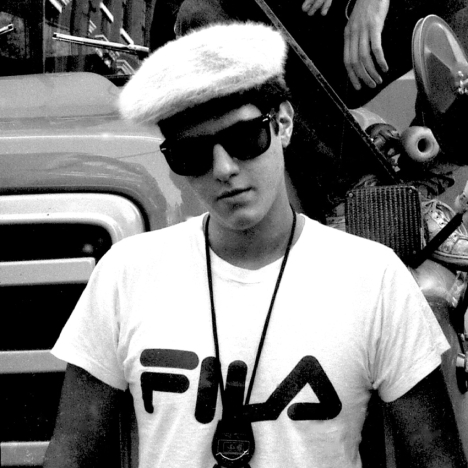 Beastie Boys, 1986 © Ricky Powell
You mentioned you do your own mixtapes for the slideshow.
Oh yeah, love my mixtapes. I love to be able to express myself musically with my taste in records. I'm having the pleasure and honor of doing them with Dj Smoke L.E.S, beautiful soul. I'm glad they´re accessible all of my mixtapes they´re on Soundcloud for free. And I always imagine them being good for impromptu house parties. Just google "Ricky Powell mixtape" so I kind of use different names for each of them. Check them, you´ll enjoy them, trust me. They enhance the ambiance.
You're done some show collaborations. Please tell me about it.
Well, I designed a sneaker for Converse, they were all hemp fabric, you know that? I designed them in the way Walt Frazier use to wear his Converse in the late 60's, high-top with blue laces. That was a good sneaker, people dug that one. Then I designed a sneaker for Pony for their 48th anniversary 2012. Those also I like to consider animal friendly, they are made of wax coated canvas and had midnight blue laces and a silver reflective, in case you are riding your bike a little tipsy. That's always a pleasure when it comes around.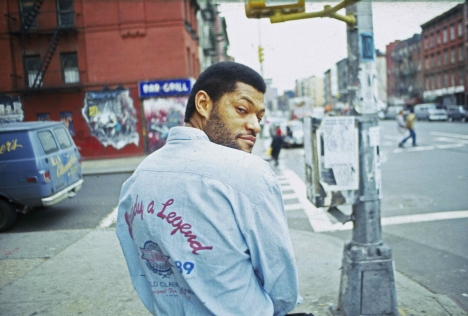 Laurence Fishburne, 1989 © Ricky Powell
One last question Ricky. Top pro basketball according to Ricky Powell.
Wow, I'm partial to the New York Knicks in 1973, Waltz Frazier, Willis Reed, and Earl Monroe. But you know, Michael Jordan, of course. I am kind of stuck in the older days, and Pete Maravich, of course, he's one of my gods. Waltz Frazier and Pete Maravich two favorites all timers. Individual innovators.
Very nice, many thanks for this, Ricky. Any final words for SHIFT readers?
Relax and have a knish.
Text: Victor Moreno

[Help wanted]
Inviting volunteer staff / pro bono for contribution and translation. Please
e-mail
to us.