"Controller of Controller", 2016 © Densuke 28 on Vimeo.
Congratulations for having two pieces selected for the DOTMOV 2016 digital film festival. First, can you talk about the concept behind "Controller of Controller"?
This piece depicts the obfuscation of the border between the real world and the virtual world in video games. I got the idea from today's gaming scene where virtual reality equipment is becoming prevalent — starting with the much talked-about head-mounted displays — and CG is constantly evolving. These developments are providing players with greater feelings of immersion. This animation has a hierarchical framework, which represents the uncertainties towards this feeling of immersion, in a sense. I created this as if I were playing a game, including small Easter eggs and paying homage to games I actually play or that have to do with the history of video games.

"Your Gay Thoughts To Disappear", 2016 © Densuke 28 on Vimeo.
Regarding the second piece, "Your Gay Thoughts to Disappear", perhaps Ian Anderson — who selected the piece — correctly observed that we shouldn't try to analyze it. But can you tell us how you came up with it?
My first impression from when I heard this song for the first time was everything. I got a primitive impression from the slow tempo and the ambient sounds that nature creates — like sounds of birds chirping and wood burning — so I knew I shouldn't stage anything bizarre for this music video, and that I should simply make a video of what I felt. I appreciate Ian Anderson's comment.

"TWISTSTEP" 2016 © Pa's Lam System
What is it like working with emerging video artists Katsuki Nogami and Kanta Mochida, as you have for Pa's Lam System?
For the release of "TWISTSTEP", Pa's Lam System decided to create a new mask, which is a key item for them. The music video pushes that to the forefront. Based on the music and existing images of Pa's Lam System, the three of us came up with ideas, from which we fused into a single piece. At the end, I think we created a special video that only the three of us could make, bringing our individual strengths together — Katsuki Nogami's inimitably strange perspectives and Kanta Mochida's refined movements and depictions — while maintaining our unique characteristics.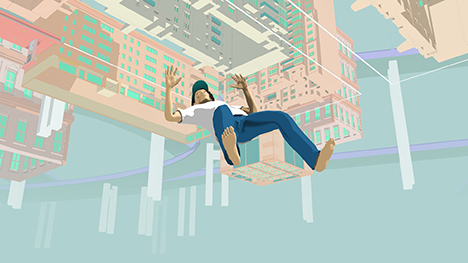 © Densuke 28
Where do you place client work?
It depends on the project, but whether it's client work or a personal project, I tend to connect it all together. I try to build an environment in which I can create at ease. It's not just about me, of course, so it's difficult at times. But whatever the content, I prioritize creating something that I'm satisfied with. Lately, I've been getting more work where I can express my own style and ideas, so I seldom think in terms of "client work".
To wrap up, can you talk about any future plans?
I don't have a lot of time for them, but there are a few things I want to do, so I hope make a new animation. Also, I've had opportunities to collaborate with various people lately, so I'm carrying out some solo projects that should be really interesting and that you can look forward to. I also love Nike shoes, so getting to do something with them is a goal of mine. (This is an aside, but the characters in the character selection screen at the beginning of "Controller of Controller" got their names from Nike shoes.)
Text: Taketo Yanagihara
Translation: Makiko Arima

[Help wanted]
Inviting volunteer staff / pro bono for contribution and translation. Please
e-mail
to us.