"BUGGY MAP", 2014 © Densuke 28 on Vimeo.
Your color palate changes after "BUGGY MAP". Suzy Amaakane has also stated that she couldn't take her eyes off of the man in his underwear in "BUGGY MAP Exhibition Ver." Why is it that men who move erratically consistently appear in your work?
The "erratic movements" comes from the odd phenomena that occurred due to "bugs" when playing video games. I got my first video game later than my friends did, so I had such a strong yearning for games since I was little. After my grandmother got me my first console, I got more and more into it, and had more opportunities to play with games. This may have influenced me, as I'm instinctively creating works based on video games.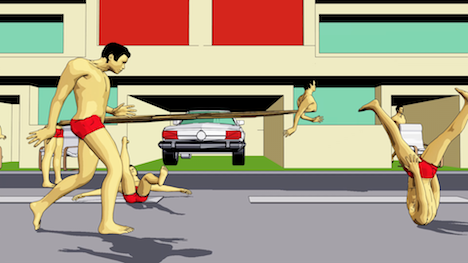 "BUGGY MAP", 2014 © Densuke 28
"Bugs" are what make virtual spaces like video games that digitally programmed worlds as they are, and I think they play a big role in turning works based on video games into convinced worlds. "BUGGY MAP" was the first piece that incorporated with "bugs" as a theme, and I tested various colors till I got it becoming today.
Irregular movements are a feature of this piece. Is this a development of a generative art form of video production?
When you said "irregular movements", I think you were referring to the movements based on the "bug" theme I explained earlier. But these movements are created intentionally; they aren't produced generatively. Although it seems odd to say that the "bugs" are intentional.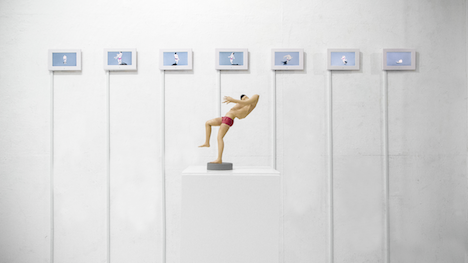 "BUGGY MAP -Exhibition Ver.-", 2015 © Densuke 28, Monitor ×7, 3D printing doll
What was the theme of your solo exhibition held at Gallery T, "BONUS STAGE"?
In my last piece, "Controller of Controller", I used "bugs" in the story, but this time, I wanted to focus even more on "bugs", so I tried to use "exhibiting 'bugs'" as the theme.
What kind of reaction did you receive?
It was my first solo exhibition, but I was happy that a lot of people came. Through my work, I felt like I was able to share my deeper conscience with a lot of people. On the other hand, there were also people who were tilting their heads in confusion, so there's definitely room for improvement. I also remember there were small children laughing out loud while viewing my work.
Read more ...
[Help wanted]
Inviting volunteer staff / pro bono for contribution and translation. Please
e-mail
to us.