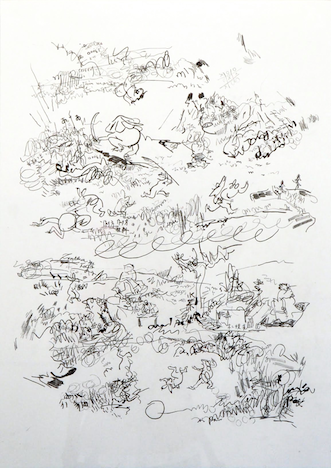 "Caricature over freedom, or Sapporo" 2016, 420 x 594 mm, transferred ink on paper
Your work "caricature over freedom, or Sapporo" made with test writing collected in Sapporo, which is your base now is different from past works. You copied "Choju-giga (the Japanese old scrolled cartoon in which frog and rabbit were drawn as humans.)". Did you satirize anything?
Good question (laugh). I didn't think about satirizing. One of the big stationary shops in Sapporo had roll paper for test writing and it inspired me of the picture scroll like Choju-giga. I experimentally connected the paper roll and picture roll. I looked for lines suitable for Choju-giga. A part of rabbit's ears, a part of frog's back, and so on.
The title of the work "only test listening changes the things 3 times -first time or London" is meaningful.
I often put the title as parody of surrealism artist Max Ernst's works. I like his series of roman-collage. If I say it's homage to him it's a little presumptuous, but I respect him a lot. After "or" there comes the name of the city where I collected the lines and drew on the paper.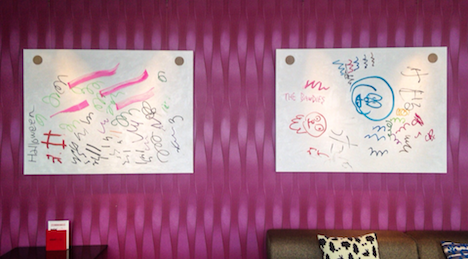 "It's not this color" "It's not this color, neither" 2016, 970 x 1,300 mm, oil on canvas
You reproduced the test writing and enlarge it for the new work. What is your intention for that? I couldn't repress laughter when I see the famous character drawn vigorously.
Do●emon (laugh). It's a work I copied and extended every angle equally. Probably 15 times larger. Different from the ones made with lines from many memos, blank space and distance between lines are as they are.
I painted it with oil painting very thick on canvas. If you see this closer you may find the thick line is actually 1-2 cm wide. There are heavy brash stroke in it. You feel speed of test writing at the same time if you see this with distance.
It's like airplane is actually very fast but seems moving very slowly if you look it up from the ground. It's also like you can feel fast speed of Shinkansen inside the train but it seems moving slowly if you see it with distance. Those experience in the city duplicates with the work.
I don't think anybody says this is landscape but I see a scene of city and town in the test writing.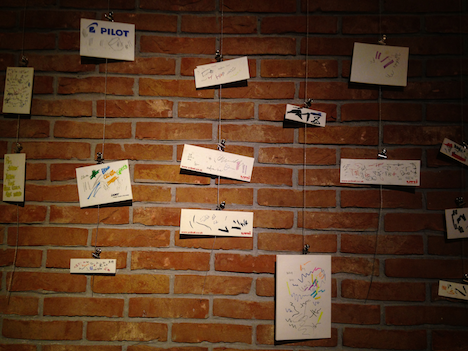 "Copy of test writing in some stationary shops in London + Sapporo" 2015, oil painting on canvas
Is there any city you want to go to collect test writings?
It can be difficult to go by myself but I want to get test writing in Arabic letters. I want to see how this mysterious letters are written for test. I even don't know if there is custom of test writing in their countries.
Please tell me your future project.
Sapporo has fantastic snow view. I'm thinking a piece themed with city and snow. People left footmarks and tyre marks on the snow and those change the color with muddy water. There are so many games for me who makes fetish of traces (laugh). It's very attractive to find traces after the road is heated and snow is melted. It's uncultivated genre but I want to try making installation like earth work.
MACHINAKA ART-X_edition vol.20
Okoimatsu Exhibition "Visible A Little After Someone #2"
Date: May 2nd – June 30th, 2016
Place: Cross Hotel Sapporo
Address: North 2 West 2, Chuo-ku, Sapporo
Organized by Cross Hotel Sapporo (Planning department +81 11 272 0051)
Curation: Clark Gallery + SHIFT

Supported by Machinaka Art
http://www.crosshotel.com/sapporo
Text: Ayumi Yakura
Translation: Fuyumi Saito

[Help wanted]
Inviting volunteer staff / pro bono for contribution and translation. Please
e-mail
to us.