Sakuta: It seems like they are consistent as a company. Obviously, as there are examples of exhibitions that are difficult to hold outside of private spaces, there are also increasingly more commercial pieces being displayed in museums. I think the line (for the private companies) is also starting to waver.
Question from the floor: Do you consider anything a taboo?
Okamoto: I don't do criminal acts. I don't do things like destroying (destroy) property. Whether or not what's been decided by law is correct is another matter, but what art can do is to tinker in the grey zone.
Inaoka: Law itself easily changes depending on the era. It won't do to be bound and unable to do what you want to do. If there's something that will unavoidably cause conflict, we consider the consequences, and discuss it over and over and determine if there's still value in doing it.
Question: Mr. Okamoto's Taiwan project coincided with a period in which a neutral mindset was becoming pervasive in Taiwan. The Hiroshima project of Chim↑Pom took place when we were at a turning point in considering how to pass on the memory of the bomb. I was impressed that, as artists, you're so good at capturing the social landscapes of the times. Will the Hiroshima and Taiwan projects continue?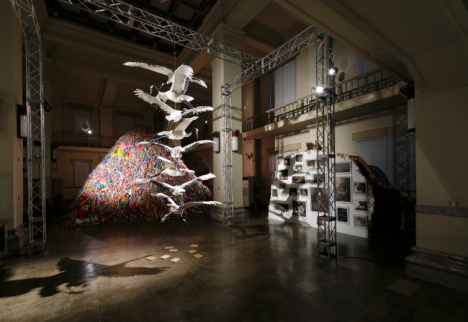 Chim↑Pom "Horoshima!!!!!" exhibition, 2013, Former Building of Japan Bank Hiroshima Branch © Chim↑Pom, Courtesy of Mujin-to Production, Tokyo
Inaoka: At the public exhibition awards ceremony, we were told, "just don't touch on the nuclear bomb." But holding an exhibition in Hiroshima, it's hard not to think about it. There may be people who think, "just do it when there is no one left who knows about the nuclear bomb or who can speak about the reality of it," but that's the worst. If we didn't do it now, we wouldn't be able to say it. The exhibition was cancelled, but there have been people in Hiroshima who continued to think about "Pika." With help from people across professions, from people at galleries and universities to cafés, who invited us back to Hiroshima multiple times in order to realize an exhibition, we were finally able to hold one at the former building of the Japan Bank. We were really happy about the local people's sentiment, trying to give Chim↑Pom a venue to exhibit. We were able to achieve a sense of closure. All that's left is to hold an exhibition in the US. It would be fun to do it in Washington DC.
Okamoto: Regarding the Taiwan project, Mr. Chin past away. I meant to dedicate that project to him, so it is now over. There were strong protests against the project, but checking on Google Maps, it looks like they are still there. There are always unyielding critics, but there are always allies as well.
Question: Do you have any advice for people who don't have private spaces or those who are hesitating taking action?
Inaoka: There's no need to worry even if you don't have your own space. There are people who come to us with their own projects, so there are different avenues. I wouldn't be pessimistic.
Sakuta: So, "don't be pessimistic."
Okamoto: I think it's even an incentive. I have experience being crushed, but I think those are the times that really give you a sense of purpose compared to exhibitions that are easy. It's interesting when there's a need to make changes, or when there are confrontations. It's a joyous thing, to get a reaction. Though, I must say I don't enjoy trials and legal actions.
OKAMOTO MITSUHIRO x Motomu Inaoka/Chim↑Pom x Tomoki Sakuta
"Art given Out: Artists fighting their ways into society. How to proceed Art"
Date: January 16th, 2016, 18:00 – 20:00 (Open 17:30)
Place: Aoyama Book Center
Address: B2F, Cosmos Aoyama, 5-53-67, Jingumae, Shibuya-ku, Tokyo
Capacity: 110 people
Admission: 1,944 yen (Including tax)
Tel: +81(0)3 5485 5513 (Aoyama Book School)
http://www.aoyamabc.jp
Text: Yoko Akiyoshi
Translation: Makiko Arima

[Help wanted]
Inviting volunteer staff / pro bono for contribution and translation. Please
e-mail
to us.