Hiroaki Suetsugu is an artist based in Hokkaido, vigorously showing his conceptual works in Tokyo and Sapporo. His carefully thought out and tranquil works are created after numerous experimental steps and they range from two-dimensional pieces to installations. It makes me wonder; where does he get such dedicated mindset to face motifs no matter what medium he is working with. His honest and simple words answering my questions about his background and fine art come to our ears so easily, as well as his solo exhibition "DEDICATED LINE" at CROSS HOTEL SAPPORO, and his work at CowParade Niseko 2015.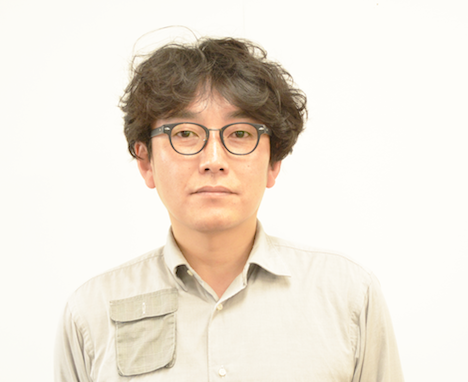 Hiroaki Suetsugu
Could you please introduce yourself first?
Sure, I'm Hiroaki Suetsugu. It's pleasure meeting you. My fine art related activities are not only limited to creating own works but also getting myself involved in an educational field. I consider art to be something to be more common and energizing, or it could even soothe your soul and an absolute necessity to make our daily lives comfortable. I'm aiming to let people know that through my various activities.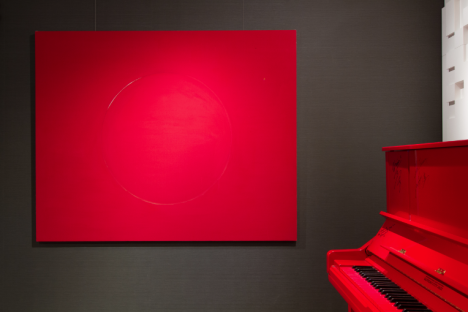 "HOLES", "DEDICATED LINE" Cross Hotel Sapporo, Sapporo, Hybrid pigments on canvas, 2015, Photo: Yoshisato Komaki
What made you go into the fine art field in the first place?
At first I wasn't interested in this world at all. I used to be a failing science-focused student and only worked hard for the sports teams during my time in high school. Luckily, however I was really good at doing something complicated and detailed with hands such as drawing or creating physical objects. I think that idea of creating something on my own is what first drew me into this world. I was vaguely thinking of doing something with design or using computer but when the time came for me to apply for college, a teacher at an art school I was attending to pass the art college's exam told me "you are good at oil" and it made up my mind and led me to where I am today. I was also really fortunate to have such great professors, senior art students and friends in this art world.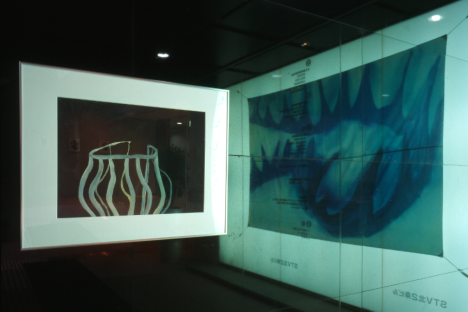 "Translation", STV Entrance Gallery, Sapporo, Acrylic & Digital print, 2009, Photo: Hiroaki Suetsugu
You focused on installation works while attending college as an oil painting major, but why so?
I think my number one reason at the time was because it was too painful to paint at the time. I wanted to be free from that. I was always painting for the 4 years since graduating from high school. It was only to pass the entrance exam for the art school. So, when I finally passed the exam after failing for couple years, I thought to myself "I can finally be free from paintings, no, I will be!" Looking back now, I think it had a good influence on me; I was able to imagine what I can finally do while working on drawings so much solely to pass the exam. By the time I started my college, I already had many plans so I just went for it. To answer your questions about why I chose installation is that installation means you can do anything and everything so it naturally came to it. I wanted to challenge everything. I spent my 4 years during my college like that and created a large metal sculpture "Folklore of Fog" for my graduation project. I decided it was time for a change and started to revisit creating two-dimensional works slowly during my Master's. I remember it being pretty difficult after 4 years of avoiding painting; I'm still having a hard time with it.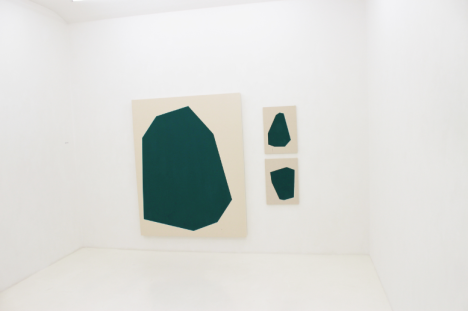 "Real Love", RECTO VERSO GALLERY, Tokyo, Acrylic, 2011, Photo: Hiroaki Suetsugu
You use a wide range of different techniques for your works. Are you consciously doing that as an experiment?
Yes, but all the experiments are finished by the time actually showing the works. Also there are a lot of failed attempts before I could create the one that I end up showing. For the failed paintings, I take it off the stretcher bars or panels and use it as curtain at my house. For the drawings on the other hand, I just show the experiments as my works. I think there are two types of works: one where you create it by the movement of your body and come from a flash of inspiration, and the other where you spend a lot of time preparing and learning the skills to create the work. Those are distinctively different, but I feel the responsibility for making sure that both of them are presented to the public. I also try to fully understand what is the subject that I am trying to express, because I think what's important in a painting is "what you are painting, or expressing." I don't think you need to stick to one medium or technique but should rather consider what is the best method for that one motif that you are trying to express. Thus, there is no need for your style. Of course you need to learn and gain the skills to be able to do the works that you are thinking in your mind, but those skills should not be your style. The style is your attitude towards working, or yourself, or even something that comes out from your works. It is good to leave a mystery in the motif, it is also good to attempt solving the mystery in the painting or make the piece itself all about the mystery. Paying respect to the motif is the most important thing of all, I think.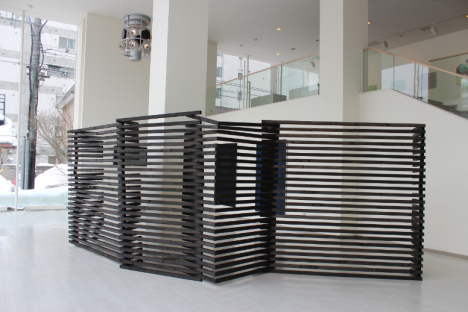 "Kristallnacht", PORTO Gallery, Sapporo, Woods and India ink, 2013, Photo: Hiroaki Suetsugu
You are from Kyushu, but do you think moving to Hokkaido had any influence on your works?
Without any doubt, it is a huge influence. If I had not moved to Hokkaido I couldn't have made all the works and also all of the works would be very different. I might even have not gotten myself involved in art at all. I feel like something had led me to Hokkaido. When I first moved here, I used to paint the line of mountains, sky, clouds, and horizon in ocean because I had this mind set where I had to be inspired by the great nature of Hokkaido. However when I actually started living here, I was more moved by much smaller nature, small enough things that I can hold with my hands. I felt that the nature was telling me stories. Such gap in my mind was so inspiring to me. Also I had such great opportunity to meet amazing people. I still find fantastic new people here. People in Hokkaido are so free and warm. Communicating with people here encourage me and that is why I am doing what I am doing right now.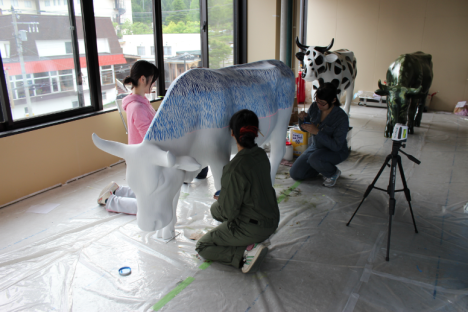 Production scene of "Really really love it!!!", CowParade Niseko, Niseko, 2015, Photo: Hiroaki Suetsugu
You teach at a college and it seems to me that you are trying to encourage your students to have as many opportunities as possible to experience different things. What is your thought behind it?
Well, I had this thought about myself, but I think there are certain things you can only feel when you are a student. You feel differently about the same thing. I think it is important to challenge and experience various things instead of only focusing on studying. Just like during a plaster sculpture drawing, you cannot fully understand the exact shape of the sculpture by sitting at a same spot, instead you need to stand up, look at it from different angles and touch it and you can finally understand a little bit. I think that for you to be able to learn something, you need to experience with your body and not just understanding it with your brain. My office's nametag says "contemporary art," but it's not such a difficult idea, it is just about searching for a way to express something as a human being. It is really an old school. I want my students to work hard to search for expressions, but also I want them to be able to communicate how art is amazing and interesting to other people by their own way of expressing themselves.
Could you tell me what you are interested right now?
I am still interested in natural phenomena. Especially Himawari-8, you can watch it during the weather forecast. The clouds in the movie is slick and interesting, it is very different from the ones before. They are going to send Himawari-9 next year, I am really excited about what kind of information the latest technology can send to us. Last the weather in Hokkaido has definitely changed since I have moved here. I want to keep observing this. Maybe we will not have snow in the future.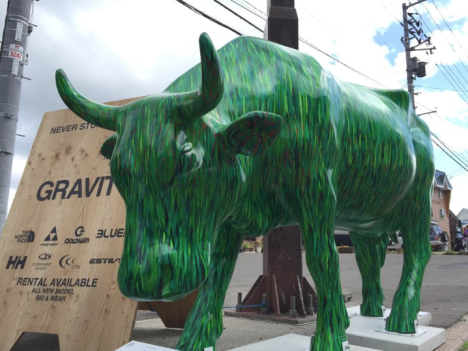 "Really really love it!!!", CowParade Niseko, Niseko, 2015
You are a juried artist for CowParade Niseko 2015, which runs until October 1st. What kind of piece are you presenting?
It is called "Really really love it!!!" I drew grass on a life sized cow sculpture called "Cow" which is made of FRP resin. Cows probably loves grass and live by eating them. I tried to capture that nature. I think it is interesting to look at it from different angles because I drew all the grass vertically. Please come to Niseko this summer and fall, to meet 47 cows created by many different artists.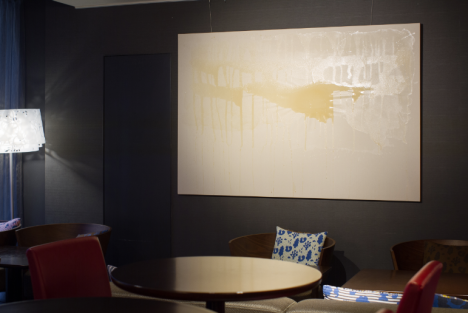 "Smell like beast #1", "DEDICATED LINE" Cross Hotel Sapporo, Sapporo, Hybrid pigments on canvas, 2015, Photo: Yoshisato Komaki
Could you tell me about works you have in your solo show "DEDICATED LINE" and also the meaning for the title?
I consider my works to be very personal pieces. I am selfish to think this, but I just need myself to understand it. But at the same time, I am connected with countless number of people in the society and my pieces are connected with the rest of the world as well. The communication line for this is however, not something I can make multiple people understand at the same time. It is more like "I want to tell just you this feeling through one special dedicated line." Nothing make me more happy than when you could sense some kind of world by looking at my painting and I don't need a lot of people to understand it.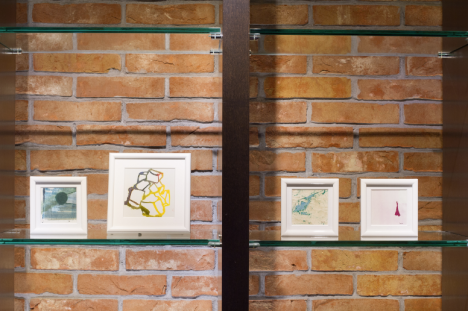 "Untitled #101-#104", 2014, "DEDICATED LINE" Cross Hotel Sapporo, Sapporo, Ink on paper (#101) / Acrylic on paper, 2015, Photo: Yoshisato Komaki
Please let me ask this again, what is fine art to you?
Mmmm, speaking of the existence, it is like God. I am his servant. God of fine art sometimes comes down and let us create such great work for human beings, and also gives great advise. He orders me to draw by coming down on a white canvas. He is always helping me and making me live.
Could you tell me your plan for the future?
I am holding an event called "NO-DO Art Project, Summer Trip 2015" on August 8th and 9th. On the 8th, it will take place at PORTO Gallery (South 1 West 22, Chuo-ku, Sapporo) and on the 9th; it will take place at YuniEAF in Yuni-cho, Yubari-gun. I will do an open workshop at Yuni on the 9th, so please come join me. I have uploaded the details on Facebook. Please search with my name. I am also taking part at "Hira Hira exhibition vol. 3 Latter semester" for Hokkaido University of Education's Contemporary Art and two-dimensional expression seminar exhibition from September 4th and 17th at Hokkaido University of Education Art&Sports center HUG. There is an reception party on Friday, September 11th so please join me at this as well!
MACHINAKA ART-X_edition vol.16

Hiroaki Suetsugu Solo Exhibition "DEDICATED LINE"

Date: June 1st – August 30th, 2015
Place: Cross Hotel Sapporo

Address: North 2 West 2, Chuo-ku, Sapporo

Organized by Cross Hotel Sapporo (Planning department +81-11-272-0051)

Curated by Clark Gallery + SHIFT

Collaboration: Machinaka Art

http://crossmet.jp/sapporo
CowParade Niseko
Date: July 1st – October 1st, 2015
Place: Many places in area of Kutchan and Niseko (Download MAP)
Artsits: Toshiya Kobayashi, SHUUN, Chisato Shinya, Hiroaki Suetsugu, Saki Chikaraishi, Yumi Fuzuki, Ryo Matsuoka, Takuya Yonezawa, Wabisabi and more (all 47 cows)
Official app: Download here (free)
Organized by Niseko Promotions Board
Sponsors: Ikeuchi Group, Chalet Ivy, Ht Holidays, Niseko Grand Hirafu, Niseko Hanazono Resort, Deloitte Tohmatsu, Ki Niseko, Nisade, MnK, Explore Niseko, Fresh Powder Niseko, Silenti, evian, Sanctuary Niseko, Niseko Promotion Board, Ring Project, Skybus, Zaborin, Sekka, SkiJapan.com, the vale niseko, Niseko Town, The Niseko Company, Fubuki Townhouses, The Barn, Shiki Niseko, West Canada Homes, alpen ridge, The Niseko Supply Company, True Aussie Beef, Futaba Industry Co.ltd., Nakayama gumi, Iwata Chizaki, Shimizu Corporation
Tel: +81(0)136-21-2551
Free and open to the public
http://cowparadeniseko.com
Text: Aya Shomura
Translation: Mayuko Kubo

[Help wanted]
Inviting volunteer staff / pro bono for contribution and translation. Please
e-mail
to us.