Hokkaido's leading tourist areas Niseko and Kutchan are hosting the world's largest public art event, "CowParade Niseko", until October 1st.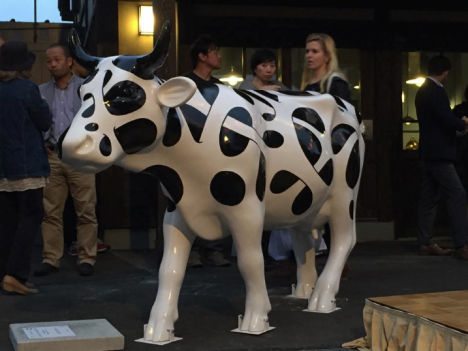 "CowParade Niseko", Wabisabi, "Hollow Cozy", Niseko Viallage "Two Sticks" Area, 2015
Around 200 people, including local residents, supporters, and participating artists, joined the launch party for CowParade Niseko on July 3rd at Niseko Village "Two Sticks" in Niseko's Higashiyama-Onsen area. The unveiling ceremony featured artist Wabisabi's Holstein-spotted cow. Guests of all ages enjoyed the taiko—or Japanese drum—performance, which followed the ceremony. There was a festive atmosphere at the party with live jazz music throughout the night.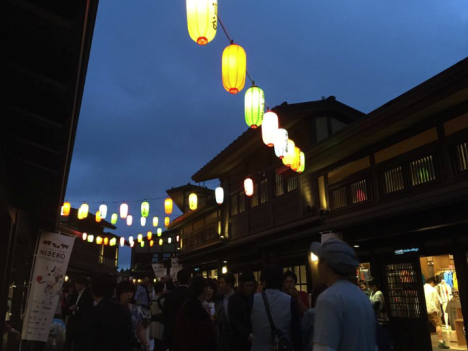 "CowParade Niseko", Opening party, Niseko Viallage "Two Sticks" Area, 2015
While Niseko attracts many oversees visitors in the winter with its slopes and snow, this was the area's first large summer event. Following a call for cow designs at the beginning of the year, selected artists spent May and June staying on site and starting production at different locations in Japan. Of the 47 cows that were completed, 45 are on display in Niseko and Kutchan (mostly outdoors) and 2 are exhibited in Sapporo; all cows are for on public display.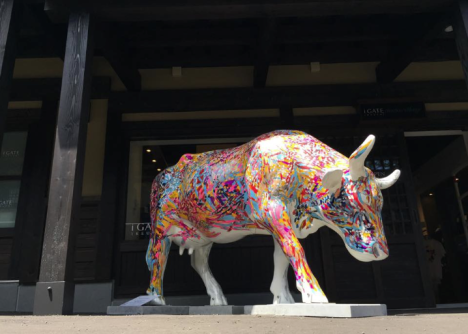 "CowParade Niseko", Ryo Matsuoka, "untitled", Niseko Viallage "Two Sticks" Area, 2015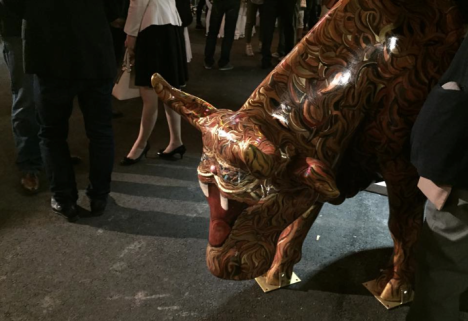 "CowParade Niseko", Shuun, "mojamoja", Niseko Viallage "Two Sticks" Area, 2015
In addition to Wabisabi's cow, four other works are on display at Niseko Village, including one by established live performance artist Ryo Matsuoka, as well as one by Shuun, known for his artwork with fine, meticulous, colorful lines. A cow that stands in a local public house has already become a favorite photo spot for guests staying at Hilton Niseko Village.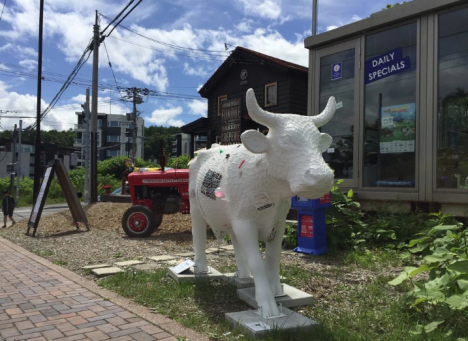 "CowParade Niseko", Saki Chikaraishi, "Knitting Cattle Mutilation", Hirafu Downtown Area, 2015
Cows by artist Saki Chikaraishi and others can be scene around the Hirafu Jyujigai area. Chikaraishi, known as a "hyper knitting creator," designed a cow using pieces of "memories of Niseko" that the artist collected during her stay in the town. The work is not coated for protection, so it will transform as it weathers. A small UFO is also "woven" into the cow, so make sure to search for it when viewing her piece.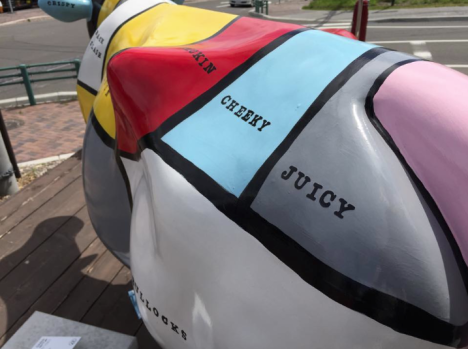 "CowParade Niseko", Jan Van Wezmael&Eight, "Sir Lion", Hirafu Downtown Area, 2015
"Sirloin," a pretty pastel-colored cow is aptly named, as the colorful patterns are actually based on different cuts of beef with descriptions—like "juicy and tasty." Other cows include one by an artist from Yamanashi Prefecture, who is originally from Hokkaido and came to visit the event with family members.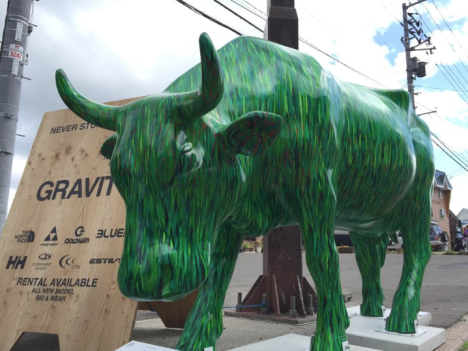 "CowParade Niseko", Hiroaki Suetsugu, "Really really love it!!!", Hirafu Downtown Area, 2015
A grasshopper was spotted resting on Hiroaki Suetsugu's cow, which resembles a field of green grass. Suetsugu used a range of colors like red and blue for the cow's first coat of paint, which gives great depth to the final green color of the cow. Suetsugu's cow reveals another side of the artist whose works are usually tranquil indoor installations.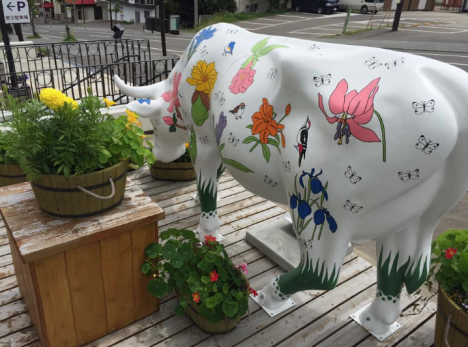 "CowParade Niseko", Toshiya Kobayashi, "Cow Dreams, too", Hirafu Downtown Area, 2015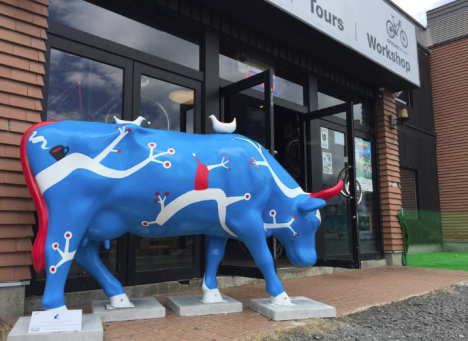 "CowParade Niseko", Chisato Shinya, "Brace", Hirafu Downtown Area, 2015
Even the steep hills of Hirafu are pleasant when strolling through the area to visit the CowParade. On Hirafu-zaka, the main street, there are several cows, such as one by Toshiya Kobayashi, who is often invited to exhibitions in Japan and Europe. There is also one by Chisato Shinya, a multi-faceted artist whose work ranges from picture book illustrations to food package designs, Shinya's cow seems to enjoy the Niseko scene in its own distinct style. Children were seen lying down next to the cow, looking up at the sky.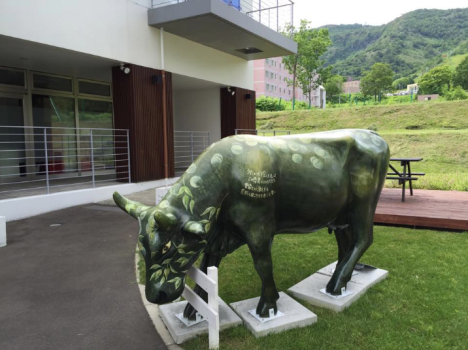 "CowParade Niseko", Yumi Fuzuki, "Komore-bi", Hirafu Downtown Area, 2015
A little out of the way stands Hotel Yama Shizen where poet Yumi Fuzuki's bovine can be found. Fuzuki became the youngest person to win the Modern Poetry Notebook (gendaishi-techou) prize when she was still a high school student, and her first anthology won the 15th Nakahara Chuya Prize. Her cow titled "komore-bi" (light filtering through tree branches) rests serenely as if it were standing in the only place where light falls. Visitors should also take a close look at the poem engraved on the cow's surface.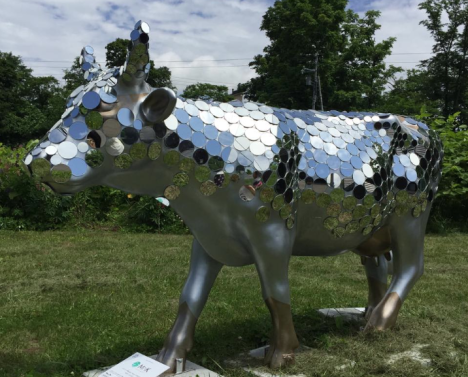 "CowParade Niseko", Takuya Yonezawa, "Cow Ball", Hirafu Downtown Area, 2015
For Takuya Yonezawa, one of the younger artists exhibiting in CowParade Niseko, this was his first attempt at three-dimensional art. His cow, whose theme is a mirror ball, is covered with circular pieces of glass. "There are around 300 pieces of glass used, but getting the hang of gluing the glass was especially difficult," said the artist, commenting on the production process. Diffusely reflecting light, the optically camouflaged cow blends into Niseko's great wilderness.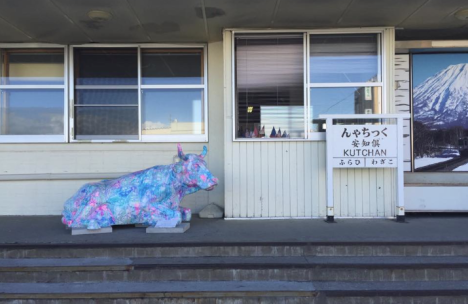 "CowParade Niseko", Kumi Shibata, "Aquatic Cow", JR Kuchan Station, 2015
A cow also welcomes visitors at Kutchan's train station. Elderly hikers on their way to the mountains enjoyed the bovine's greeting, commenting on how cute it was.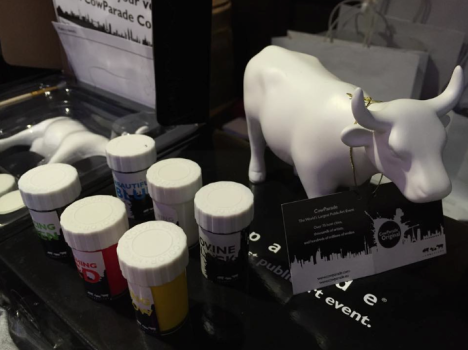 "CowParade Niseko", Souvenirs, hirafu188, 2015
A free app (COWBOY Cow parade Niseko) was also released for this event. In addition to cow designs and artist information, the app includes a GPS function that is triggered when visitors approach a cow. The more cows a visitor sees, the more benefits the app provides, such as deals and coupons. There are also event-related merchandise that would be perfect gifts to take back home.

"CowParade Niseko", Mini Moo, Shine on Kids, hirafu188, 2015
CowParade Niseko has been garnering attention since it started posting production images and videos on its Facebook page. This art event is equally meaningful as a charity event. After the exhibition ends, the cows will be auctioned off, and the profits will be donated to a children's charity. Mini cows by children with cancer or heavy disabilities are also on display at selected venues during the event.
Through CowParade, visitors can discover a new summer destination in the popular winter spot of Niseko.
CowParade Niseko 2015
Date: July 1st – October 1st, 2015
Place: Many places in area of Kutchan and Niseko (Download MAP)
Artsits: Toshiya Kobayashi, Shuun, Chisato Shinya, Hiroaki Suetsugu, Saki Chikaraishi, Yumi Fuzuki, Ryo Matsuoka, Takuya Yonezawa, Wabisabi and more (all 47 cows)
Official app: Download here (free)
Organized by Niseko Promotions Board
Sponsors: Ikeuchi Group, Chalet Ivy, Ht Holidays, Niseko Grand Hirafu, Niseko Hanazono Resort, Deloitte Tohmatsu, Ki Niseko, Nisade, MnK, Explore Niseko, Fresh Powder Niseko, Silenti, evian, Sanctuary Niseko, Niseko Promotion Board, Ring Project, Skybus, Zaborin, Sekka, SkiJapan.com, the vale niseko, Niseko Town, The Niseko Company, Fubuki Townhouses, The Barn, Shiki Niseko, West Canada Homes, alpen ridge, The Niseko Supply Company, True Aussie Beef, Futaba Industry Co.ltd., Nakayama gumi, Iwata Chizaki, Shimizu Corporation
Tel: +81(0)136 21 2551
Free and open to the public
http://cowparadeniseko.com
Text: Aya Shomura
Translation: Makiko Arima

[Help wanted]
Inviting volunteer staff / pro bono for contribution and translation. Please
e-mail
to us.