This solo exhibition, "To regain the irreparable," by artist Toshiya Kobayashi is being held at Cross Hotel Sapporo until May 31, 2014. Kobayashi was born in Hokkaido, and he has actively exhibited his works mainly in Tokyo, Germany and Switzerland.
Toshiya Kobayashi has been creating paintings with the motif of plants for many years. This exhibition presents both his earlier works created before the Great East Japan Earthquake in 2011, and his latest works painted after the disaster, all of which have never been shown before. Today, three years after the 3.11 earthquake, the artist himself is re-acknowledging the changes that his expressions have undergone via comparing his old and new works that are showcased in the lobby and Meet Lounge on the second floor of the hotel.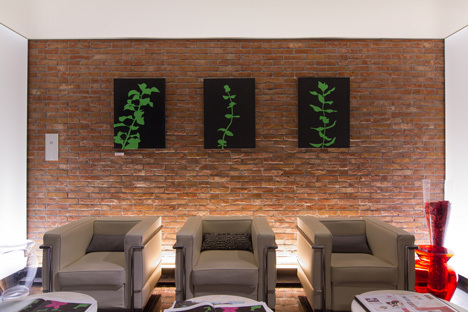 His earlier works from the "Those who never say anything" series (2002) are exhibited in the lobby. At initial glance, they are simple paintings all with yellow-green leaves and stems on a black background. Although the veins of the leaves are not expressed, on close view, the contours of the plants in their natural appearances give us a strong impression that they are indeed plants.
To Kobayashi, plants are the closest existences and which he can empathize with; thus, they are the motifs that allow him to express himself as a person that he truly is. This idea took root during his childhood, when his father introduced him to the great nature in Hokkaido. His father who had enough knowledge to be a tree doctor taught Kobayashi how to interact with plants.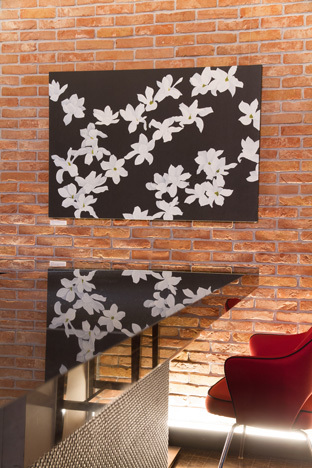 Kobayashi's works exhibited in the lounge are from his "Eternity and a Day" series (2010-2011). The one entitled "Leaves" is depicted with black leaves on a white background. In another work, "Magnolia," he portrayed magnolia flowers on a black background. During lunchtime, the sun shines through the window facing west. Thus, the contrast between the white and the black purely emerges as the sun shifts, while also allowing Kobayashi's plants to comfort the visitors as they also perceive that plants are indeed a universal existence.
Kobayashi's new series "To regain the irreparable" (2013-2014) expresses the changes he underwent after the earthquake. The exhibited works were carefully selected so that the hotel visitors can relax and enjoy them. The works look as if they have always been on the brick wall with a wooden floor; thus, creating a welcoming atmosphere. Kobayashi's messages can be conveyed to the viewers through taking a moment to stop and gaze at his works.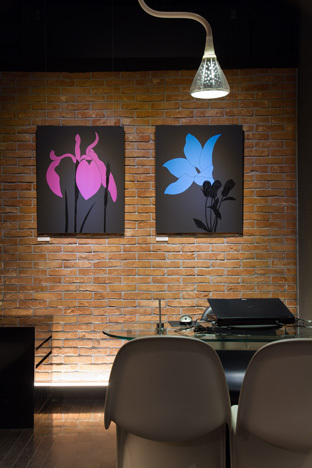 Kobayashi's works that are exhibited in the reception area are "Iris," "Bell flower," and "Campanula punctate lam," which are all composed of a refined close-up of a single flower in pink or blue on a black background. As one gazes upon the single flower in pink or blue with the black contour lines, along with the black stem, leaves, and flower buds, it begins to remind one of a form other than a plant.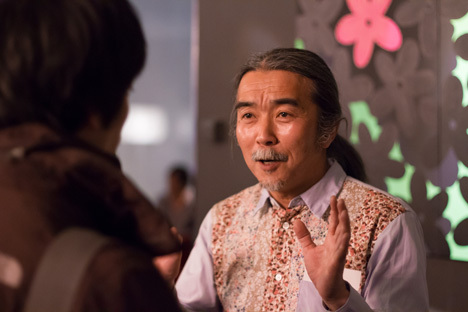 Kobayashi experienced the 3.11 earthquake in Tokyo, and found out about the nuclear accidents on a television news. Though he received an overwhelming number of messages from his friends abroad telling him to "get out of there," the irreparable situations put him in such a despair that he had lost all energy to escape. Humans and animals were not the only beings that were affected by the accidents. A blooming flower that might look beautiful at first glance has also been contaminated by radioactivity; hence to Kobayashi's eyes, flowers also look sad and distorted. The art project that was in progress at the time and which he was involved in was also affected by the earthquake. Regardless of that critical state that was causing a great confusion in the affected areas, he continued to create works day after day, based on his idea that an artist should first build up "something that can be done as a person," and in that process, discover "something that an artist can do."
Every time he held an exhibition outside Japan, people asked him about the nuclear accidents. He always began by saying, "Because I'm not a direct victim, I can't speak for the people in the stricken areas and about how they feel." Then he would sincerely continue the conversation with each person who asked him that question, because he was aware that he was one of the few Japanese they encountered. But every time he explained, his feeling was pulled back to the time of the earthquake; thus, when he was alone, a painful grief struck him. The visions of the stricken areas that have lost their colors would come back to his mind; hence, his paintings also lost colors. Before the earthquake, he daringly used black with the aim of expressing the dark side of society and of our minds. But after the 3.11 disasters, he was unable to use any color other than black.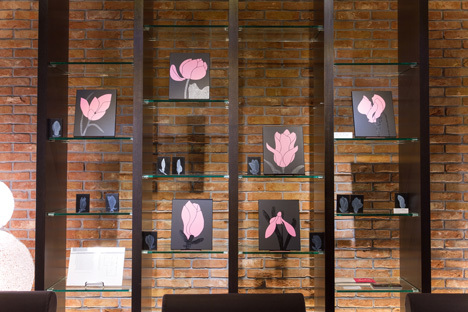 Many lives were taken and many people are still suffering in the earthquake-stricken areas. But his mind set on changing his own self, he painted as the words "I can't go on like this" echoed in his mind. Through that process, his works began to change and he was able to break away from using just black. The pink used in his flowers encompasses his feeling of "hope." He began his artistic activity in 1983, but it was the first time ever for Kobayashi to use pink in his works. Plants cannot move or escape on their own, but they live with the will to reincarnate. Flowers wither, but then, they bloom beautifully again on that same land the following year.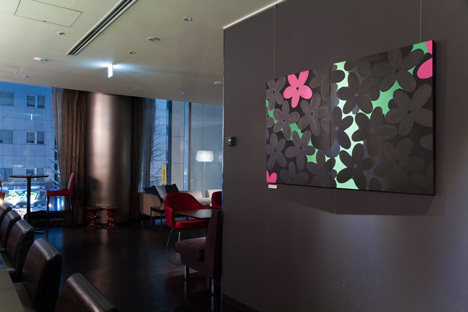 Kobayashi's three latest works, all entitled "To regain the irreparable—Hope," are exhibited in the lounge. None of the images indicate any specific type of flower; rather, they are abstracted forms of plants. This was aimed at avoiding the viewers from imagining any certain language of flowers. One of the works depicted with thick yellow-green lines on a black background conveys a strong sense of vitality. The small flowers that bloom on the entire surface all open their petals toward the viewers. In another work, several pink flowers are painted among many black flowers. In the third work, the images of many pink flowers are in bloom. While each of the three works conveys "the color filled with hope," which was captured from "the black despairing" state, the three works as a whole is expressing a single scene in its entirety.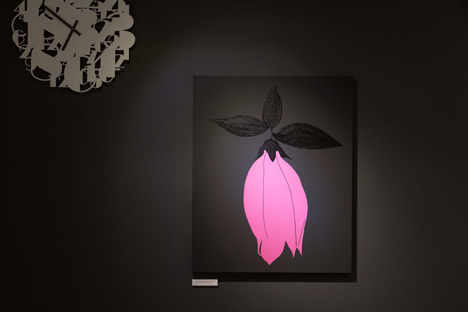 The title of this exhibition, "To regain the irreparable," does not only signify what has been lost due to the 3.11 earthquake. Kobayashi is also implying that Japan is heading toward an irreversible direction. Even if we were to try to see the various current situations from a broad perspective, it is not easy for us to have a comprehensive understanding of the entire structure of society and the state of people's consciousness. Therefore, Kobayashi continues his production so that he can find out "how society and people's consciousness look as a whole as a result of linking all the pieces that he depicts for a set of works." At times, he ends up creating a set of works consisting of a dozen pieces, and other times, he completes a work with a single painting. Such an expression allows us to enjoy the pleasure of viewing each set of his works in its entirety.
Whenever someone asks Kobayashi, "Why are you painting?" he replies, "I'm constantly looking for a new self, because I want to meet a new person within me." Without being satisfied with the present state, he goes onto the next level via expressing his daily creativity into visual forms on a daily basis. Through continuously projecting his own self in his works, they can gain persuasive power.
Things that have become irreparable are irreparable. That is why we highly respect Kobayashi's aim for this exhibition: "I want to move forward with a new perspective and hope, so as to regain the irreparable." The pink in his works that symbolizes "hope" is depicted within the black surroundings; thus, even with closed eyes, the pink as a vivid memory can be brought back to the viewers' minds. We would like many visitors to come and actually view Kobayashi's exceptional works with their own eyes.
Since its opening in 2007, Cross Hotel Sapporo has been giving a series of art exhibitions of the art project named "ART X (cross)". The ART X started collaborating with SHIFT from 2011 in introducing Hokkaido based artists from Sapporo to the world. The exhibition is one of the Machinaka Art Project, and will be the eleventh edition of the "ART X" which was curated by Clark Gallery + SHIFT. The Machinaka Art is the project of Sapporo which is aiming to fill the city with art and to create friendly environment for people to familiarize themselves with the art. It creates the daily life with art by galleries, artists and shops as one cooperatively. Please check the reservation state of the "Meet Lounge" on Machinaka Art Twitter or Facebook page before you visit there.
Toshiya Kobayashi "To regain the irreparable."
Date: March 22nd – May 31st, 2014
Place: Cross Hotel Sapporo
Address: North 2 West 2, Chuo-ku, Sapporo
Organized by Cross Hotel Sapporo (011-272-0051)
Curated by Clark Gallery + SHIFT
Collaboration: Machinaka Art, Shobunsya
http://crossmet.jp/sapporo/
Text: Ayumi Yakura
Translation: Satsuki Miyanishi
Photos: Yoshisato Komaki

[Help wanted]
Inviting volunteer staff / pro bono for contribution and translation. Please
e-mail
to us.