A 1999 silent movie "white petals (Original title: Juha)" directed by a film director Aki Kaurisumaki, respected in the world of art film, will be on screen with improvised live music by Huntsville in February 1st in Hokkaido University Clark Hall auditorium. Huntsville is a three piece band coming to Japan from Norway. The original story of this movie is from a well-known novel by the Finnish author Juhani Aho. The story of the novel was adapted in three movies so far. The story unfolds from the scene that a city slicker appeared in the country house of a harmonious couple then the man tempted the young wife. When a music "only in that place" will be added in the silent cinema as a visual art, what will the audience share in the venue? Before the event, we interviewed Huntsville band with the up coming tour in Japan.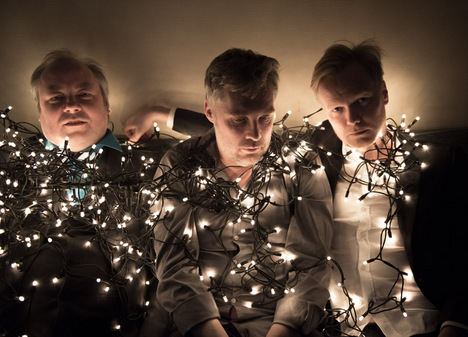 © Andreas Ulvo
Huntsville was formed in 2006, is this right? Tell us the kind of relationship that the three of you have as a band?
Yes, 2005 or 2006. It is a little hard to remember, really. The first concert was in 2006, but we started rehearsing and recording in 2005. But, we have played together in since 1998, or so. In several constellations of free jazz and free improvised music. We have played a lot together in lots of different groups since 1998.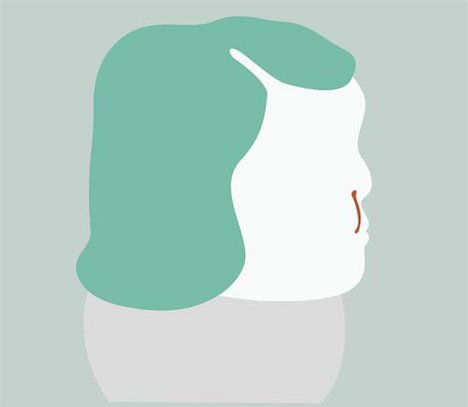 Cover artwork of Eco, Arches & Eras on Rune Grammofon
What is the reason that you mix various genres of music? Such as rock, jazz, and electronica etc.
We are not really thinking that we are mixing genres. We are simply just trying to play the music we like. So the mixing of genres itself is not important to us.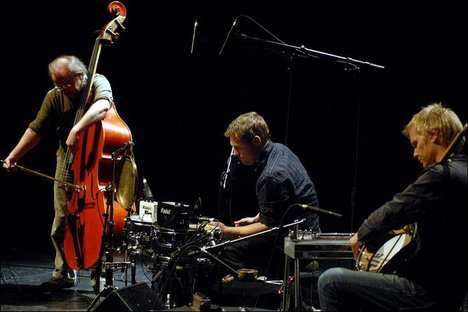 FIMAV – Jonquiére (CAN), May 06 © Le Quotidien, Sylvain Dufour
Norway is a country that is rich in nature and traditional music culture. Do you feel the Huntsville's origin from these environments through your music?
Not really. It is a very interesting question. We often hear from people abroad that they can hear that we are from Norway. I hear this even from very trusted music colleagues that are not from Norway.
Also, I know that I can hear some musicians, for example from Japan, they sound very Japanese.
However, I really can't see how our music is linked to Norway, the nature and culture. Perhaps it is too close. it is easier to see form outside.
I think music is an important element of the movie. What effect we can expect when is improvisational music added to the movies? Also, is there anything that you are preparing for your next play?
We are indeed improvising, but we are using a lot of the same elements each time we play. In a way, our music can be considered as "vague compositions" that we approach with an improvisatorial attitude each time. Our music is still improvised, and it does not sound the same each night. But it is not radically different each time, either. So, to answer the second question first, our preparations are the continuous process of developing our music since the band's origination in 2005. To some extend we are still working on a lot of the same ideas after 100 concerts and 4 recordings. Trying to find new ways of approaching the same ideas. For this specific project we also prepare by watching the film, making up our opinion on how directly we would like the music to be linked to the dramaturgy of the movie, if we would like our music to comment the movie or if we would like our music and the movie to be two separate but simultaneous artistic expressions, the atmosphere, the changes in atmosphere etc. Making up our minds on these kinds of questions are a big part of our preparing for this project.
I think you can expect a completely different experience. It is not a film and it will not be a concert. It will be both, or none of them. Something else. I think the performance will ask a lot from the audience, and it will leave a lot of space for the audience's imagination. I certainly hope the audience will join us on this experience.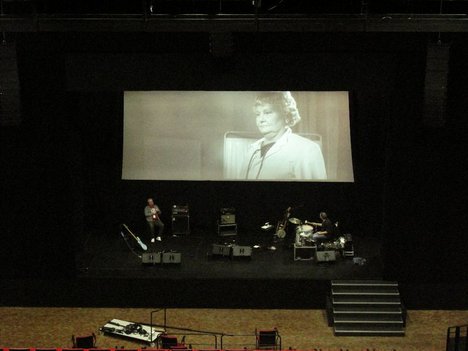 Granada, Spain (April 2010)
What motivated your band to play the music along with the movie? Was there any response after the performance?
We performed this project for the first time in Spain in 2008. Our first performance was at a festival dedicated to silent movies with improvised live music. So the audience for this performance was very used to this situation. The response was very good, and I think the combination of Kaurismäki's very special atmosphere and our music was good.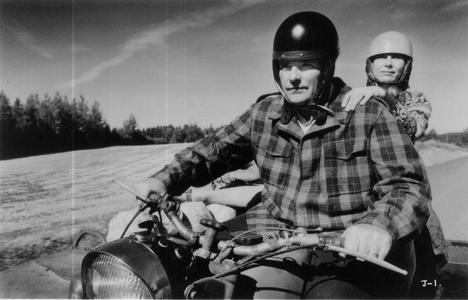 Copyright © Aki Kaurismäki All Right Reserved.
I think the tempos of camera blocking and the humor of putting a pause are unique features of the production by Kaurismäki. What do you mostly consider when you play along with the movie?
The atmosphere. And the dramaturgy in our music. It may not always be linked to the dramaturgy of the movie, but I find that interesting.
I think, in order to keep focus on the process of building our musical drama, we can not pay very direct attention to the detailed situations in the movie. By this we would be commenting the movie and we would more easily end up with a 1-to-1 relation between sound and image. Personally I like to challenge this.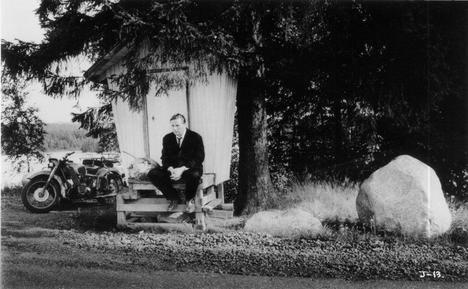 Copyright © Aki Kaurismäki All Right Reserved.
Movies by Kaurismäki seem to describe the nature of human beings and ask for the dignity and true wealth in our life from the audience. Is the any common element in the music of Huntsville?
Oh, that is a very, very hard question to answer. Hmmmm. I don't think I know the answer to this.
But I would like to point out that our music originates from a collective process. It is very little ego in our music. I think we are trying to make one large organism, rather than the more conventional organization in for example a lot of jazz where you have a soloist and a set of musicians accompanying the soloist.
So in that sense it is important for us to put the collective process in from of our ego.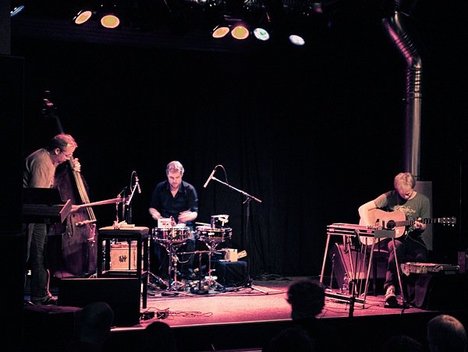 Belleville – Oslo (NOR), Nov 06 © Tyler Olson
Have you ever visited Hokkaido so far? What are you looking forward in Japan during this tour?
First time in Hokkaido! Looking forward to that a lot. This is the first time Huntsville perform in Japan, but it will be the ninth time I visit Japan. So, personally, I am looking forward to see my band mate Tonny Kluften experiencing Japan for his first time. Also, I always like to travel with Shinkansen. We are used to very slow trains and the are almost always delayed… so it is such fun to travel with Shinkansen.
Also, I always meet very interesting people in Japan. Very warm audience!
The revenue of this event will be used to hold the free movie festival in the areas affected by the Great East Japan Earthquake that occurred on March 11, 2011. What do think about this charity project?
It is a very good and important charity. And an honor to be able to take part in it. It was devastating to watch the earthquake and all the terrible aftermath on the news on the other side of the globe. And it was and is impossible to imagine how hard it must be to experience it that close.
There is no language barrier in music and silent movies so we can share the excitement with anyone in the world. How do you want the audience to enjoy this event?
I hope the audience will open up for their imagination and join us for this little journey.
As an opening event "Miyukino Film Festival in Madarao 2014", the mini concert of Finnish traditional instruments "kantele", a special lecture to commemorate the birthday February 3rd of architect represent Finland, Alvar Aalto will also be included in the Sapporo show. Also the same screening event with live music by Huntsville, organized by Tokyo Northern Lights Festival, will be held at the Tokyo venue on February 2nd.
Miyukino Film Festival in Madarao 2014 – Scandinavia Japan International Short Film Festival
Date: February 1st, 2014, 14:00 – 17:00 (Open at 13:00)
Place: Hokkaido University Clark Hall Auditorium
Address: North 8, West 8, Kita-ku, Sapporo
Ticket: Advance 3500 yen, Door 4500yen, Student 2000yen
Coorganize: Snowcollective (Miyukino Film Festival in Madarao committe), Office of International Affairs, Hokkaido University, Office Ohsawa
Special support:The Finnish Institute in Japan, Hokkaido FInland Society
Support: Embassy of Finland, Royal Norwegian Embassy, Kantele Japan
Cooporation: Snowbugs, SHIFT, Plustar
https://sites.google.com/a/snowcollective.com/miyukino2010/
Text: Ayumi Yakura

[Help wanted]
Inviting volunteer staff / pro bono for contribution and translation. Please
e-mail
to us.