Sapporo host the first International Art Fair in Sapporo.
Do you need skills to "read art?" There is the term "art literacy," but compared to "information literacy," the necessity may be more vague.
On November 23rd and 24th, Art Fair Sapporo 2013 was held at the Cross Hotel Sapporo. It was an international contemporary art trade fair which had not been seen in Sapporo before. 20 galleries from inside and outside Japan gathered in Sapporo to exhibit and sell their selection of artists' works. From famous masters to very new talents, more than 200 groups of contemporary artists' works were proudly introduced. People could visit the venue for free and look around with explanations by professional galleries. If they found any attractive work they could also bargain for it.
With continuous crowds, both days had many visitors. Introduced on the various media and SNS, a wide variety of people; from art world people such as collectors and students to general the residents of Hokkaido came to this event for 2 days.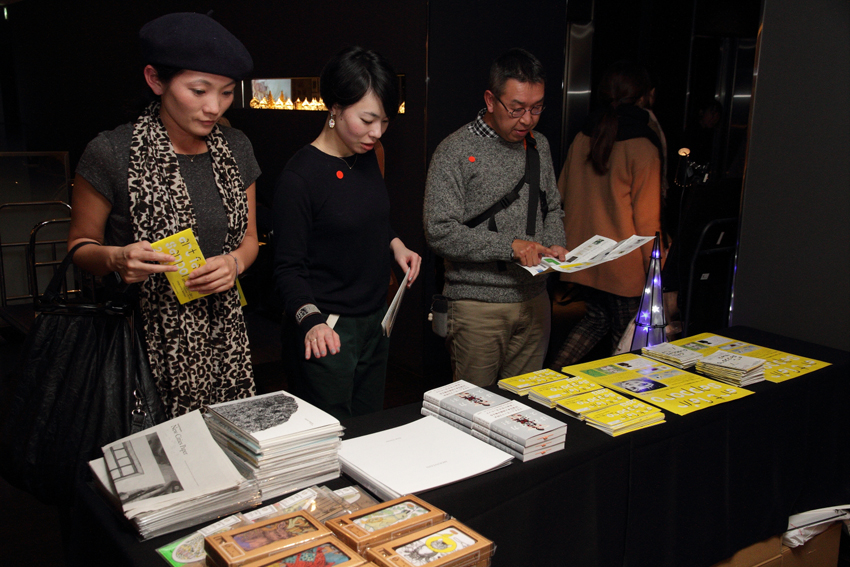 The biggest merit of holding an art fair in this hotel is that people can enjoy both an unusual life by visiting each of the hotel rooms and also imagine an ordinary life at home that is surrounded by art at the same time. The 13th and 14th floors were reserved and the galleries could have one room each. Not only the on wall, but they also used the bedroom and bathroom ingeniously to exhibit many kinds of work.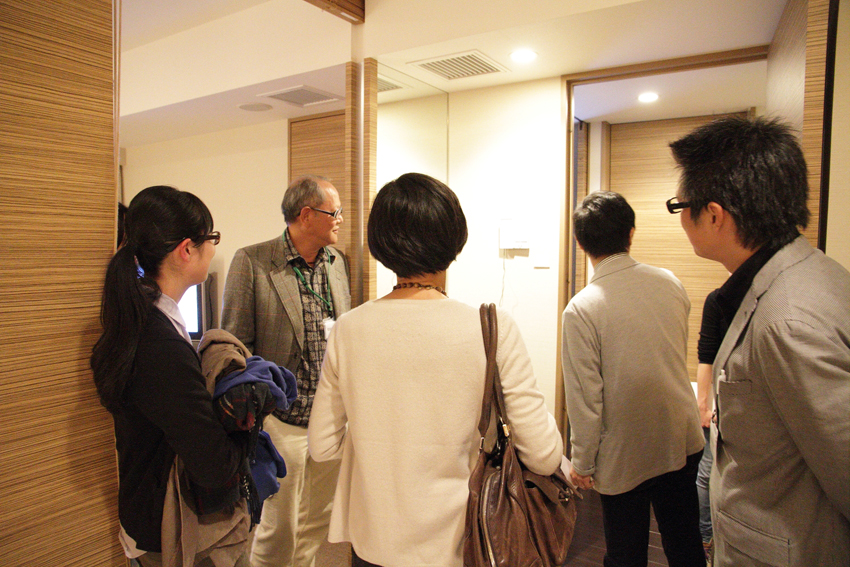 Other than inside the hotel, the venue, Cross Hotel Sapporo has been planning the tie-in with "Sapporo City Jazz" and new art events like "ART-X." They have made contributions for raising the local culture and image through the years since their opening in 2007. Hokkaido residents and local businesses received attention even though the art fair usually lacks many visitors and was a first-time experience for them, the hotel dealt with requests from galleries and neatly took care of the visitors.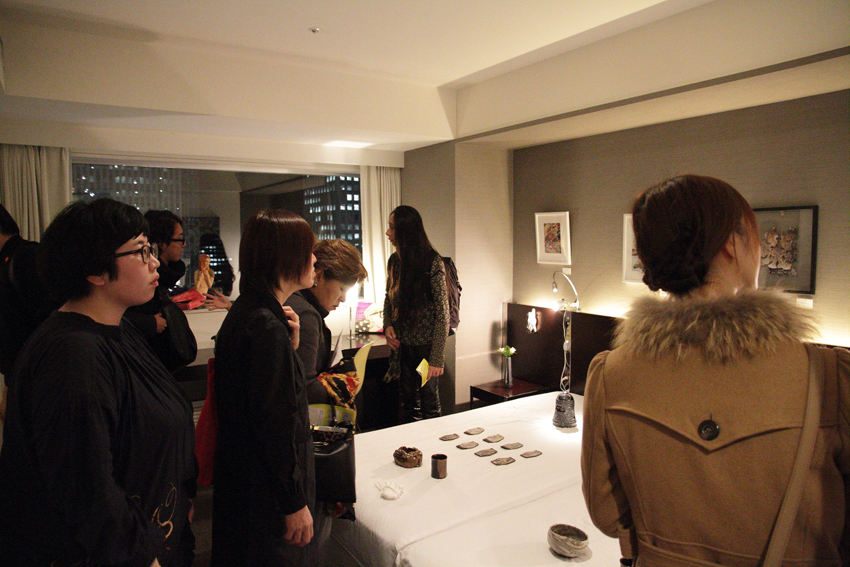 Before introducing the contents of the exhibition, we would like to think about 2 points, "the reason of Art Fair Sapporo" and "the features of Art Fair Sapporo."
Many residents could experience high quality contemporary art at this time. It might be a good opportunity to stir up the art market of Sapporo. If the visitors get used to buying art, the art market must be born in Sapporo. If much art is sold, local artists can afford to stay, preventing talent from spilling out of the city. As a result, Sapporo maintains much high quality art, and the activation of the art market would be expected.
Some might recall a recent auction in the art market. The news this year told us that Francis Bacon's "Three Studies of Lucian Freud" was successfully bid with 141 billion yen and it became famous as the highest price for a painting in the history of auctioning. Why did it reach such a high price? The average person might have thought, "I don't understand the standard value of contemporary art," and "It is irrelevant to me". The attitude of only accepting information from outside won't nurture the bud of art literacy and the market won't bloom, even though art becomes a topic in the news. Art-related people in the local area have to launch attractive art to the citizens in the town and make them feel that art is familiar thing.
And thus it would be worthwhile that Sapporo had the first art fair and stepped forth this time. Without seeing and having a real experience with art, it would be difficult to comprehend the attraction for citizens. Without the comprehension, any cooperation would be born.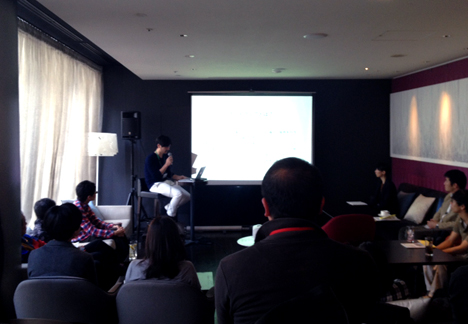 Guest Talk "How to Enjoy the Art Fair"
On the afternoon of the 24th, the guest talk "How to Enjoy the Art Fair" was held at the meeting lounge on the 2nd floor of the hotel. The guest speaker was an adviser to Art Fair Sapporo 2013 and the director of hpgrp GALLERY TOKYO, Kentaro Totsuka. He introduced international art fairs and hints of purchasing art works for 1 hour. Many audience members were taking notes and listening to him carefully. They would be able to know more information to enjoy the art fair.
Inside Japan, international art fairs have been held in local areas, other than Tokyo. If Sapporo is late coming, it had to come out with the originality of Sapporo. When people from outside Hokkaido and foreign countries can sense the attractive features of Sapporo, the citizens would be proud of their city and take active roles. It would be an essential point for a continuing art fair and its development.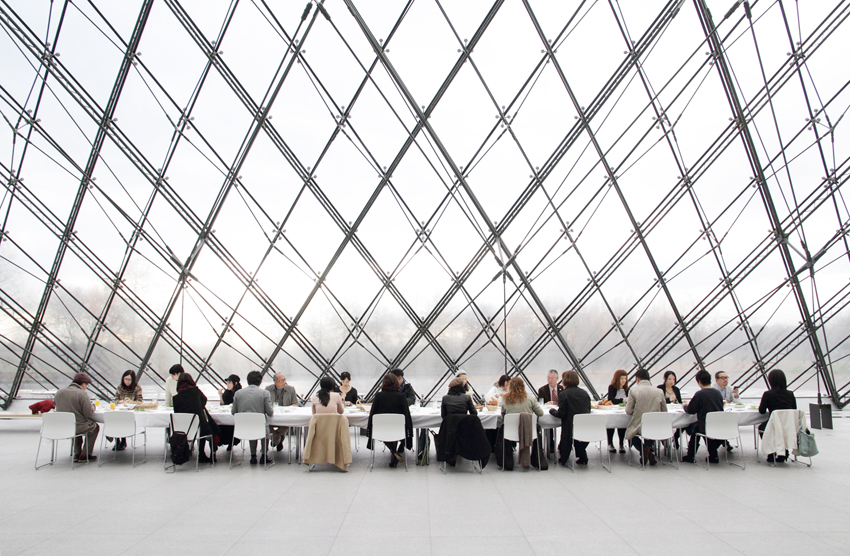 Art Fair Sapporo 2013 Special Program "Breakfast in the Moere" Glass Pyramid in the Moerenuma Park
As a project that comes out with such originality, the breakfast meeting titled "Breakfast in Moere" was held inside the glass pyramid designed by Isamu Noguchi in Moerenuma Park on the first day of the fair (23rd). The idea was to entertain the persons who were interested in the fair from all over the world with the nature, art and food of Hokkaido. The special cuisine was prepared for this day by L'enfant qui reve, which is the restaurant of this building and where the French chef who represents Hokkaido, Hiroshi Nakamichi works. This event was for a limited number of people. However, looking again at the value and combinations of pre-existing facilities and services, we could find that surprising usage depends on the idea. A model case for the future of Sapporo, which makes the participants pleased, and raises the branding of Sapporo as an "art city" was created.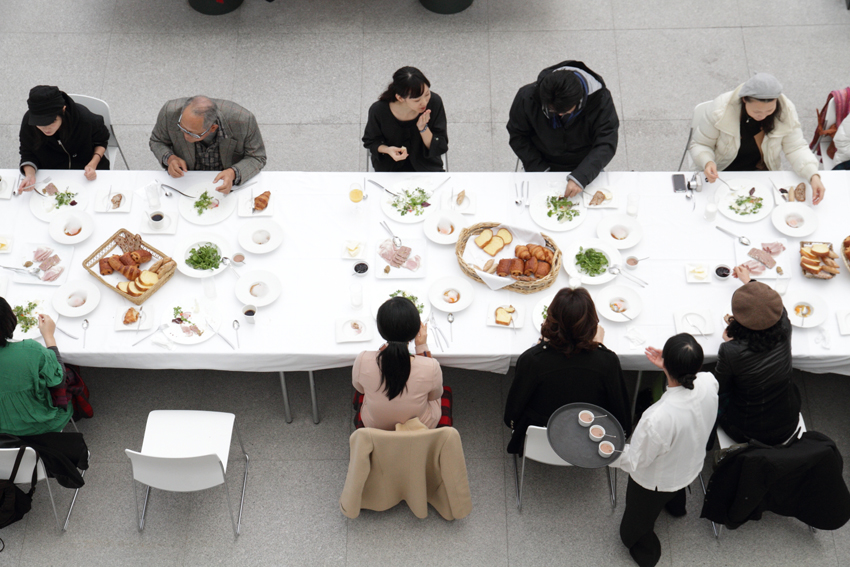 Art Fair Sapporo 2013 Special Program "Breakfast in the Moere" Glass Pyramid in the Moerenuma Park
Sapporo is going to have "Sapporo International Art Festival 2014" next year. Art Fair Sapporo was the cooperative project of the festival. The platform of "Art Sapporo" has been successful in making residents interested in art and holding many kinds of art events simultaneously. It might be hard to see all the things. We would like to brush up the information literacy, chose what we should see, and accumulate the touching experience of art.
Will the day when we can be proud of Sapporo as an "art city to the world" come true? Though beautiful arts are gathered in the city, if the citizens don't welcome those, don't understand those, and don't enjoy those from the bottom of their hearts, it won't be a truly beautiful city.
After that long preface, let's take a look at the contents of the 20 galleries. Because of the limitation of the number of letters, we can only cover some parts, but we hope the readers who didn't come to the fair can also feel the atmosphere of the art fair held in the hotel and how pleasant that fair was. You can see the photos of all the rooms on the Facebook page of "Art Sapporo".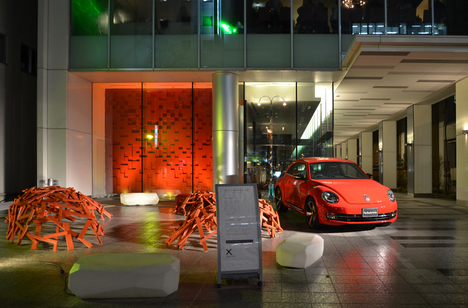 Photo provided by Cross Hotel Sapporo
At the entrance of the hotel, 3 large objects forming domed shape with red wood sticks were set. This was a work by an artist of Hokkaido, Takanori Isago. Next to those, some red Volkswagen "The Beatles" were specially exhibited and let people experience something with a gorgeous atmosphere. At the Volkswagen Sapporo Higashi show room, the work by Toshiya Kobayashi, who was born in Hokkaido and now is active in Germany and Switzerland, is going to be shown till January 13th. He participated in Art Fair Sapporo as well.
After getting into the hotel and checking in at the reception on the 2nd floor, the elevator would take you to the galleries from inside and outside Japan. There were 3 Asian galleries next to each other on the 13th floor.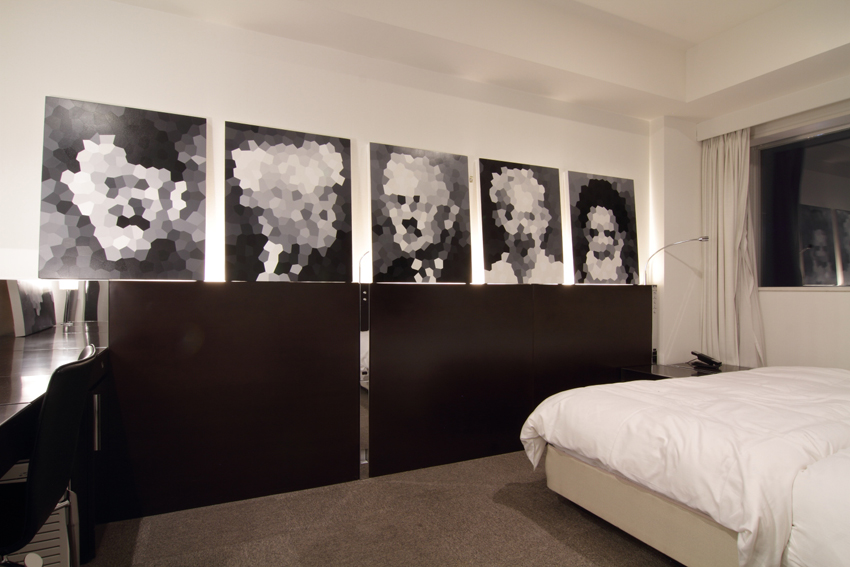 Room 1303 – Office 339 (Shanghai)
Office 339 (Shanghai) was founded by Kenta Torimoto, who was from Hokkaido, to introduce Japanese art to Shanghai, and is now spreading its network to all points of Asia. A series of black and white oil paintings, which depict politicians and influential persons, were on the wall. These were by Nam Hyojun, Korean artist who was from Japan and works based in Shanghai. Since Office 339 is an editorial department of this SHIFT magazine Chinese edition, some of you may have noticed it.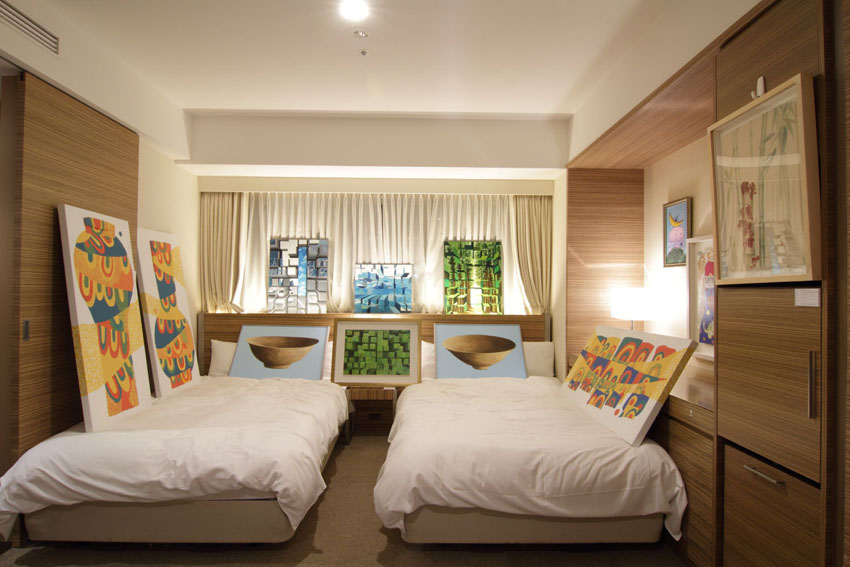 Room 1304 – Lee Seoul Gallery (Seoul)
The bamboo grove and snow landscape painted by Kang Gyejeong of Lee Seoul Gallery (Seoul) captured a seasonal nature view with delicate sensitivity. This gallery provided brochures printed only for these 2 days. Color photos of the works and the artist's message in Japanese were put on the folded paper. They must have believed that they could introduce some Korean art to Sapporo. Believing each other would cultivate new exchanges.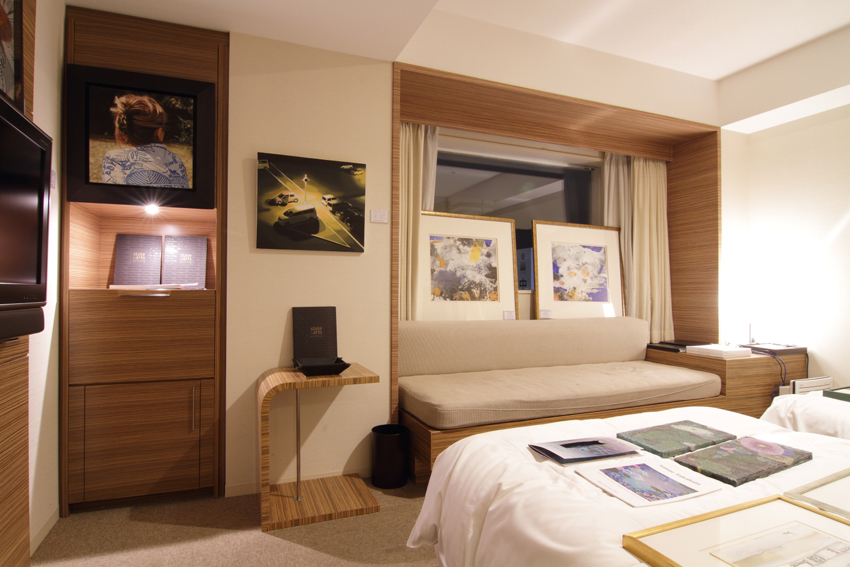 Room 1305 – State of Arts Gallery (Hong Kong)
The painting "Portrait of consciousness," by Sanae Takahata of State of Arts Gallery (Hong Kong), expressed an illusionary world with Chinese flowers floating on a Japanese ocean. The development of the painting to the dress was beautiful as well, even though the actual one was not there though. We talked with the gallery staff in simple English, however; we could understand each other. We discussed the perspective the gallery would like us to see and how we were moved by the work through art. Bridging people who have different cultures is also a culture.
The Tokyo selection had 9 galleries. Each one introduced works with international viewpoints. The roll of the galleries is not only exhibiting and selling art works. There are some exceptions but the sophisticated management ability of galleries which fell into love with the talents they found make it possible for Japanese artists to play active parts in the world, and have the chance to see the work of artists from foreign countries. Discovering new artists would be another important role for them.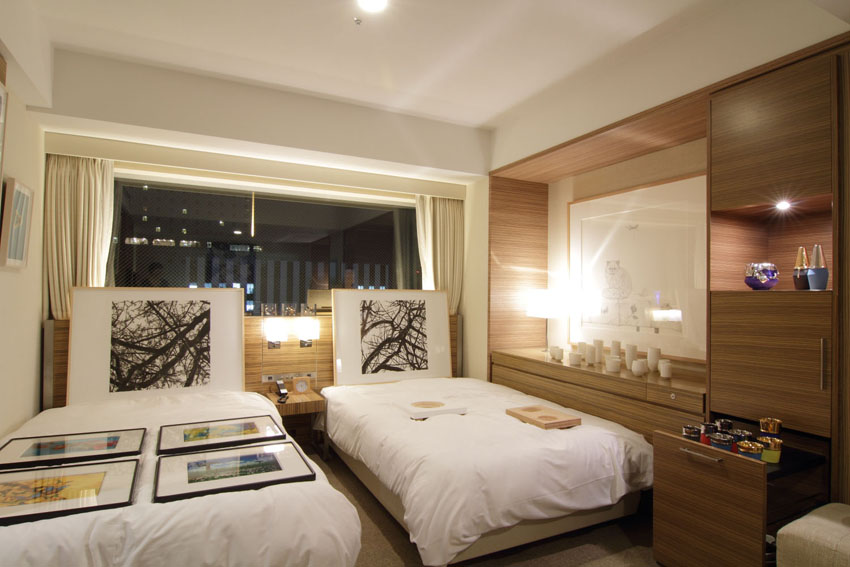 Room 1404 – Koyama Tomio Gallery (Tokyo / Singapore)
The chic and modern space by Koyama Tomio Gallery (Tokyo / Singapore) was the exhibition which maximally used the hotel. The white color of ceramic by Ryota Aoki, monochrome trees painted by Rieko Hidaka, wood carving by Kishio Suga, color photos by Mika Ninagawa, and china by Takuro Kuwata were arranged in the interior based on white and grain of wood. The perfect harmony made the character and quality of each work stand out. This gallery announced the exhibition of world famous Damien Hirst in advance and attracted public attention.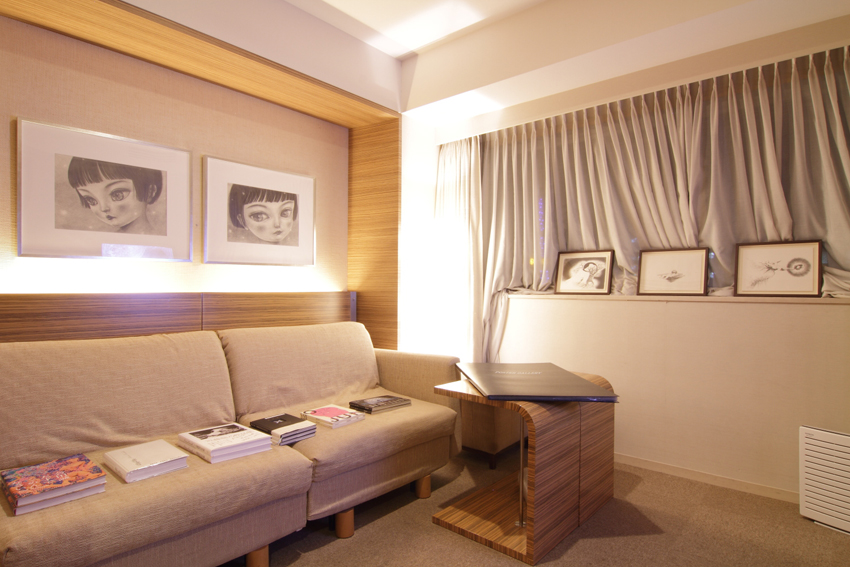 Room 1406 – Mizuma Art Gallery (Tokyo / Beijing / Singapore)
Mizuma Art Gallery (Tokyo / Beijing / Singapore) had famous artists' works as Azemichi (a path between rice fields) by Makoto Aida. Speaking of Makoto Aida, the masterpiece "Giant Salamander" exhibited at Sapporo Art Museum this year is fresh in our memory. The big pupils of a girl drawn with pencil by Tomoko Konoike shined as if those were launching to the universe. Disappearing object made with naphthalene by Aiko Miyanaga was dimly twinkling under the washstand of the darkness and it made people think of the faraway deep sea which existed in front of them but their voice couldn't carry.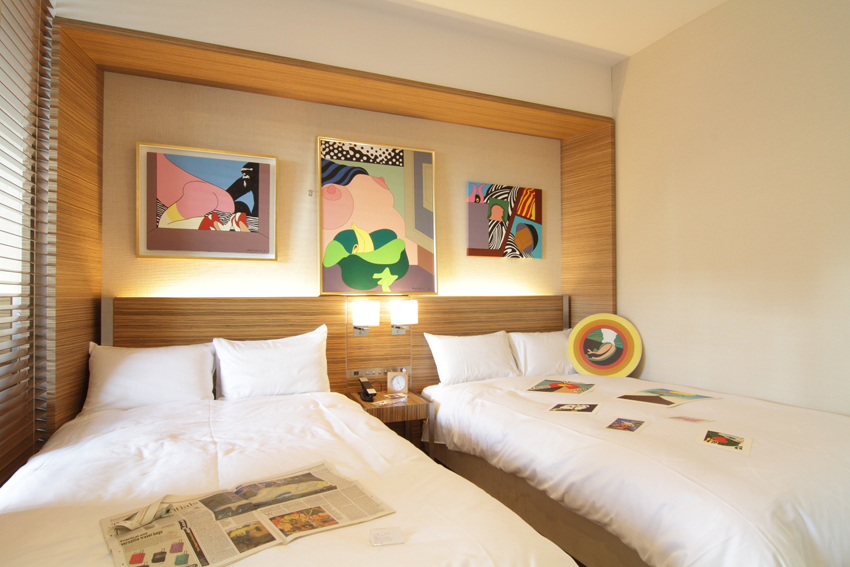 Room 1407 – Tokyo Gallery + BTAP (Tokyo / Beijing)
In the room of Tokyo Gallery + BTAP (Tokyo / Beijing), we could find the work by Go Yayanagi who was from Obihiro, Hokkaido and had been highly regarded internationally since the 1960s. He had a one-man show "POP UKI" in 2011 in this hotel. A cubic work made with grounds from an eraser which had erased drawings on the plane by Saya Irie showed a unique idea and novel technique and it became a popular topic through SNS and the grapevine. Not only as a topic, but it had much attraction which lead the wide targets' interests to contemporary art with raising a question about the essence of the plane and cube.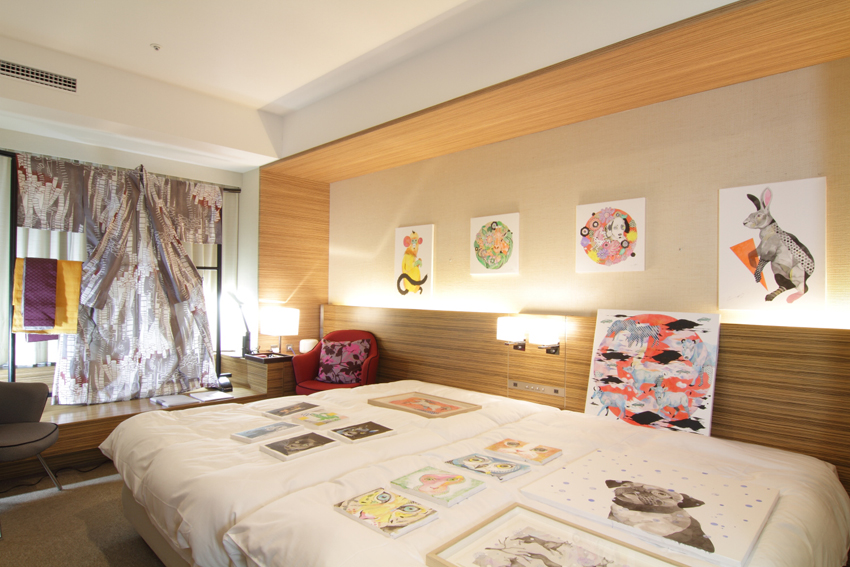 Room 1412 – AI KOWADA GALLERY (Tokyo / Shanghai)
AI KOWADA GALLERY (Tokyo / Shanghai) showed graphical paintings of animals and plants which were lively painted with soft and transparent colors by the young artist Cato Friend. The colorful and the lovely atmosphere were favorable. Stencil dyeing graphical Kimono by another young artist, Miho Sekimizu was hung on the clothes hanger by the window and powerfully made its presence.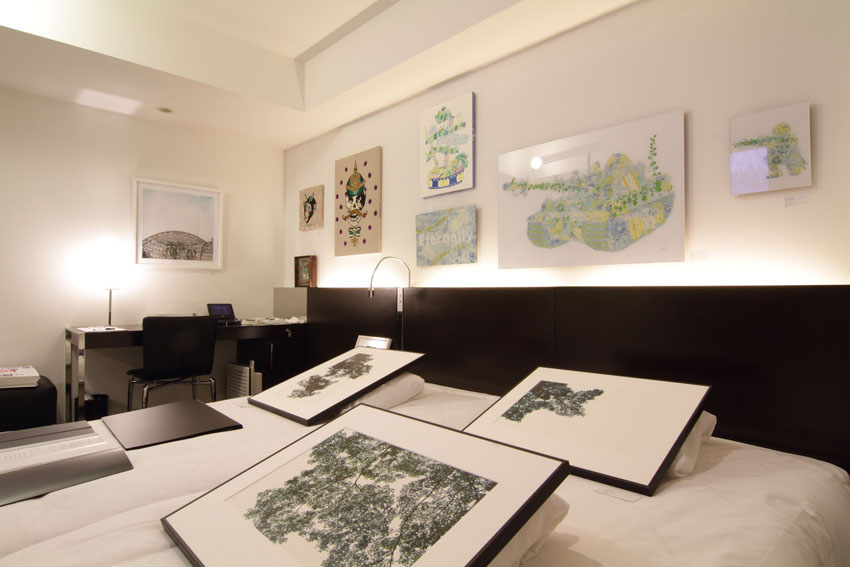 Room 1403 – hpgrp GALLERY TOKYO (Tokyo / New York)
The photo of the gateway of a shrine by Yoy Kawakubo of hpgrp GALLERY TOKYO (Tokyo / New York) had peace, calm, and universality. Would the photography be able to create the landscape? While in the paintings by Koichiro Takagi and D[diː], you cou see the high standard of the art which has sunk into the fashion culture among young ages of Tokyo.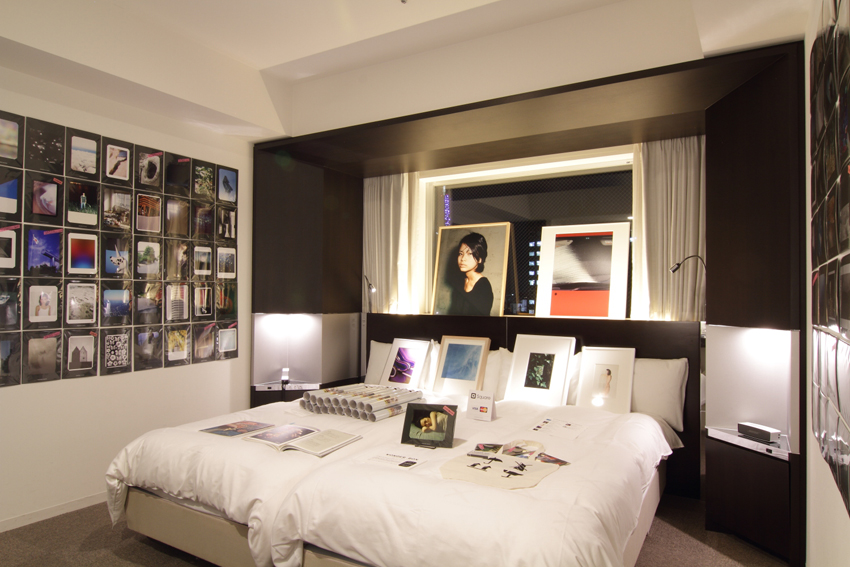 Room 1408 – EINSTEIN STUDIO (Tokyo)
EINSTEIN STUDIO (Tokyo) is a group which organizes photo competitions with a totally new form, adopting a slogan "Japanese young photographer to the world". The gallery sold photos by 100 photographers for 3000 yen per each as a "WONDER BOX" with the thought "we would like people to enjoy collecting photos more casually." As the records in the shelf, "looking for your favorite" caught on with people as an "enjoyable purchase of photos". The new way of art sales to the world seemed to break out in Sapporo.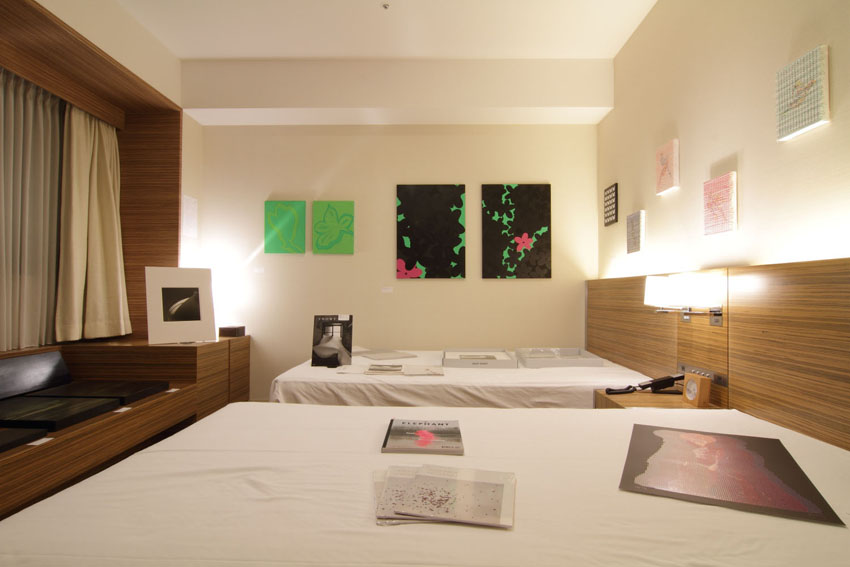 Room 1405 – MAKII MASARU FINE ARTS (Tokyo)
Samira Hodaei from MAKII MASARU FINE ARTS (Tokyo), was an Iranian female artist who addressed the absurdity of society from the viewpoint of a woman through her works. Other than the small plane birdcage-like works, her masterpiece that had been introduced in a foreign country and was reduced in size and specially printed this time was very attractive. The flower painting with very simple color by Toshiya Kobayashi was so extremely simplified that people could barely recognize it as a flower. It was a flower itself. We would like to look for his one-man show, which will be held in this hotel from March 1st in 2014.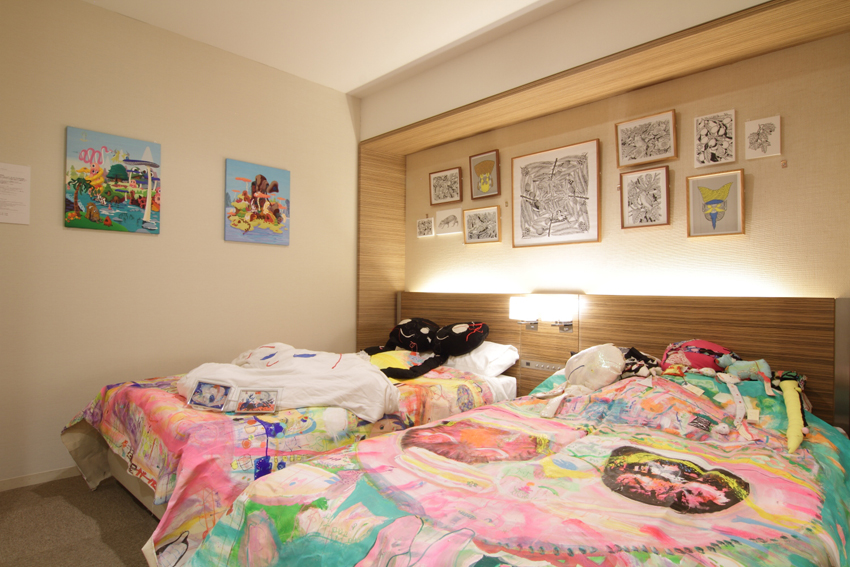 Room 1306 – mograg garage (Tokyo)
Young twin artists, HAMADARAKA of mograg garage (Tokyo) used vivid semitransparent color and painted animal-like objects. They produced the atmosphere of fear and beauty and symbolic motives as the moon and the sun on the black background. It looked like a scene of mythology. The installation by Eri Inami that projected images on a balloon was interesting as well.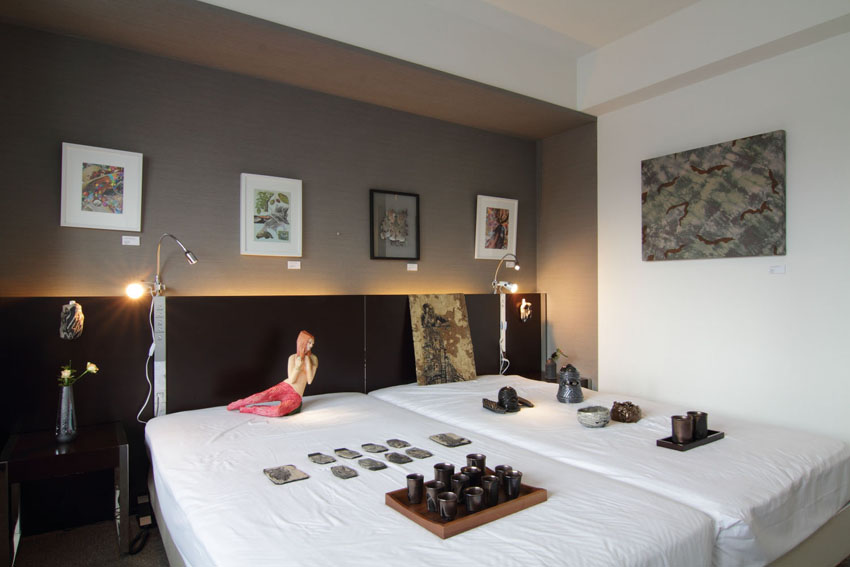 Room 1410 – SNOW Contemporary (Tokyo)
SNOW Contemporary (Tokyo) introduced ancient earthenware-like stylish ceramics by Riyoo Kim. We were surprised by the expression that we had never seen, the original pattern, the strong eyes, and the detail on those surfaces were worth observing. The wood carving by Hideki Iinuma seemed to be a rough planed work at first, however, the feminine atmosphere which symbolizes the era and generation stood out through the third person like a fashion advertisement.
Characteristic domestic galleries of 3 prefectures also participated in this fair. Being in Sapporo, this was the first time to visit around so many galleries. Some visitors might be at a loss. Seeing art for purchase is normal but if it's difficult, you could imagine that you are going to buy those or all the works are rom your collection. There are limitless ways to enjoy. Still eager to purchase something? You could stop by the special pop-up store by Seigensha and try books and artists' goods.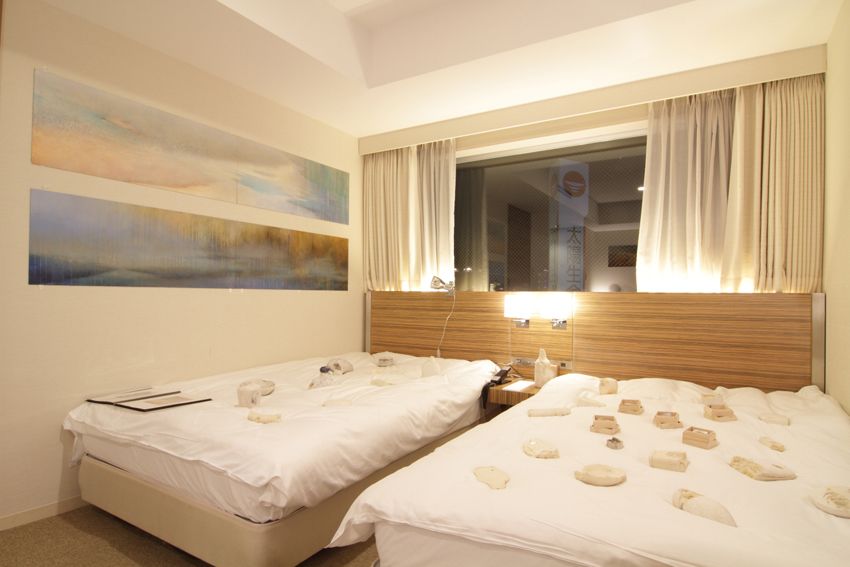 Room 1411 – Dojidai Gallery (Kyoto)
The oil painting on a huge panoramic aluminum board by Ariane Monod of Dojidai Gallery (Kyoto) was worth it to see in person. It was so beautiful that people might think that the artificial beauty of art would be above a nature landscape in an instant. The ceramic by Haruka Akiyama was simple. People would like to touch the soft color and feel the material even though it was covered with broken glass and cracks.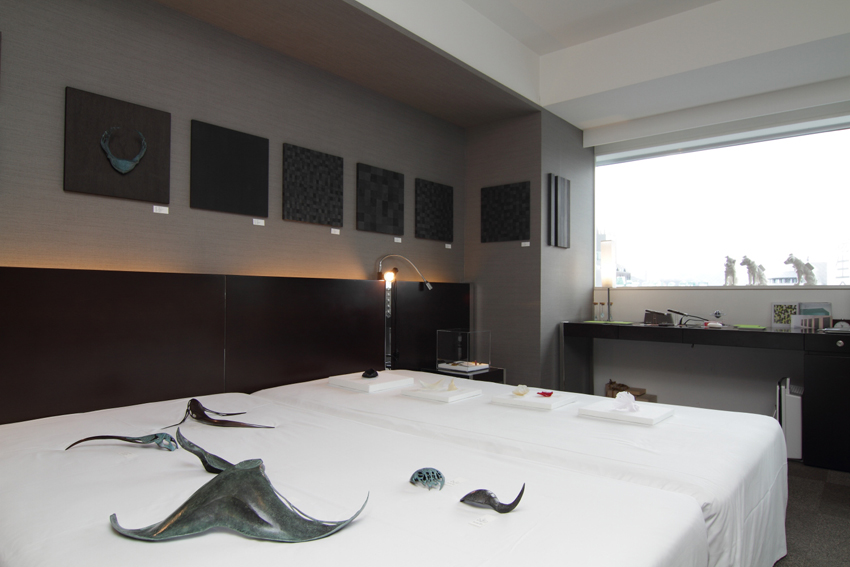 Room 1409 – Gallery Ten (Kanazawa)
In Gallery Ten (Kanazawa), there seemed to be a lot of industrial arts because of the nature of the locality. The glass petal by Runa Kosogawa had a soft touch as if it was not a glass. The transient molding had its life force as a plant. The metal work by Michio Kono conspicuously showed the form of living body on a white soft bed.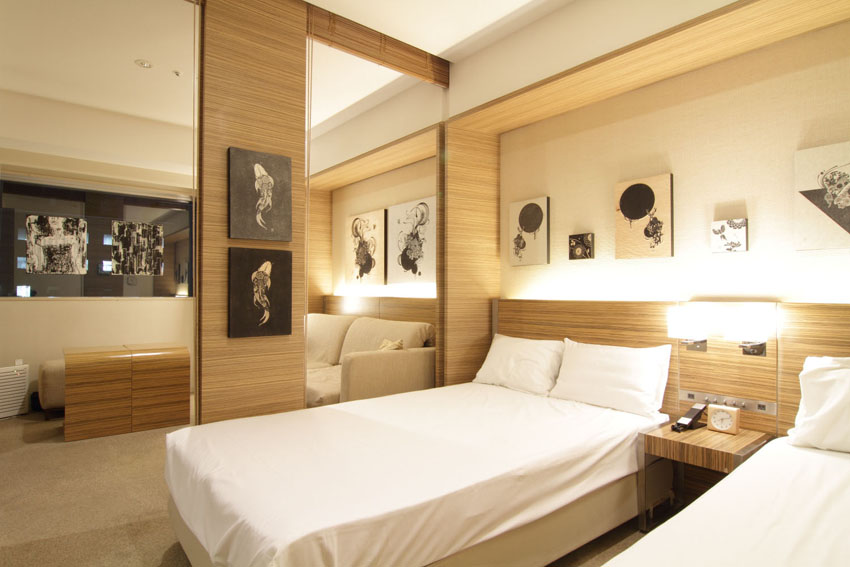 Room 1307 – Gallery Minazuki (Gifu)
From the drawing "Atsumaru X Animal" by Yuki Iinuma of the Gallery Minazuki (Gifu) showed gathering animals as the title. Looking at that, people might think the action "gathering" was a little strange. The detailed description was beautiful. The woodblock by Yuko Tikazawa had Japanese taste. The contrast between the color of Chinese ink and the traced woodcarving made the room a modern space.
5 Galleries from Sapporo participated in the fair. The visitors might have thought "There are this many artist in Hokkaido?" however, there actually are many more that have been active not only in Hokkaido.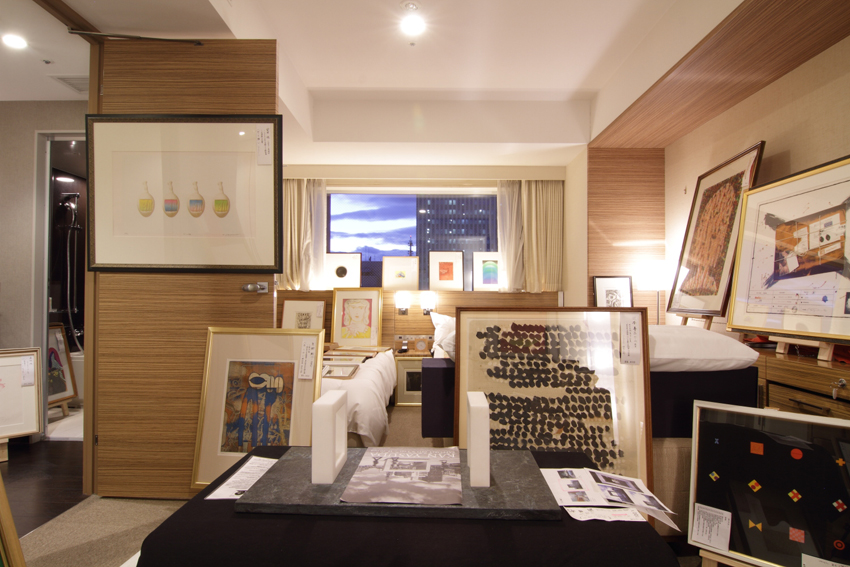 Room 1311 – Hokkaido Gallery (Sapporo)
Hokkaido Gallery (Sapporo), a long-established gallery started 40 years ago, introduced many pieces from artists who were from Hokkaido and were active in various places like prints by Kan Yasuda, frottage work by Masao Okabe, and abstract painting by Kazuhiro Hanada. People might feel like reading and getting to know about art history of Hokkaido and the related stories.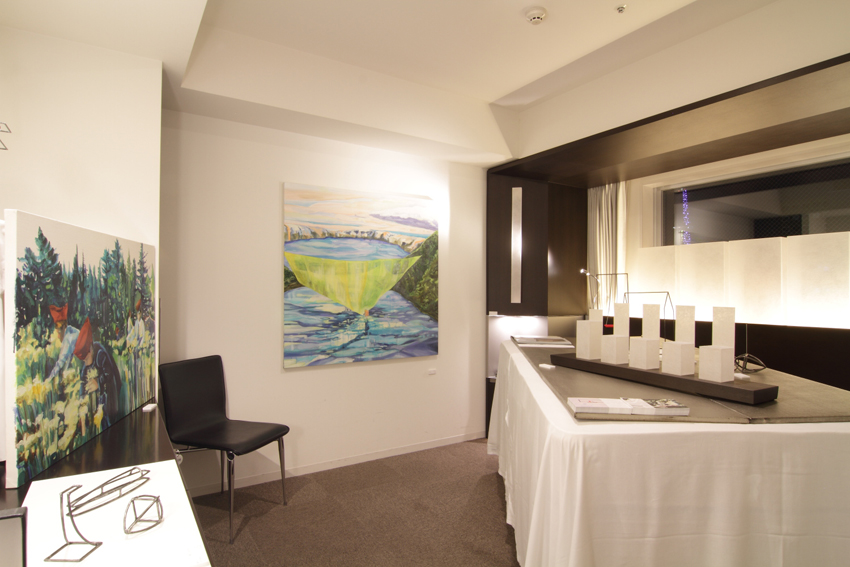 Room 1308 – Gallery Monma (Sapporo)
Works by Leo Fujisawa of Gallery Monma (Sapporo) were pieces processed with metal sticks and those involved kindness like seeds. Shino Hisano's illusionary world and the color had unforgettable depth.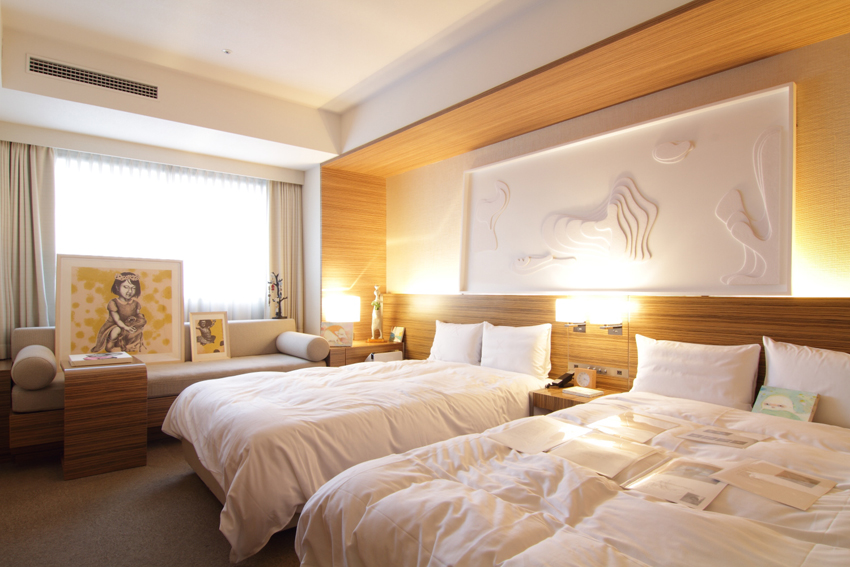 Room 1312 – Hanaagra (Sapporo)
Hanaagra (Sapporo) introduced mainly young artists. The works that depicted "the inside of a dream" by Natsumi Sato were certainly set on a bed. While attracted to bizarre creatures, the construction on the canvas was well worth seeing. The textile by Masayuki Shinoki grouped new techniques of expression and softly insisted its existence at the center of the wall. The doll arts by Masayo Keizuka had foolish look at first but those moved visitors' hearts. Some kinds of dolls were displayed as if they were playing around.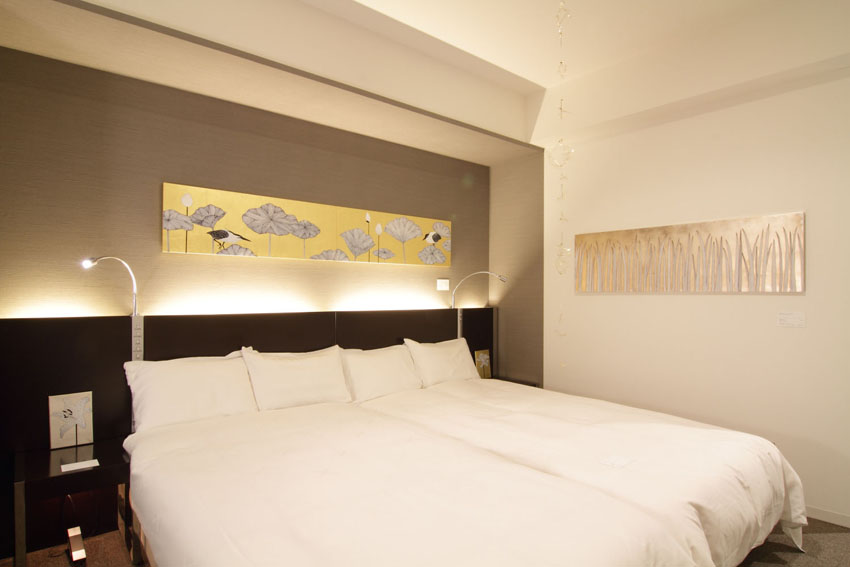 Room 1310 – Space Symbiosis (Sapporo)
A picture with gold foil by Midori Kambara and a sensitive golden sculpture by Ai Komori were exhibited in the Space Symbiosis (Sapporo). Both works made visitors feel nature but also perfectly arranged the room as if those were displayed for the calm and chic room.

Room 1309 – Clerk Gallery + SHIFT (Sapporo / Shanghai)
Clerk Gallery + SHIFT (Sapporo / Shanghai) were also an organizer of the art fair. Hiroyuki Tamino is based on Sapporo and has dealt with a lot of the book designs for Keigo Higashino and Mariko Hayashi. The touches of his original pictures were silent and peaceful. Installations by Toshihiko Shibuya showed the color change, which was made by the light from the window and sank into the white natural material. It cured the viewers. The painting of Takuya Yonezawa, who has been developing various styles in his young age, entertained the visitors with his different works. The viewers could compare those that painted in a different year.
Art Fair Sapporo 2013
Date: November 23rd, 2013 11:00 – 20:00 – 24th 11:00 – 19:00
Opening reeption &Preview: 22nd 19:00 – 21:00 (Invitation only)
Place: Cross Hotel Sapporo (Hotel style art fair)
Address: 23, North 2 West 2, Chuo-ku, Sapporo, Hokkaido
Exhibitor: 20 galleries (2 floor, Each gallery uses 1 room for their exhibition)
Number of visitors: Approximately 2,000
Fair Director: Taketo Oguchi (Clark Gallery + SHIFT)
Adviser: Kentaro Totsuka (NEW CITY ART FAIR Director)
Organized by Art Fair Sapporo 2013 Executive Committee
Co-Sponsored by Cross Hotel Sapporo
Cooperation: Sapporo International Art Festival 2014, LOVE & GIFT, Art Sapporo 2013
Presenting Sponsor: Volkswagen Sapporo Higashi
Sponsors: H.P.FRANCE, graniph, Seigensha, Crypton Future Media, Prism, YAMAKEN Construction, ESPOIR, Aura Associates
Partners: NEW CITY ART FAIR, SHIFT, L'enfant qui reve
Supported by City of Sapporo, Hokkaido Shimbun Press, UHB, HBC, AIR-G' FM, FM North Wave
http://www.artsapporo.jp/fair/
Text: Ayumi Yakura
Translation: Fuyumi Saito
Photos: Yoshisato Komaki

[Help wanted]
Inviting volunteer staff / pro bono for contribution and translation. Please
e-mail
to us.