DOTMOV FESTIVAL 2013
Screening start from November 2013 throughout 2014 around the world!

DOTMOV is a digital film festival organized by online magazine "SHIFT", aiming to discover unknown talented creators and provide an opportunity to show their works. We had a total of 206 works from 18 countries this year, and an excellent 20 works among them were selected by guest judges. All the selected works are also presented on the website. This year's festival will take place in several cities in Japan and overseas from November 2013 throughout 2014.
In addition to the general category like before, we called for entries to the"ELEKINESIS VA"MV (music video) category in collaboration with the event"Elekinesis"organized by the Sapporo based label "SenSe" which introduces creatives such as music and art in this year."ELEKINESIS VA"MV category videos will be appear on the screening.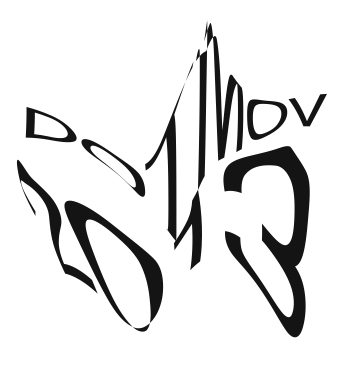 SCHEDULE


11/01 - 11/15__Sapporo, CAI02
11/01 - 11/30__Sapporo, Chikaho Underground Walkway Kita 2 jo Digital Signage (except 11/26)
11/12 - 11/17__Tokyo, KATA [LIQUIDROOM 2F]
12/01 - 12/15__Tokyo, TOKYO CULTUART by BEAMS
01/14 - 02/15__Shizuoka, CCC
12/14 - 12/20__Nagoya, Theater Cafe
11/01 - 11/17__Kyoto, Cafe Independants
11/22 - 12/10__Osaka, digmeout ART&DINER
12/08 - 01/14__Osaka, Umeda Hankyu Department Store
12/12 - 12/15__Fukuoka, konya-gallery
TBA__Fukuoka, Art Space FUCA
11/15 - 11/00__Stockholm, UNDERBRON
11/22 - 11/00__Melbourne, Federation Square
11/10 - 11/30__New York, Zakka
12/01 - 01/25__San Jose, Phantom Galleries
12/06 - 12/08__Bali,Little Tree Bali
12/28 - 12/31__Bali, Denpasar Festival
12/15 - 11/00__Kuala Lumpur, Black Box, Publika, KL@Designers Weekend
01/29 - 11/00__Antwerp, Cinemazuid
02/20 - 11/00__Hong Kong, K11 Art Mall, B2 Gallery
TBA__London, ICN Gallery Cafe
TBA__Shanghai

SCREENING PROGRAM__Click image to see movie.



X
06:00 | UK | 2012
Dir: Max Hattler

Recently, people who can accurately guess the name of a constellation while looking up at the starry sky are the result of a special astronomical mania. There was an age when there was no TV, radio, or even electricity, an age that was dark and dangerous where everyone lived only by hiding at night, an age when books, paintings and music were special for people, or only for the privileged classes. People who were full of imagination who were always able to see animals and gods of mythology while looking up at the night sky, would not be surprised or moved now if they could watch full 3D computer graphics animation like live action. It would not even stimulate their imagination. It was because of the rather early vector graphics and wild dance of abstract shapes like this video work that we were provided with the big possibility of computer graphics today and opened us a little to the doors of perception (traffic to the unconscious and dreams). The reason the TV game "PONG!" made by Atari in early 70s was accepted so enthusiastically and was so addictive, was not only because of its simple gameplay but was also due to its great simple graphics. Some young people, who were fed up with this childish simple game, ended up creating the higher-performance personal computer that we use currently and established the PC industry. On the other hand, people who are fascinated by the wild dance of enchanting graphics became artists. This piece of Max Hattler made me feel this selfish fantasy.

Selected and commented by Jiro Ohashi



BBD
00:16 | Japan | 2013
Dir: Ryoya Usuha
Music: Junichi Akagawa / Yaporigami

Because although the overall standard is high, and I could have chosen a number of contenders, from both those selected by other judges, and some not, I like the possibilities for live action and animation that Ryoya Usuha explores. There is a different feel to this short piece ― a work in progress, a sketch for other possible outcomes which in 16 seconds creates a unique narrative and expression of movement.

Selected and commented by Ian Anderson (TDR)



Division
03:18 | USA | 2013
Dir: Annapurna Kumar
Sound: Pcoat

I felt something in "Division" by Annapurna Kumar. The feeling is very sensuous and difficult to express. Bits seem to flow like sand and water, while flashing video lets us feel the light and nature. The deployment of sound by Pcoat also allows us to feel nature. Actually there is very little information about them in Japan. Her work allowed me to search her archives on her Vimeo page, then I found four more artworks such as one using moving graffiti and another one of Ryat (!) etc. I continued to search further, and it turned out that all of them include the Flying Lotus and Jeremiah Jar which seems to be in LA. Finally I was led to various artists' sites, not only musicians. It proves that something I felt from her image might be a larger thing composed of humans, nature, and all environments. And it's also very romantic.

Selected and commented by Hideki Inaba



HINODE
03'00'' | Japan | 2012
Dir: Tetsuka Niiyama



"Artistically done with a great metaphor"

Selected and commented by Jonathan Wu (MIRADA)



Henri
03:11 | Japan | 2013
Dir: Yuka Maeda
Music: Broken Hours, Jopy, TriPhaze, Chuck Bettis & Friends, Felix Mendelssohn, Craig Riley

This is probably one of the best use (misuse) of morphing software I've ever seen. I also love the unpredictable editing and sound design. Great work!

Selected and commented by Yoshi Sodeoka (c505)



Caterpillar
17:22 | Japan | 2013
Dir&Music: Hayato Nove

The impression is reluctant and seems like a ruined feeling the whole time. Though this video is a bit longer than these kind of short films, the pleasant movement and the easy to understand concept made me concentrate while watching without a stop. As one part suddenly showed a color while monochrome scenes are in action, it's a work done with fun and you can imagine a story behind it.

Selected and commented by Kenta Torimoto



Dissimilated Vision
02:30 | Japan | 2012
Dir: Takuto Katayama
Music: Ryota Kikuchi
Mixer: Shun Hamanaka

Though short and minimalistic, Katayama Takuto's Dissimilated Vision is delicately animated work that is amazingly intriguing and somewhat grotesque.
Katayama Takuto uses lines to split the planes and switch from one scene to another. Along with this brilliant technique, the sparse and plodding piano score that accompanies Dissimilated Vision makes the work beautifully hypnotic and surrealistic.
The mesmerizing effect comes to an abrupt end when the music disappears and the line is broken. Yet, the impressions from the work lingers long in the minds of viewers.
Katayama Takuto must have intended to present his unique vision as an artist rather than simply displaying our eyes as mere organs of sight. This is a true masterpiece, one that impresses the viewers every time they watch.

Selected and commented by Ki Young Park (Sugarcube)


SUPPORTING MEDIA
Creative Manila, designboom, IdN, Japan Design Net, Netdiver Mag, REVOLUTIONART Magazine, SUPERIOR Magazine, TOKYO CULTUART by BEAMS, Web Designing, 登竜門, 10magazine