One week before Primavera the weather forecast indicated a whole rainy weekend, which it was going to be a new experience and maybe a bummer for the open air festival like Primavera.
But despite of the forecast and a heavy cold wave there was no rain and this edition of Primavera was one of the best I have attended.
One of the best, because on the last years I think due to the economical crisis the Festival was building a bit of more mainstream line-ups, and the power of indie labels and magazines was too obvious.
This year was different, there was a great mixture of different music scenes with hip hop legends, African sounds, metal, experimental and of course indie bands.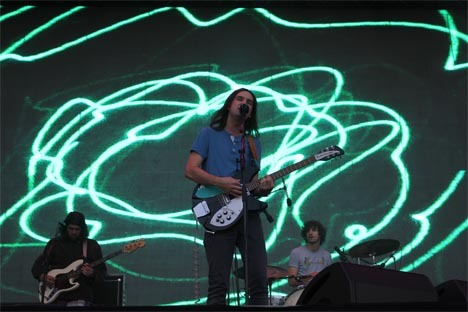 We started on Thursday already excited wearing our rain coat just in case and started with Time Impala at the big Heineken stage. It started at 20.30 so there was still day light but the visuals where important to join the psychedelic rock.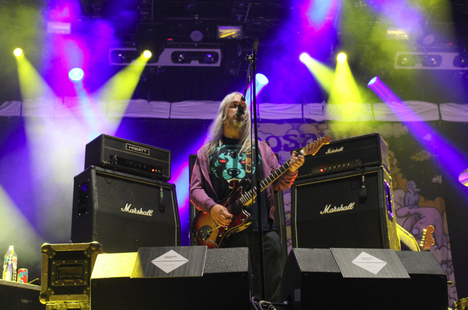 Dinosaur Jr. still bringing some many people to their show although the band was performed a few times during the last years on the festival, but J. Mascis will always have this catchy teenager rock sound. They were great and in a 50min show we got to listen their classical repertoire.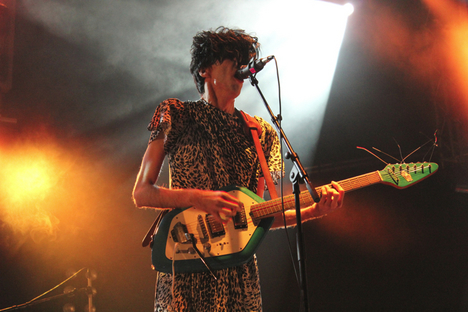 At the Ray-Ban stage Deerhunter presented their new record "Monomania" with Bradford Cox dressed like an old housewife in another notable concert with some hits like Desire Lines and Agoraphobia. The band played a second show on Saturday replacing Band Of Horses.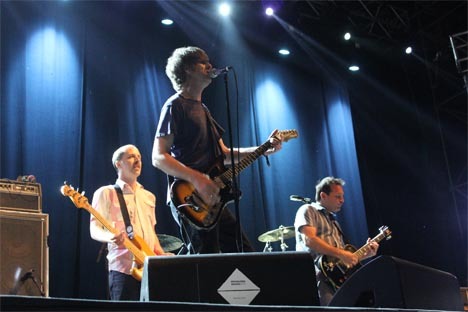 I went to the ATP stage for some sharp punk rock with the band from San Diego Hot Snakes. Their concert was intense and furious with great songs like "Plenty for All", "LAX", "Braintrust"… great!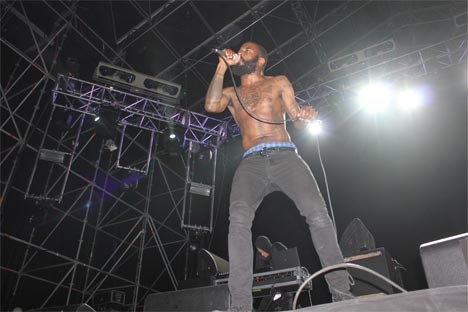 I stayed at the ATP waiting for the band of the day.., non others than Death Grips, this was one of the shows I most enjoyed… I didn't noticed the absence from their drummer, because their show was powerful and hypnotic, rage and attitude on stage that make it the best show of Thursday by far!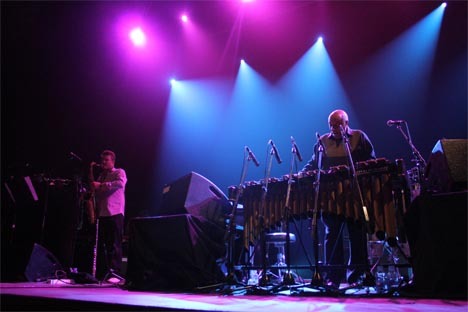 Friday was one day to remember, and started in another atmosphere seated at the comfortable Rockdelux Auditori to experience the magic of Mulatu Astatke with his "Ethio Jazz". The composer supported by a wonderful band of brilliant musicians Astatke led the show band playing the vibraphone and conga drums. This concert was beautiful and finished with an audience standing on their feet.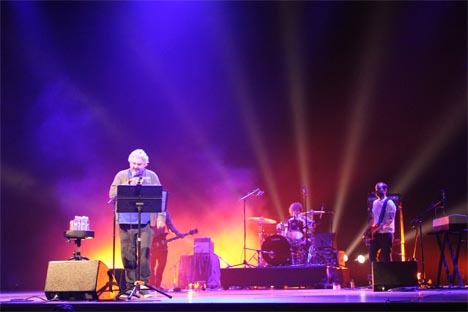 The following concert was almost as special as the Mulatu presentation, having the opportunity to listen the live show of Daniel Johnston. Daniel was great singing a selection of his hits and making some jokes in between songs. Simple, supported by a band in the background with guitar, drums and bass, and some songs a cappella like "Speedy Motorcicle".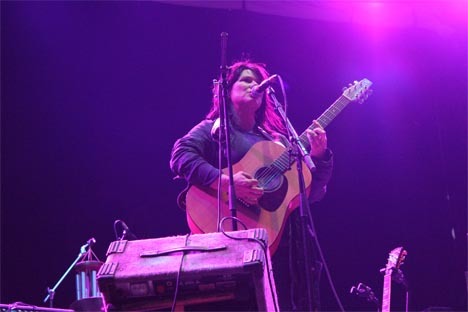 After all this magic at the Auditori we went to the Primavera Stage to enjoy with The Breeders performing "Last Splash" and hits like "Canninball", its always fun to see them live but we listen only 4 songs because we were curious about the performance of Solange. We didn't know that much about her, only that she is Beyonce's sister and saw one video… the concert was crowded and she looked beautiful on stage but we were to far and the sound was not helping so much so we did not stay so long at this show.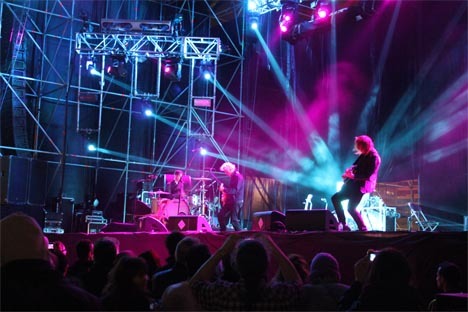 We were also curious to see Jim Jarmush playing with Jozef Van Wissem X Sqürl, and it was a great surprise, dark riffs and drones in a completely interesting proposal.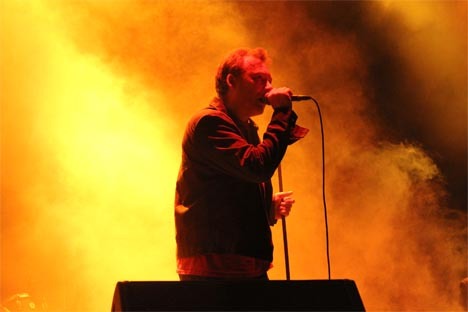 At the same time at the Ray-Ban stage hosted on the freshest performances of whole festival with band from the Tuareg Tinariwen with musicians from the Sahara Desert mixed rock with folk sounds and blues.
It was surprising to see that so many people attended this show (at the same time The Jesus and Mary Chain were performing) and listen to the people reaction it was one of the most popular. This band is exotic and the guitar sounds its hypnotic and psychedelic but with the soul of the Sahara, brilliant.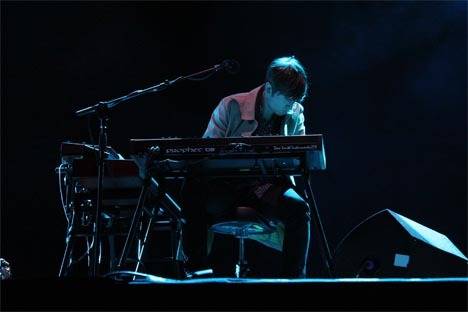 The Primavera stage got packed almost half an hour earlier to welcome James Blake, this time on a big central stage and playing at midnight. The British young singer- songwriter is special, and his delicate and elegant electronic music too. Two years ago on his first time at Primavera in a smaller stage the people was captivated by his songs and this time in a huge stage the audience surrender again to him and his formation of only 3 musicians, all of them with an incredible talent.
Blake performed songs like "CMYK" o "Limit To Your Love" and the people listened like anthems and songs from his new album like "Overgrown" and "Retrograde" … after the concert I thought, "I can bring my mother to this concert".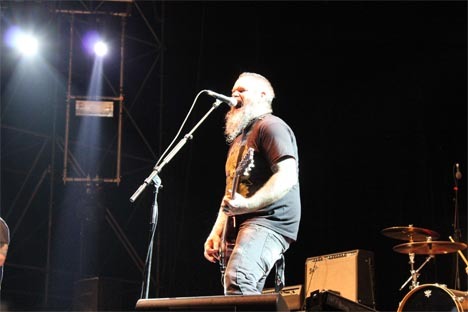 Something you can only experience in festivals like Primavera its jump from that delicate concert to one of the darkest and the rawest ones with the amazing Post-metal band Neurosis. Their set was fantastic and at the perfect time, pure doom metal and lots of headbangings at midnight make us a little sweat in a really cold night.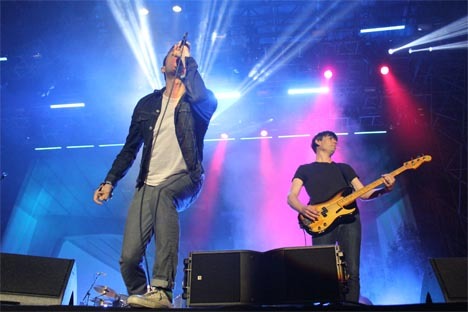 Then on the big Heineken stage there was so many people than looked more like a demonstration than a concert and that was because the indie hearts at Primavera were touched by one of their teenage heroes, the UK pop band Blur. We already know that a big percentage of Primavera audience is coming from the UK so the band from Damon Albarn has it pretty easy and they didn't let down the fans with their big hits staring the show with "Girls & boys" and ended with "The Universal".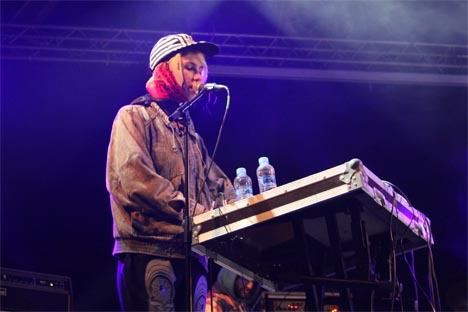 After Blur we walked across the whole Primavera from the big Heineken stage till the Vice stage to see of the most experimental bands in the whole festival the amazing Guardian Alien from Brooklyn, NY.
This guys are from another planet maybe that's why their choose the name of band, they performed one hour non-stop with a giant Greg Fox on drums unstoppable and the incredible vocals from Alex who was like a goddess on stage, mystic, sensual and charismatic and joined by two guitar players, one of them Bern making impossible riffs and metallic sound all the way from heaven to Mars. Brilliant show, everyone was exhausted because the energy of this amazing band. It was the perfect time to go home!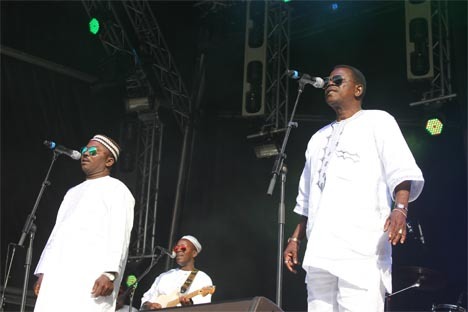 Friday was so intense that we have breakfast at 4pm, and the unique goal was to be able to attend The Orchestre Poly Rythmo de Cotonou concert, this was one of the highlights on the Primavera Line-Up this year and yes we did it, just arrived on time to see the guys from Benin appear on stage doing something like a conga line to start hitting us with their warm Afrobeat and make everybody dancing and have a good time. Perfect show, perfect start for a last day we need something like this cause Saturday the people is a bit tired from the 2 early days.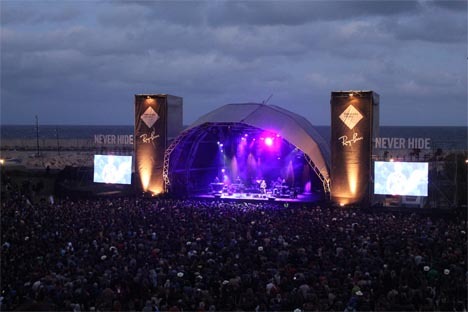 We started at the Ray Ban stage because it was interesting to the proposal of the neoclassical dark wave band from the 80's Dead Can Dance. I loved this band when I was 13 years old, and it was the first time I saw them performing live their ethereal and mystic sounds. The sound of their music was impeccable although it was already 9pm and maybe not the type of show people was expecting for the last day. Probably it would have work better on the Auditory one day earlier.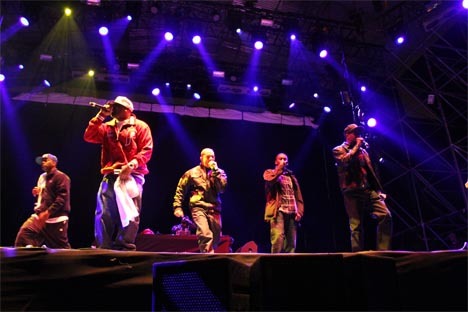 …and then yes the big gift for all the children's, the most awaited moment of the whole festival, the old school the classic, the cult band from NY of course the legends the only ones Wu-Tang Clan. The crew led by RZA, GZA and Gosthface Killah blasted in one our of concert going tough their all classical repertoire with a nice homage to ODB and a Hip Hop DJ scratch demonstration. It was unique and powerful.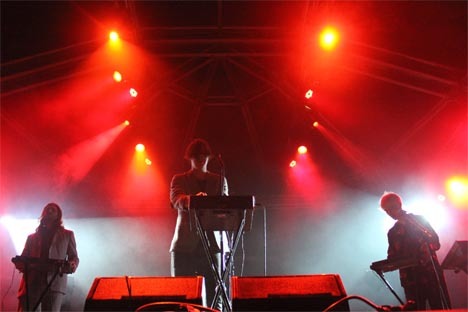 We went to the Pitchfork stage to see Liars performing and we were surprised by their more danceable set presenting their new album "WIXIW" it was a set really accessible and joyful.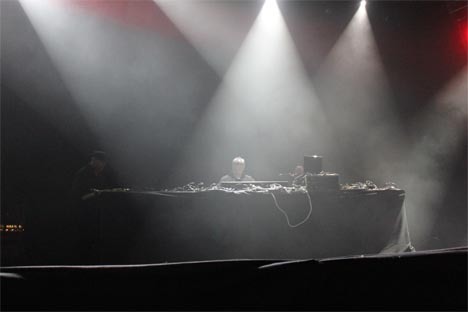 To end up this great Festival edition we head to the ATP stage, without attending the riot of people going to see Nick Cave at The Heineken, instead relied on one of our favorites the bands lead by Steven Stapleton Nurse with Wound. This was one of the unique experimental avant-garde concert in the whole festival so we were really excited but unfortunately the band faced so many technical problems and they invited a local musician to join them on guitar and it seems that the experiment didn't worked at all. This was disappointing, but anyway experimental music is about his, about a muscular and the search of the unexpected on a show.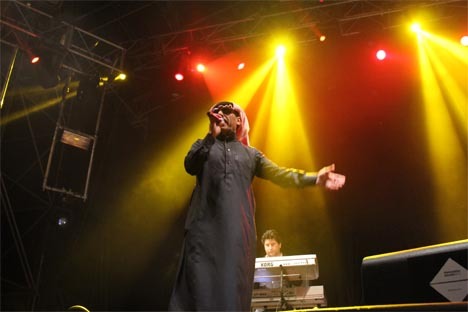 We didn't move at all cause just after Nurse with Wound we have the last highlight of the Festival, we waited till 3am to enjoy and dance till the end with the catchy music from the Syrian musician Omar Souleyman. The Dabke pioneer with their unique style like music performed at weddings in Lebanon, Palestine or Jordan is a truly MC with a live show totally economic joined by a musician on keyboards with their arabic midi synth melodies. Souleyman is a veteran his discography have more than 500 titles and still fresh, exotic and people love it, and danced to all his music without understanding a word of his lyrics… wonderful!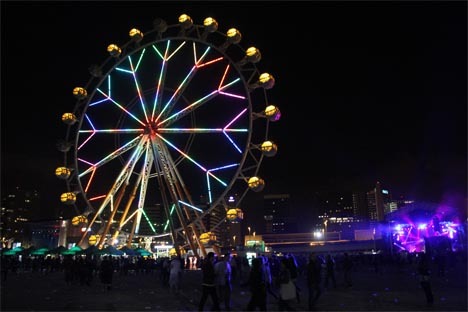 This was Primavera Sound 2013, one of the best Editions in the last 5 years with a big mixture of proposals, bringing together cult bands and new jewels, giving a good chance to local bands and the world music. The weather forecast was wrong for this time, although it was really cold but there was a lot of great music to warm up your body.
Primavera Sound 2013
Place: Parc del Fòrum, Poble Espanyol, Barcelona
Date: May 22nd – 26th, 2013
http://www.primaverasound.com
Text: Julio Cesar Palacio from Panopttic
Photos: Julio Cesar Palacio from Panopttic

[Help wanted]
Inviting volunteer staff / pro bono for contribution and translation. Please
e-mail
to us.