How in the world can I describe the Berlin Art Scene? When I think hard about it, many things come to mind. In Berlin there are countless galleries and art museums with high quality collections. There are artists making work, gallery owners selling the work, and collectors purchasing the work. It is also an important space for non-profit exhibitions, and the curators who introduce artwork there. Now I have a strong suggestion to be added to the list of artistic endeavors. "Andreas Murkudis" is a specialty shop that makes designer goods. They sell goods in beautifully displayed arrangements, rather than in galleries. It is important that the variety of goods never stays limited to a particular field, and surely "Andreas Murkudis" has been affecting to the art scene in Berlin.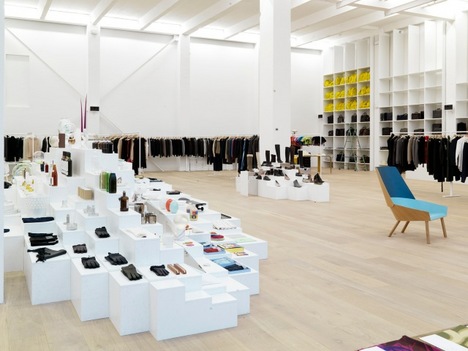 Andreas Murkudis
Andreas Murkudis, a German with roots in Greece, sells products that he desires to keep around him in his shop. His store is settled near Potsdamer Street in central Berlin. Many galleries came to open along this street and that has been changing the atmosphere in what used to be an old town. A former newspaper printing building is now the center of the town. There is a huge hall, and where printing machines once stood, galleries now hold exhibitions. There are also goods like clothes or furniture in the space by Andreas Murkudis. At a glance from outside through the window you can see high ceilings and a white hall with these goods displayed throughout. Because it initially looks like an exhibition room, some will regard this as another exhibition, just as I did.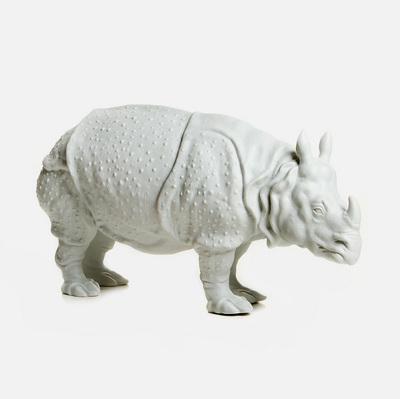 Nymphenburg
You will be surprised at the wide-range of goods available. When entering and looking inside, you will recognize "YOJI YAMAMOTO," "Jil Sander" or "Martin Margiela" shoes. There are also scarves, belts, sunglasses and accessories all coming from designer-brands. It is no exaggeration to describe this as a professional shop for fashion. Furthermore, there is also a fascinating selection of goods in addition to clothes. At the center of the shop, there is a rack with some shelves used for displaying eye-catching tiny goods like porcelain objects, especially "NYMPHENBURG," a porcelain-goods maker having a 260year tradition in Germany. Their contemporary design is free from the restraint of convention and impresses us with their dedication to producing something new.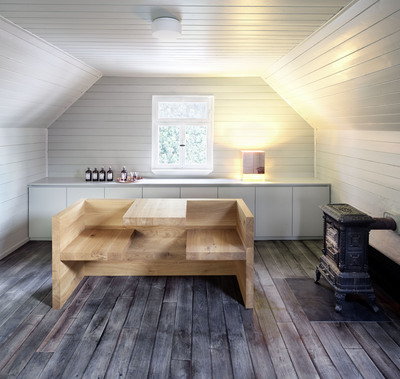 e15
Other things you will find include a wooden-chair produced by "e15," a furniture maker in Germany. It is quite simple, just composed with fine wood pieces. The natural texture tells you their respect for quality woods produced in Europe. Surprisingly, they also sell chocolates around the clothing, furniture and porcelain goods. Erich Hamann's chocolates have been made in a unique way since the beginning of the 20's in Berlin. "Andreas Murkudis" carries this sort of diverse goods. Murkurdis has assembled a range of items that please him, and he will be happy to explain the merits and history of these items. They are chosen not for superficial designing, but for attention to material or care for the production process. In some cases, having tradition might be one of the elements of goodness. No other limits set the range of collected goods. Andreas calls his space a "small department store" where people can see goods in mixed categories.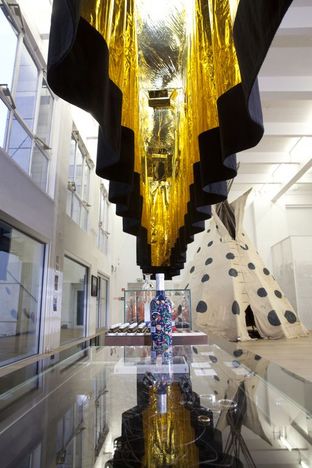 Le Cabinet de Curiosités de Thomas Erber
Inside the shop, an exhibition event has opened regularly, and currently, the very same idea of "small department store" is being exemplified there. "Le Cabinet de Curiosites de Thomas Erber" is introducing things selected by a fashion journalist, Thomas Erber. Some accessories, sunglasses, photographs, paper catalogs, and furniture or bicycles in a wide variety. One catalogue on display is "Ooh, Koya (Ah, the heath)" made by the collaboration of a dramatist, Shuji Terayama and a photographer, Daido Moriyama. I am sure that the fantastic binding of the catalogue will encourage you to pick it up. On the other hand, you will also be surprised at the strong presence of the Christian Haas side table made of transparent glass. The wide-range of things resonates greatly through having an exhibition and merchandise in the same space. Beyond categories, mixed items will appear as a microcosm that was ordered beautifully in front of the audience.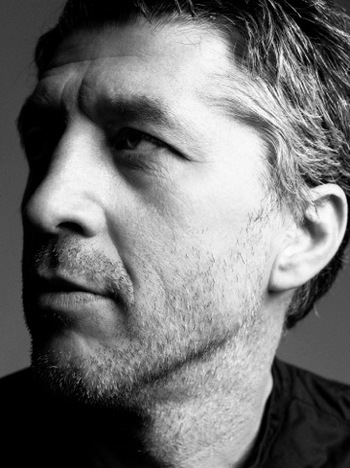 Andreas Murkudis
Andreas Murkudis moved his shop to Potsdamer street in 2011. Before that, it was in the Mitte-area, in central Berlin. Many tourists visit the Mitte-area and it is easily accessible by public transportation. Whereas the present district is inconvenient for transportation and an indecent area lined with sex shops and casinos. You wouldn't say that this is the place to sell high-price goods. Murkudis says not to worry. As more customers come, other people also drop in after visiting other galleries. The situation is the same for the galleries in the area; they also get customers from "Andreas Murkudis." They say that a good synergy is born for both sides this way.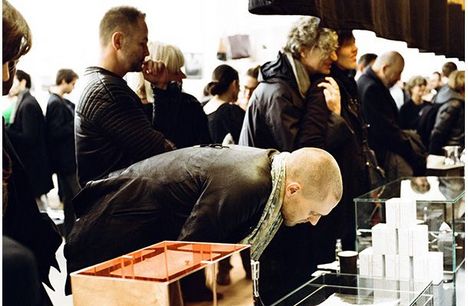 Le Cabinet de Curiosités de Thomas Erber
Basically, a few galleries began to gather around Potsdamer Street in the end of 2010. Since then, more galleries have moved in, and now it is said that this place has become the most important area or art scene in Berlin. However, the reason why the once vacant space with no cultural attractions is now an art center is not only due to the transferring of galleries. In addition, having Andreas Murkudis, which deals in beautiful products, made this area beautiful. It is because "Andreas Murkudis" produces a new freestyle cultural-exchange. If one gallery has an opening reception for an exhibition once, and "Andreas Murkudis" holds an event, the guests of each event have the chance to mingle. This small department store therefore also happens to mingle with contemporary arts, without closing inside the store. 
I would like to think about the art scene in Berlin once again. In considering it, It is important to have a variety and to be permeable between each category. I am sure that the art scene is eagerly and continuously seeking something new. Newer art today will not be available if there are limits or borders. A lot of galleries left the Mitte-area as center of art in Berlin in around the 1990s and 2000s. I can explain that is because it is sophisticated as a sightseeing area, and they have lost the diversity to produce vitality. The possibility to create something new is present on Potsdamer Street and the neighborhood around it. Needless to say, "Andreas Murludis" is in the center of a concept pushing variety and cross-disciplinary projects.
Andreas Murkudis
Address: Potsdamer Strasse 81E, 10785 Berlin
Opening Hours: 10:00 – 20:00
Closed Sundays
Tel: +49 (0)30 6807 98306
shop@andreasmurkudis.com
http://www.andreasmurkudis.com
Text: Kiyohide Hayashi
Translation: Eiko Kondo
Photos: Courtesy of Andreas Murkudis

[Help wanted]
Inviting volunteer staff / pro bono for contribution and translation. Please
e-mail
to us.