Identity is transforming with the global changes in the world. Tomokazu Matsuyama inherits the traditions of Japanese painting while fascinating viewers by switching between street art and contemporary art.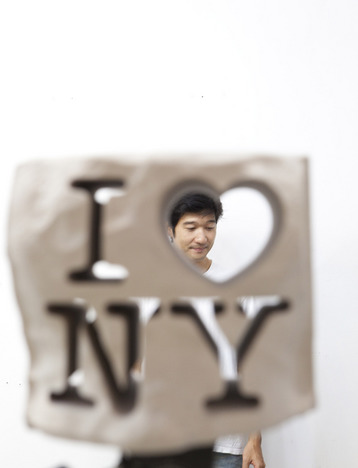 I want to introduce an episode I heard when I visited Matsuyama's studio for an interview. There are many restaurants serving Japanese food in New York City, one of which is in Matsuyama's neighborhood. I am not sure for how many Americans samurai or geisha come to mind as a typical ASIAN image when they think of Japan, but from the perception of the Japanese living in this city, now in 2013 it seems there are still many people with such images. That restaurant is was named "Kyoto," which is suitable for American customers. Why Kyoto in Brooklyn, New York? I am sure Japanese people will be surprised by such a non-sequiter, but here American people don't care about that and eat sushi like nothing. Cross-cultural mixtures emerge in daily life, forming misunderstandings crossing the border. Moreover, that Japanese restaurant is not even run by Japanese people, but by a Chinese manager!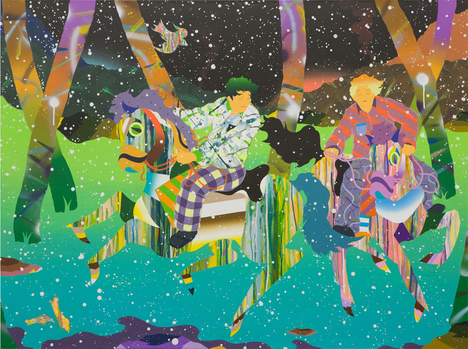 "The Future Is Always Bright , Study 1", Tomokazu Matsuyama, 2010, Acrylic on canvas, 36 x 48 x 3 inch
The artist Tomokazu Matsuyama's studio is located in the Greenpoint area in Brooklyn, NY. This is an area where a lot of contemporary artist's studios are located and famous artists the likes of KAWS and Takashi Murakami. Matsuyama moved to the United States with his family when he was in elementary school, staying until he moved back to Japan for junior high school. He then underwent a baptism by skateboard through street culture. In Japan, he was active as a graphic designer and he showed his works in a Japanese Magazine called RELAX, but gradually he started to think that he wanted to make works as he likes, he wanted to live more creatively, so he decided to move to United States to become an artist. He showed his works consistently in both solo and group exhibitions, mostly in the United States and Japan but also all over the world including Hongkong and Dubai. His works fascinate us with his one-of-a-kind mixture of eastern and western culture; reflecting his background with a vivid, pop painting style.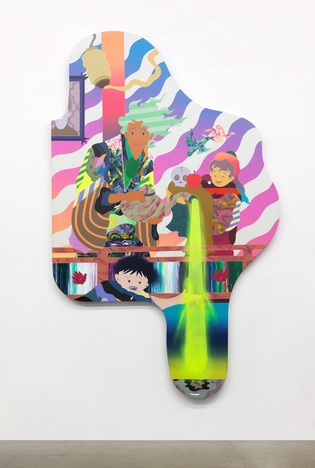 "Holy Urine", Tomokazu Matsuyama, 2012, Acrylic and mixed media on canvas, Approx. 90 x 56 inch
 
In Matsuyama's works we can see Japanese traditional painting techniques and images in the pictures, as in the figures and use of negative space. But of course it is not just tracing traditional Japanese painting images, in a sense he sampled the traditional style of Japanese painting while he updating it. Moreover, combining that style with street art and graphic design elements, his works seem to use a universal language that can catch anyone's eye all over the world. It is really not just the pop and vivid color he uses in pictures but in his mixture of florescent color with rather pale color, we can see his meticulous forethought to the color and that unique combination makes a rare creation that we can't see anywhere else.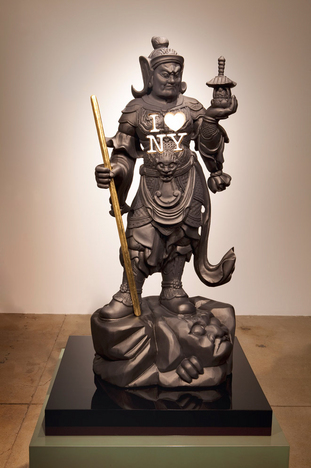 "Bon Voyage", Tomokazu Matsuyama, 2012, 22K genuine gold leaf, polyurethane auto paint on solid polyurathane ren shape, 48 x 24 x 24 inch
In a similar way as the restaurant KYOTO, Matsuyama's work seems to deal with an interactive cultural issue that can't be solved from only one perspective. Cultural disharmony which leaves nowhere to go, is sublimated into entertainment. This style is reflected to the title of two exhibitions "East Weets Mest," and "Glancing at the Twin Peaks" shown in recent years in New York. By incorporating cultural fusion, which has inherent conflict, Matsuyama can see another way because he knows two different cultures. But it seems that he doesn't represent his background directly, when stepping back, he establishes such confusion in the art pieces, a graphic designer's perspective in a sense. He seems to cut off and represent today's global world, which is crossbreeding and transforming.

"Us", Tomokazu Matsuyama, 2011, Acrylic and mixed media on canvas, 48 x 72 inch
The relations between his titles and works are very interesting and unique titles catch our eyes. The balance of how they relate to each other is hard to imagine at first glance. It reminds us somehow of an eastern thing which is like an eastern traditional lesson. It is like tales of old Japan, which exist behind the works, viewers must feel the flow of the thought which is different from that of a western one. Animals like deer, chicken and kirin show up in works and the vibrant graphical shapes show that he was effected by street culture. Lots of elements can be found in the pictures and viewers can enjoy them from various perspectives, but it is not too formal and stiff, it is open and has a characteristic that everybody can enjoy.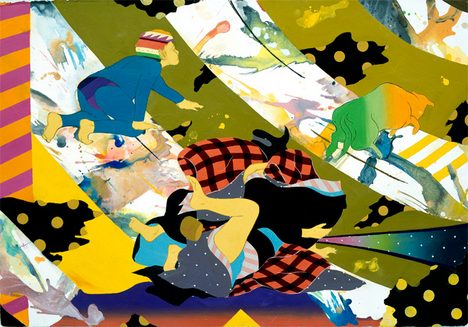 "The Wind of the Nights", Tomokazu Matsuyama, 2008, Acrylic on paper, 20 x 29 inch
Matsuyama explained that he was affected by New York Pop Art as typified by Andy Warhol, it must be very rare being able to go back and forth between street art and academic art like Matsuyama. He makes three-dimensional works too, and "Wherever I am" is devoted to the famous statue "Bronco Buster," by American artist Frederic Remington from 1895. He used this statue, which represents the settlement of the American west that every American can recognize. Then he mixed that image with flat and pop motifs and eliminated from Japanese culture whichever elements are contradictory to the historical Bronco Buster statue.
A jockey with a typical oriental bear looks like gigantic lego block, and must be the alter ego of Matsuyama himself. We can see a happy blend of two different cultures here in this statue as representing the existence of the mixture of Artist Tomokazu Matsuyama.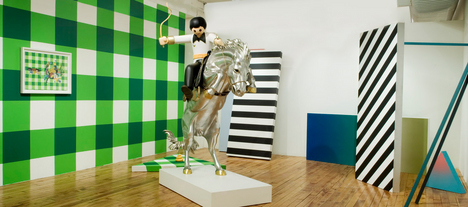 "Wherever I am", Tomokazu Matsuyama, 2009, (Homage to Bronco Buster) Installation View
Living and working in New York, he feels a degree of penetration between Japan and overseas. In the Japanese situation, art is more closely related to everyday life than in western culture, and there are lots of galleries on a different scale. It is important that an artist can feel and grasp the pulse of art overseas and to have the ability to transform what they have in hand into what people overseas look for. Understanding the background and rules of different cultures and digest them in the art works. Therefore in Matsuyama's works, there are lots of gimmicks encouraging the viewer to look at the pictures from various points of view to enjoy the difference between Japan and overseas. Many languages are used in the pictures because of its characteristic of mixed expression. It is a problem presentation and the riddle to the viewers. The title is only a hint of the works and it is up to the viewers how to interpret the art pieces. But his work does not push viewers away; instead, it is humorous entertainment that has broad appeal.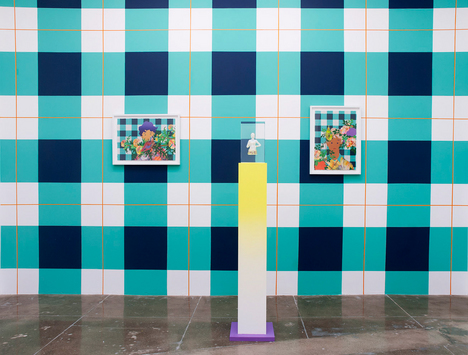 Installation View at MMG, Los Angeles
As you can see in his collaboration with Nike, Levis and many other companies, and his painting on the wall, his activity is not only exhibiting works in a gallery; he always expands his limits and brings other people into fun things. He combines opposite things into one frame, and transforms that reaction into an art piece and then shares the idea with others and society. In Matsuyama's works we can view from various perspectives, but it has a pop and positive image that everybody can appreciate. He inherits Japanese traditional painting but establishes his own style and stays active internationally. The world is transforming at an accelerated speed. As if asking one's ego in such a varied mixture, as if enjoying oneself as a mixed existence, his works must catch people's eyes no matter what country they are from. He has an upcoming release for his 4th book and group exhibition in Japan Society of New York, and seems to work harder including collaboration in media. We need bear watching what he is going to do next.
Text: Yuji Shinfuku

[Help wanted]
Inviting volunteer staff / pro bono for contribution and translation. Please
e-mail
to us.