Artist Mimona Ishikura translates her emotions directly into her work while grappling with conflicted feelings and questions regarding art. The artist, who is based in Sapporo, but has started exploring a wider world since her art residency in Shanghai, is holding a solo exhibit at CAI02.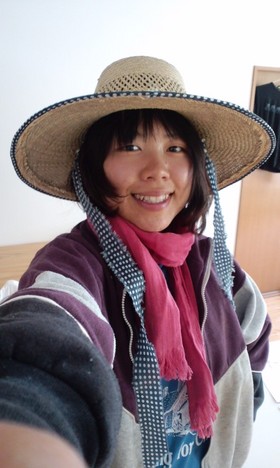 Please tell us about your piece, "Declaring my love in my number one self-promoting costume 'su' 'ki'".
This was my graduation piece from junior college, and it's the second in a series. Initially, I was motivated by my wish to become a better artist, but I didn't have money to hire a model, so I decided to draw myself. I was a nineteen-year old agonizing in my prime, very negative towards romance, and couldn't do anything about it. I blew off steam in this self-portrait. There's another motive in this piece as well. I included "I" in the title with the wish that the audience would read it, and turn into the "I" in the image, who only has a heart around her breast—an embarrassing appearance. I'm kind of cursing those who are enjoying real life.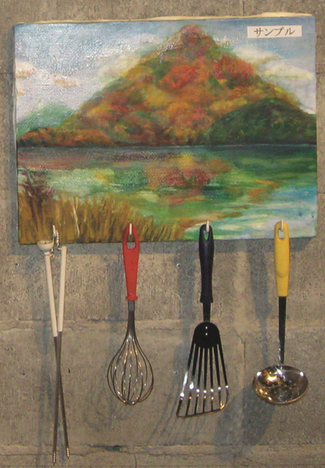 "Practical Painting Series: Kitchen Painting with Hooks (Sample)" 2009, 410×318, oil, canvas, hooks
Please tell us about your 2009 "Practical Painting Series."
This series was not driven by strong motives. This is the product of the feeling, "My work is garbage!" which anyone who creates art has felt at one time or another. That sentiment was defeated by the emotion that cries out, "Art is great! My work is great! I'm going to create something great!" I was a bit hesitant about creating art, because I was an artist who couldn't really believe in art, but when I received the offer for "Nonsense Exhibit02," I thought, "This is great!" and started creating and exhibiting.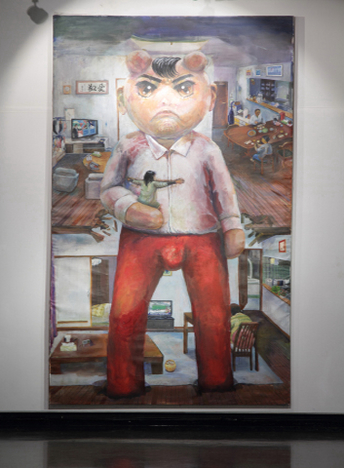 "Mr. Positive" oil, 361cmx202cm
What do you consider most important when you create your work?
Not to overestimate myself. When I create a good piece, it's okay to justly praise it as a good piece. But when a piece is still in its early stages, or just an idea, I have to tell myself that my idea is one that others have had before, and make sure that I don't think of myself as more talented than others. It may not sound great, but I try to "stay within the lines." It's difficult to put into words—drawing outside the lines is okay if it leads to great breakthroughs, but I make sure it doesn't make me delusional.
You seem to depict yourself often in your work, but where do you get the concepts for such pieces?
I think people who create art converse with themselves, so I think I incorporate such dialogues into my work, and that's why I draw self-portraits. I'm interested in my own emotions and circumstances, so it's inevitable. Even when I'm interested in other things, I'm afraid I become interested in myself who is interested in that thing. I'm not consciously thinking, what kind of self-portrait should I create next, but the ideas that come to mind happen to be self-portraits. But, lately, I don't think up of as many self-portraits. Still, what I'm interested in are my inner feelings and thoughts. I don't like that it's all about me, but I can't help it.
To what kind of art were you drawn as a student that's behind your work now?
My student days include cram school and junior college and CAI Art School. Junior college and night classes at CAI Art School were during the same period. When I was taking cram school classes, my teacher often showed me works by Matisse. I also really liked American abstract expressionists, Odilon Redon, and Nicolas de Staël. For university, I applied to an art university in Honshu. The exam was of a very figurative nature, but I was set on exploring abstract painting once I entered university. When I didn't get in, and I started attending junior college and CAI Art School, I finally realized that art was not just sculptures and paintings. I was around 20 years old at the time. I was a bit of a groupie, so when I discovered artists who were close to me in age, like Nobi-ANIKI and Yamanaka Camera, I started following them online.
Are there any artists who influenced you?
I'm afraid my knowledge is shallow and narrow, and I feel presumptuous even naming them as my influences, but when I'm working, I look at a lot of Makoto Aida, Jenny Saville, and Lucian Freud. I try to copy Pierre Bonnard, but fail terribly every time. I also like Tadanori Yokoo. Okyo Maruyama was the first artist I liked. Otherwise, I was also greatly influenced by bands that can be categorized as Japanese youth punk and other Japanese music that I became familiar with when I was a student.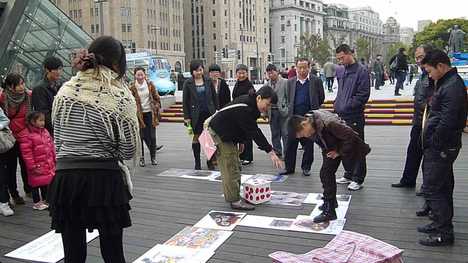 You took part in an artist in residence program in Shanghai in 2010. Did that experience change you in any way?
I left for Shanghai three months after my first solo exhibit, and it was also the first time I traveled abroad, so it was a very big change for me. I was treated as an artist for the first time in my life, and I was very nervous. I can't speak Chinese or English, so I had a hard time communicating with anyone other than the Japanese staff, and it was especially difficult as I'm not good at communicating to begin with. Even during the solo exhibit in Sapporo, I felt like I was going crazy before the exhibit, and I wondered what would happen to me if, in the future, I get more exhibit offers. With nerves like this, I won't be able to face that. I was traveling right when I was thinking, "I might as well quit art now," so I had a lot on my mind. Despite such circumstances, I was able to create. The experience encouraged me. It was also a good opportunity to experience first hand, the art market. I didn't have that kind of experience in Japan, so it felt like I was in a fantasyland. Auctions, galleries and studios took up large spaces, and witnessing these galleries convene, ready to sell, it made me wonder what it was that I had been creating.
Can you tell us anything about the CAI02 exhibit, about the theme in your solo exhibit titled "What should I do now?"
When I received the offer for this exhibit, I was thinking of whether or not I should continue with art. Then, there was the Great East Japan earthquake, and either due to my own preexisting troubles or due to the earthquake, I was overwhelmed by fear, and I'm embarrassed to say that I became more incapable of creating art. My paintings were worse than before and I contemplated quitting for good. I was thinking of what I would do if I quit, and what I would do for the rest of my life when the phrase, what should I do now, popped into my mind, and I felt a glimmer of hope in these words. So I decided to title the exhibit with the same question. The exhibit represents my struggle to move forward, even by a small step, to take responsibility for my past ways. Unfortunately, I wasn't able to clearly and boldly present my future in this exhibit, but I think I was able to take my first step forward. It may tempt people to reproach Mimona Ishikura, or perhaps those close to me in age will be able to relate with me.
I'm sure you have developed along with your work. How do you envisage yourself in the future?
The other day, my dead grandfather appeared in my sister's dream and had a message for me. He said, "if you're going to stay at the bottom, you can make it to a certain extent and enjoy things other than art. But if you want to aim higher, it'll be tough." I'm not a very spiritual person, but I believe that message, and it kind of depresses me. But I also want to see what it's like to stand at the threshold of having to face that difficult future. Like a true modern individual, I don't enjoy hardships. It's also my lifelong goal to become an intelligent person. Of course, I want to be able to make a living as an artist, but I'm not at a place where I can confidently state that, "I'm going to make my living through my art!" So my immediate goal is to be able to say that. I want to love art a hundred times more than I do now.
Mimona Ishikura solo exhibit "What should I do next?"
Dates: October 6th – October 27th, 2012
Opening hours: 13:00-23:00 (Closed on Sundays and holidays)
Place: CAI02
Address: Showa Building B2, Odori Nishi 5 chome, Chuo-ku, Sapporo, Japan
Tel: +81 011 802 6438
Organized by CAI (Contemporary Art Institute)
http://www.cai-net.jp
Text: Satsuki Miyanishi
Translation: Makiko Arima

[Help wanted]
Inviting volunteer staff / pro bono for contribution and translation. Please
e-mail
to us.