Yong Joo Kim is a US-based artist who explores the phenomena through which beauty emerges. Her design of unique wearable art objects never ceased to attract people. We interviewed her about her experiences and her mind behind her artworks.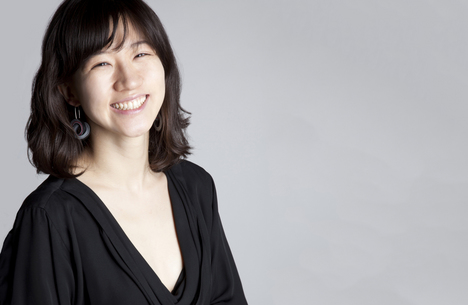 Please tell us about yourself. what you have been doing lately?
My name is Yong Joo Kim. I was born and raised in Seoul, Korea. In 2007, I moved to the U.S., and graduated from the Rhode Island School of Design (RISD) in 2009 with an MFA in Jewelry and Metalsmithing. Since then, I have been practicing as an independent artist as well as a co-founder and executive director of Sublime Experiment which is based in Providence, RI, U.S.A. Lately, I have also launched a project called Sublime Experiment: Outward Expression of Inner Beauty to explore how wearable art objects can provoke conversations around concepts of trust, beauty, empathy and value. I already know that these conversations happen within the walls of galleries and museums, but with this project I hope to explore if wearable objects can facilitate these conversations to occur serendipitously in our everyday lives. I believe that art objects in social contexts can empower us to ask questions, challenge the way we understand the world, and uncover the beauty hidden in everyday life: the kind of beauty that arises from a strong sense of trust in ourselves and each other.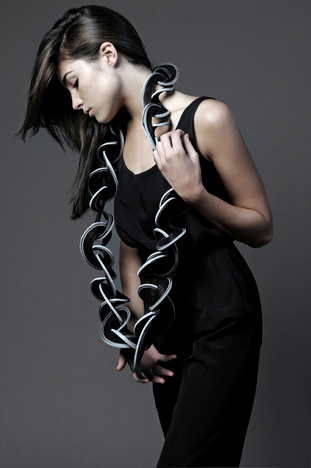 Did you start your creative work when you were student? What motivates you to be an artist?
Yes, I started making my work in college, then again in graduate school. But I didn't call myself an artist while I was a student. It's only been 3 years since I've felt that I am walking the path of an artist, and thus been able to work up the courage to call myself an artist. I think there's a kind of a responsibility you acquire through the process of making your work, and, for me, this was what made me feel comfortable calling myself an artist. What I realized through making is that through this process I can learn unexpected and new things that I didn't know before and I didn't know existed. As this learning kept happening over and over again, I became curious to see what I'll learn next, this actually became a fuel for life itself. That's not all, I also learned that when I present the kind of work that resulted from such a learning experience, the work generates curiosity, wonder and surprise in the audience as well. From these experiences, I came to realize that my work has the potential for constructive impact on our society. It was through these realizations that I acquired a sense of responsibility and ethics as an artist, which finally made me feel sufficiently comfortable calling myself an artist.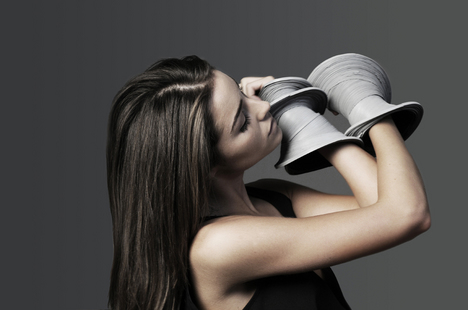 How do you get inspired your works?
My inspirations come from my everyday life. What I mean by everyday life is that I am inspired by common interactions with others as well as through reflection.
When I am walking around, I may observe others, be it leaves piled on the ground, or hardware objects stacked and arranged on shelves. They can inspire me to think of new ways of arranging my own work. And as I make my work, my materials now become the other that inspires me. Here, I am not merely observing them, but also engaging in a dialogue with them, trying to understand what their physical properties are, for example. Often times, a new form emerges while simply trying to understand their physical properties. I also want to acknowledge the importance of reflection and memory. Everything I have experienced throughout my life seems to get automatically triggered throughout the process of making my work. They are subconsciously leading my hands to make the decisions I make. I am fascinated by how this works. Some may call this intuition, others taste, skill, or even aesthetic bias. I don't know what it is exactly.
What's clear is that these are internal inspirations for me, and that I am grateful for them. And what's equally interesting is that being able to witness the product of such sub-conscious decision making and reflecting on it is in and of itself another source of inspiration. I have often found myself saying, "How did I make this?" not in reference to the technical aspect of its fabrication, but in reference to the conception of the form.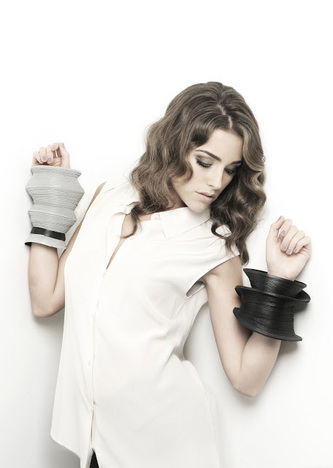 What material do you usually use in your work? How did you change from precious metals to your new material?
My main material of choice is Velcro® brand fasteners. To talk about how I started using these fasteners and how I changed from precious metals to my new material, I really need to talk about both my experience in Seoul and also in Providence. I was born and raised in Seoul, Korea. A city with a population of over 10 million. All I could see were people. Busy people. It became my habit to carefully observe their appearances — what kinds of clothes, bags, accessories, and shoes they had. Then when I came to Providence for graduate school in 2007, things changed. The streets were empty. It was hard to encounter people. The city was small and rather different from what I was used to. People walked around slowly. So I started to walk slowly as well. As I slowed down, I started to notice things in my environment other than people. I became curious of things which I wasn't interested in before. As I became more sensitized to my environments, it also changed how I chose the materials in my work. When I was in Seoul, I felt pressured to do things very quickly. This made me choose materials that I felt were beautiful to begin with. However, when I came to Providence, I started to take my time explore the new environment, in order to empathize more deeply with the materials I found. With this newfound interest in exploring my environment, I started to move away from precious metals and stones I used in my previous work, and began to experiment with ordinary and non-precious materials such as nails, beans, straws, and Velcro® Brand fasteners, which lead to the discovery of their hidden beauty through a process of reconfiguration. After graduation in 2009, I was left with a limited set of tools and equipments. The limitation of resources made me stick with a material that I could shape with my bare hands. The material I chose out of the ones I've been working with thus far were the Velcro® Brand fasteners. The fasteners attached and detached easily, making it highly conducive to stacking and piling. It was also possible to cut, roll, bend, and sew the Velcro using just hand tools. Its hooks had a sparkling quality, which I was attracted to as well. Since 2009, I have been focusing on this material as my major medium.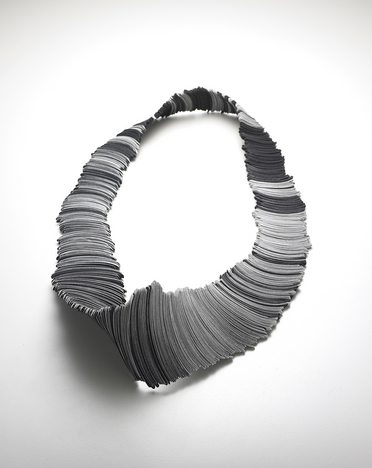 Is your works art work rather than fashion?
Yes, I see my work as pieces of art rather than fashion. What I am passionate about is the process of making art objects. Objects that empower us to ask questions, challenge the way we understand the world, and uncover the beauty hidden in everyday life. Within the field of art, I'm especially interested in wearable art: art objects that can be worn, and, as a result, move with people. These objects have the added benefit of being able to interact with people even when they do not visit galleries or museums. I find that attribute of wearable art to bring on a unique sense of responsibility and privilege to my work.
What is the inner beauty for you?
No matter how mundane or ordinary something seems, when we trust that they are remarkable, that they are special, that they are beautiful and work with them without giving up, you will eventually be surprised to discover that the material possesses qualities that you did not know existed. I got to witness over and over again that beauty arises when I amplify and accentuate the characteristics they already have. In other words, beauty arises from discovering and showcasing their hidden qualities instead of covering up their perceived inadequacies. This is what inner beauty is.
Do you think is there any difference in art scene between in Korea and U.S?
Because I haven't live in Korea as an artist, I don't have enough information and experience to tell you what the difference is between the art scene in Korea and U.S.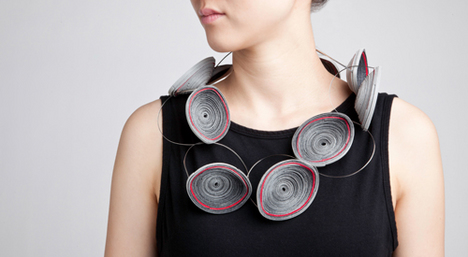 Please let us know your favorite artist, the artist who inspired to you.
One of my favorite artist is Pierre-Auguste Renoir. Since when I was in middle school, I have been fascinated by how he express the sparkling of the lights. And by "sparkling," I mean the feeling of vibrancy, rhythm, and warmth. He somehow captures the experience of observing light through the leaves of trees as I experience them in real life.
How do you spend holidays?
I try to return home to Seoul, Korea to spend time with my family and friends there.
Do you have any project plan? What is the next thing you want to challenge in the near future?
The scale of my work is continuing to grow. It may soon arrive at the scale of a full-blown costume. When that happens, it would be interesting to see how my work could be placed in a different contexts such as a runway show instead of in museums, galleries, or the streets. It would be a new way for audiences to experience my work. It would also be interesting at that point to ponder further the relationship between art and fashion.
Yong Joo Kim
Yong Joo Kim is a Niche award-winning artist and co-founder and executive director of Sublime Experiment who explores how beauty emerges by investigating both conscious and sub-conscious modes of making. She received the Adrianna Farrelli Prize for Excellence in Fiber Art from the Philadelphia Museum of Art. Her work has been selected as part of the prestigious Museum of Arts and Design's (MAD) permanent collection. Her work has been internationally exhibited at museums and galleries in New York, Boston, Chicago, Miami, Philadelphia, Seattle, Paris, Prague, Sydney, Firenze and Seoul.
Text: Satsuki Miyanishi

[Help wanted]
Inviting volunteer staff / pro bono for contribution and translation. Please
e-mail
to us.